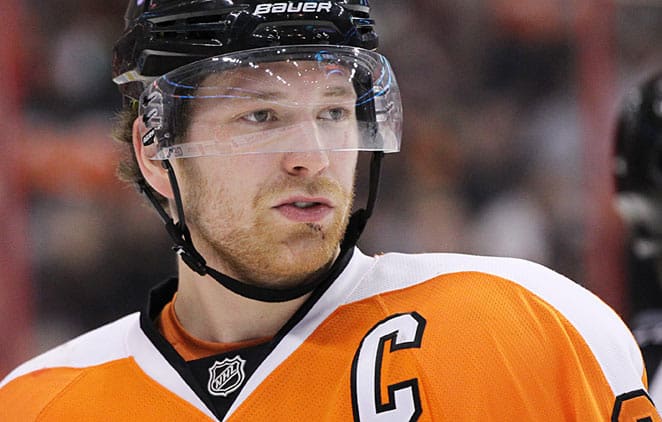 TORONTO (AP) -- The National Hockey League Players' Association plans to canvass its membership on visors.
Mathieu Schneider, a special assistant to NHLPA executive director Donald Fehr, said some 72-73 percent of NHL players currently wear shields.
"By the sheer numbers of players wearing them, you're seeing a big change in visors," Schneider said.
"I'm certainly an advocate - and a bit of a hypocrite myself because I played my entire career without one. But the game's extremely fast. Guys come into the league now having had to wear a visor before. We're definitely going to look at talking to the guys about grandfathering them in."
That might involve polling the players on the issue. The last time they did that, in 2009, players were "heavily" against grandfathering in visors, he said.
"Obviously a lot of time has passed (and) a couple more injuries," he noted.
Schneider was involved in a day of meetings with NHL GMs, who talked about everything from embellishment and goalie equipment to trying to maintain the integrity of faceoffs.
HACKEL: Much to discuss, not enough time
The NHLPA rep was part of a larger group discussion on player safety and other rules issues.
The issue around faceoffs involves "cheating" - having players kicked out to buy time, Schneider said.
"They want to bring back the integrity of the faceoff and try to take away as much of the cheating as possible," he said.
Schneider said more GMs are in favor of hybrid icing, but there's still a split of opinions.
There was also talk about goalie equipment, with Schneider saying players should rely on their own talents rather than gear.
"The other concern is that you see a lot of pucks going high now. Defensemen especially shoot high from the point and that creates another danger obviously - that was something with the (Rangers defenseman Marc) Staal injury we saw. An awful lot more pucks are going high because you just can't score on the ice."
The issue of staged fights did not come up, Schneider said. And embellishment - or player simulation - was only briefly discussed.
"It's a difficult issue but I think it's certainly something that's going to keep resurfacing over the next few meetings," said Schneider.
There will also be more discussion on what is eligible for video review rather than the idea of a coach's challenge, he added.
The league and NHLPA is adding a meeting of the competition committee - which features members from both sides - at the all-star game. The idea is to come up with ideas to put forward to the GM meetings. That will be followed by a competition committee meeting during the Stanley Cup, with anything advancing out of that going to the board of governors' meeting.