GMs must delve deeper to develop coaches' challenge concept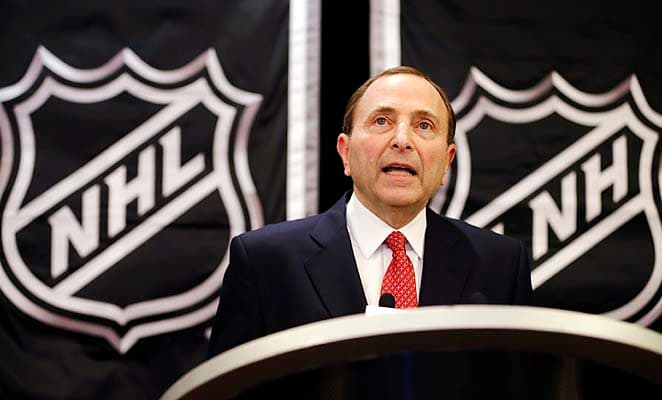 Expectations are a funny thing, and it's often best to keep them modest. Not much was expected from the NHL general managers' meeting in Toronto on Wednesday (as discussed Monday), but it actually produced some surprising and potentially groundbreaking news. Yet, it also lived up to its billing as a condensed get-together that lacked the time needed to grapple with more complex issues.
Progress was made -- but only tentative progress, to be accurate -- on some longstanding matters that one could consider no-brainers, namely visors, hybrid icing and shrinking the size of goalie equipment. All three were endorsed by the GMs and now await reaction from the NHLPA. The fact that Mathieu Schneider of the players' association seems to indicate the union is more open to discussing grandfathering visors and making goalie equipment smaller is positive, but we'll have to wait and see what the membership decides on all these matters.
Where the meeting fell short was on items that required a bit more foresight and time, specifically the coaches' challenge concept. That one needed some serious study and probably a working plan for the managers to digest and critique. No real plan was presented this time, and because the group didn't lay the groundwork for that to take place in a future meeting, the challenge idea seems dead for now.
But it won't stay dead because TV replays will inevitably show what the on-ice officials can't see. That will only increase the demand for it.
CAZENEUVE: Too many outdoor games?
It's too bad the GMs didn't have time to think this one through. They know the ever-increasing speed of the game has made officiating more difficult. As mentioned earlier this week, the challenge idea gained steam this season after linesmen missed an offside call that resulted in an Avalanche goal. But it has also gotten an airing because referees have been more vigilant on goaltender interference calls that wiped out goals, calls some GMs questioned, and because officials missed seeing pucks fly into the protective netting above the glass, which should kill the play.
Coincidentally, on both the evening after the GMs meeting and the night before it, a pair of incidents highlighted why some endorse instituting a coach's challenge.
On Wednesday night, the Red Wings had a goal denied because referee Dave Jackson ruled the puck was batted out of the air by Drew Miller, whose stick made contact with the puck above the height of his shoulders. It landed in the crease where teammate Jordin Tootoo tapped it in, but Jackson blew the play dead because he viewed Miller's contact with the puck as constituting an illegal pass. However, the replay showed the puck was not touched by Miller but rather hit off the glove of Minnesota's Dany Heatley, which would have made it a good goal, since Miller did not touch it.
Under current rules, however, that is not a reviewable play. Only if Miller's contact had immediately resulted in the puck going in the goal would the play have been eligible for review, and anything more than that is left to the judgment of on-ice officials. Those who want to institute a coach's challenge would say that is the perfect illustration why.
On Tuesday in Montreal, the Canadiens' P.K. Subban was penalized for a high stick against the Sabres' Mark Pysyk during overtime. Buffalo won the game on the ensuing power play. But replays showed Subban never made contact with Pysyk.
That, too, might be worthy of a challenge.
But as the GMs talked through the many different scenarios in a breakout session on Wednesday, they apparently worried that too many potential varieties of play could be challenged. They don't want to open up for review everything that happens on the ice. They are most comfortable with certitude, the type offered in parameters of the current replay system, which are rather definitive and limited to goal/no-goal calls.
"You really have to limit replay to things that are clear, crystal clear, black and white," commissioner Gary Bettman said on the NHL Network, "and when you start getting into the judgment calls that the officials make, that really isn't susceptible to video replay the way, you know, whether or not the puck crossed the line and you have a goal."
"There were just too many situations that were brought up that would potentially slow the game down," vice president of hockey operations Kris King told NHL.com. "If we rule on goalie-interference plays, we are going to take more goals down than we are going to put up in a game where we want more scoring chances. Once we played devil's advocate with a lot of their questions, they just didn't feel that now is the right time to implement a coach's challenge."
MUIR: Brodeur set to return, more links
Well, perhaps one had to be in those meetings, but those rationalizations seem to fall short of a satisfactory explanation of why the issue was merely dropped. If the way a coach's challenge was presented was too broad, it's puzzling that someone didn't suggest formation of a committee to draw up a more refined plan that might be more acceptable to the managers and the league.
When I was part of the NHL group that developed the video review system over 20 years ago, we faced the same sort of objections. People feared it would slow down the game and grumbled when play was halted for the review process. They worried about taking calls away from the officials on the ice.
Now, a couple of decades later, the video review system is completely accepted as a valid part of determining certain plays. It didn't happen without controversy, both real and manufactured, but the league stuck with it and made necessary tweaks, all to the game's betterment.
If the overriding idea is to get calls right, and the technology exists to assist the officials in getting more right than under the current review system, why not work to figure out a way harmonize a coach's challenge with the game's flow and the officials' on on-ice judgment? There are enough dedicated and intelligent people in the game to devise parameters that would meet whatever objections were raised at this meeting. Failing to form some sort of study group just delays things.
This is frequently -- but not always -- the modus operandi of the NHL when it comes to change. It's often a slow, year-after-year process during which whatever chronic problem the league faces on the ice remains unaddressed until new rules get the needed support among various constituents and get approved. It's sort of like government -- except for those instances when Bettman initiates or gets behind something. His considerable influence is often sufficient to get something approved. But that's not how most rule changes go.
The adoption of rules against hits to the head provides a good example. It was debated among the GMs for a number of seasons before finally resulting in the first incarnation of Rule 48 on blind-side and lateral hits in 2010. Once approved, its own shortcomings became quickly apparent, and it was wisely strengthened a year later to include all targeting of the head.
It's fair to expect that the coach's challenge will continue to be debated as well. The hope here is that the league and managers recognize that the game will benefit from a coach's challenge and figure out a way to get the process going on developing its parameters.