Stanley Cup Final: Injury status of Toews, Bergeron key to Game 6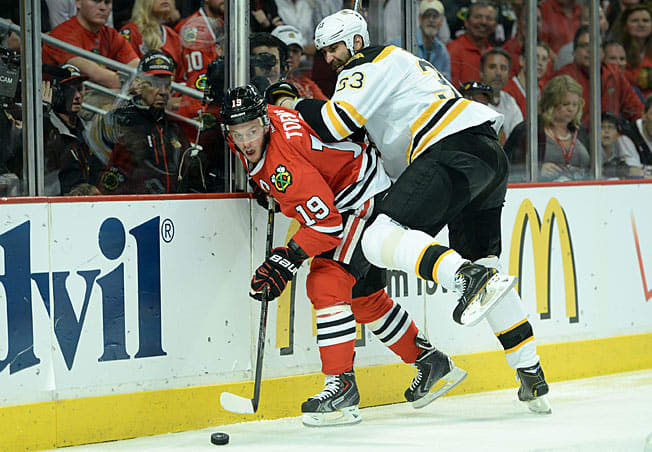 Big blocks
Apart from the discrepancy in hits, however, the Blackhawks are beating Boston at their own game, winning some other grinding areas that usually favor the Bruins. Shot-blocking is one. Watching that video above, you can see how hard it is for Boston to get a clear chance on goal. For a good part of the game, the 'Hawks did a magnificent job of getting into the shooting lanes. It's causing the Bruins to move the puck around the perimeter and not get good looks at Crawford. Chicago has gotten better at it as the final has gone on. In the last two games, the Hawks actually blocked more shots than the B's, a total of 30 to Boston's 25. In each of the first three games, Boston had blocked more than Chicago, including a valiant 40-block effort in Game 1, which compared to 23 by Chicago.
This speaks to Chicago's defensive posture. After the Game 4 goal-fest, many were predicting dire consequences for the Blackhawks after the Bruins exposed Crawford's catching glove malfunction. Hey, just shoot high to his left. Everyone had visions of red lights galore. But wait, what happened on Saturday? The Bruins got very few chances to do that, almost none until the third period (and it's questionable how many NHL netminders would have gloved Chara's shot). Why? Because the 'Hawks defended so well, providing the kind of puck support in their own zone tjhat the Bruins have brought to the party all spring. They kept the B's shooters at a safe distance for much of the game, not often allowing them the space to take aim. Not only did they block shots, they denied rebound and deflection opportunities. The Bruins didn't -- or couldn't -- crash the net as they like to do. Instead, it was Chicago that swarmed when on the attack, buzzing around Rask for the second straight game.
The circle game
Another area in which the 'Hawks trumped the Bruins is face-offs. Quenneville admitted watching how the B's dominated the circle early on, noting how their wingers jumped in to help out after the puck-drop. His team has adjusted. In the first three games, Boston won 56 percent of the face-offs, 137 compared to 105 by the 'Hawks. A lot of that gap was due to the Bruins' ridiculous Game 3 stats: winning 40 and losing only 16, with Bergeron going 24 for 28. In each of the first three games, they won more than 50 percent of the draws. But in the last two, Chicago turned it around, winning 52.9 percent: 71 of 134. Not having Bergeron for most of Game 5 may account for some of the difference, but he was subpar in the circle before he left, having won only four of nine. (Perhaps he entered the game with his injury). For a puck possession team like Chicago, winning face-offs is a big boost to performance.
Answers needed
So, going into Game 6, can the Blackhawks maintain an edge in these areas and again win the Cup on the road as they did in 2010? Or can the Bruins' physicality on home ice break down Chicago, get their mojo working again, and force a Game 7 that requires them to win on the road, as they did in 2011?
Well, let's first ask what happens for these teams if their big players don't play, if their engines are missing a piston.
Toews was in the middle of both Kane's goals. How good will that line be if Toews can't go Monday? Kane was still pretty good without him, but had to freelance more. Andrew Shaw may take Toews' spot, as he eventually did in the third period on Saturday after Quenneville had tried Marcus Kruger there. Shaw is stronger defensively than Kruger, and if Coach Q is going to use that line against Krejci, Lucic and Nathan Horton, he'll need someone who can plug the middle. But Shaw isn't the dynamic puck mover that Toews is. Some combination of his talents and Kruger's are needed, and the only answer for that is Toews himself.
And what happens to the Bruins if the mystery ailment that removed Bergeron in the second period and brought him to the hospital keeps him out on Monday night? Like Toews, he plays in every situation -- even strength, power play, penalty killing, late in periods and games when Julien wants shutdown guys on the ice. His chemistry with Brad Marchand and Jaromir Jagr makes that line go. Carl Soderberg, playing his first postseason game, was bumped up from the fourth line, and if Julien wasn't overjoyed with the result, he wasn't dismayed, either.
KWAK: Bruins, Blackhawks out to control what they can
"He showed me enough to be able to move into Bergy's spot," the Bruins coach said after the game. "I thought he played well. Although there wasn't the chemistry that you see with that line usually because it's his first time, I'm certainly not disappointed in the way he played tonight."
Soderberg just came over from Sweden in April, got into six games, and had two assists. He put up nearly a point per game -- very good numbers -- playing in the Elitserien, has good all-around talent like Bergeron, is just as big, and skates decently. But he's no speedster. He's also no kid at 27 years old, but he lacks NHL experience, that's for sure. Julien may not have a better option.
On Monday morning, both coaches were saying that they were optimistic that their star centers will play, and Toews pronounced himself fit, but how effective these two key players will be remains a big question. That could have a profound effect on whether the Stanley Cup is presented on Monday night or gets put back in its carrying case for a trip to Chicago.
DATER: Toews, Bergeron injuries loom large for rest of series