Full field set for Indianapolis 500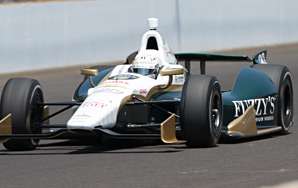 INDIANAPOLIS (AP) -- The field is set for the Indianapolis 500. And, more importantly, it's full.
On an otherwise ho-hum day of qualifying, nine cars made the field on their first attempts, ending any potential last-minute drama and assuring the May 27 race would start with a full field of 33 cars for 64th consecutive year. Things went almost as smoothly Sunday as race organizers could have expected.
"We're happy to see it," Indianapolis Motor Speedway CEO Jeff Belskus said. "There was very little doubt in my mind that we wouldn't. To put it another way, I was confident we would end up with 33 cars."
The script could have been better.
For the first time since 2004, there were no bump attempts - taking away the intrigue of last year's enthralling finish when Marco Andretti bumped his way into the race by knocking out teammate Ryan Hunter-Reay on the final four-lap qualifying attempt of the month. Heck, there weren't even any rumors floating around Gasoline Alley about late additions to Indy's entry list.
The three slowest qualifiers, all of whom qualified at less than 215 mph, didn't have to sweat out anything. It will be the first time the 11th row is filled with cars under 215 since 204, too.
Despite getting a rude welcome to the Brickyard's 2.5-mile oval, former Formula One driver Jean Alesi still made the race. The Frenchman will start 33rd after finishing with a four-lap qualifying average of 210.094 - the slowest speed of any Indy starter since the late Fermin Velez went 206.512 in 1997.
"It's a big relief for me to finally get into this race," said Alesi, one of seven rookies in the Indy field. "This is an amazing experience for me. I'm 47 years old, and I have learned more in one week than I did in my entire Formula One career."
Now the bigger questions.
Simona de Silvestro and Alesi will be the only drivers using the lumbering Lotus engines in next Sunday's race. They'll start 32nd and 33rd. De Silvestro had the second-slowest qualification speed at 214.393.
Alesi has already said he feels "unsafe" on the track with faster cars trying to pass him and worries he'll become an impediment to other drivers. He was almost 16 1/2 mph slower than Saturday's pole winner, Australia's Ryan Briscoe, who went 226.484.
"The speed difference is too great," points leader Will Power said Friday when asked about the disparity. "Simona is one of the best drivers in the series, so it has nothing to do with her, it has to do with the situation she's in, and it's a pity if it comes to her not racing. But it is bloody dangerous, honestly."
IndyCar has a rule requiring cars to perform within speeds at least 105 percent of the leader and demonstrate consistency with control, placement and interaction with other cars on the track. Cars that don't meet the requirements can be black-flagged.
Some in Gasoline Alley say Lotus cars have handling troubles, too, even at speeds substantially slower than the fastest drivers. Lotus officials flatly denied the assertion Sunday.
Fans of the 500 have seen how dangerous the slower cars can be at Indy
When Ryan Hunter-Reay ran out of gas on the final lap in the 2010 race, the hard-charging Mike Conway couldn't avoid him and wound up going airborne into the catch fence. Conway broke his leg, sustained a compression fracture in his back and missed the rest of the season.
Last year, with only Charlie Kimball's lapped car between JR Hildebrand and the finish line, Hildebrand tried to pass on the high side and wound up in the fourth turn wall. Hildebrand walked away from the collision but finished second.
It's enough of a concern that Lotus and IndyCar officials have discussed potential solutions, Lotus' IndyCar project manager John Judd said Sunday. A decision is not expected until later this week.
What's the solution? Perhaps giving the two Lotus cars more power on race day.
"If 31 cars are running at one speed and you have two slower cars..." Judd said before pausing. "We've progressed since we started here. We're running fast, but not as quick as we would like."
They were at least quick enough to make the race, along with everyone else.
De Silvestro made her qualifying run six minutes after the track opened. Over the next 43 minutes, Conway, four-time Champ Car champion Sebastien Bourdais, English rookie Katherine Legge, Spanish driver Oriol Servia, former Freedom 100 winner Wade Cunningham and Alesi all qualified for the race.
After a brief delay, American rookie Bryan Clauson, who crashed Saturday, took his turn and qualified Sarah Fisher's second car at 214.455 - substantially slower than the speeds he had posted earlier this week. Clauson's addition gave the race 32 qualifiers.
"You know, obviously, when you have a run like we did yesterday at 223 and a half or so and come back today and go run that, you're not excited," said Clauson, who added a Band-Aid to the sidepod of his car Sunday. "But it's a product of just needing to get four laps in and putting something that was safe on the car and making sure we didn't have another incident like we did yesterday."
Clauson's run left Ed Carpenter, who was involved in a hard crash Saturday, as the only non-qualified driver left.
At 2:04, Carpenter ended any potential suspense by qualifying in 222.324.
Bourdais, of France, was Sunday's top qualifier at 223.760 and will start 25th. Had he posted that speed on Saturday, Bourdais would have been starting 15th.
The only blemish the rest on a rather dull afternoon Bump Day came when Kimball spun in the first turn and ended up in the outside wall. He was released later from the infield medical care center and cleared to drive.
"It's a massive relief after the week or two we've had," said Legge, Bourdais' teammate at Dragon Racing. "We haven't had time on track to work on qualifying setup or anything like that, so we needed to find a car that was easy to drive at this stage."