Joey Logano faces uncertain future with Joe Gibbs Racing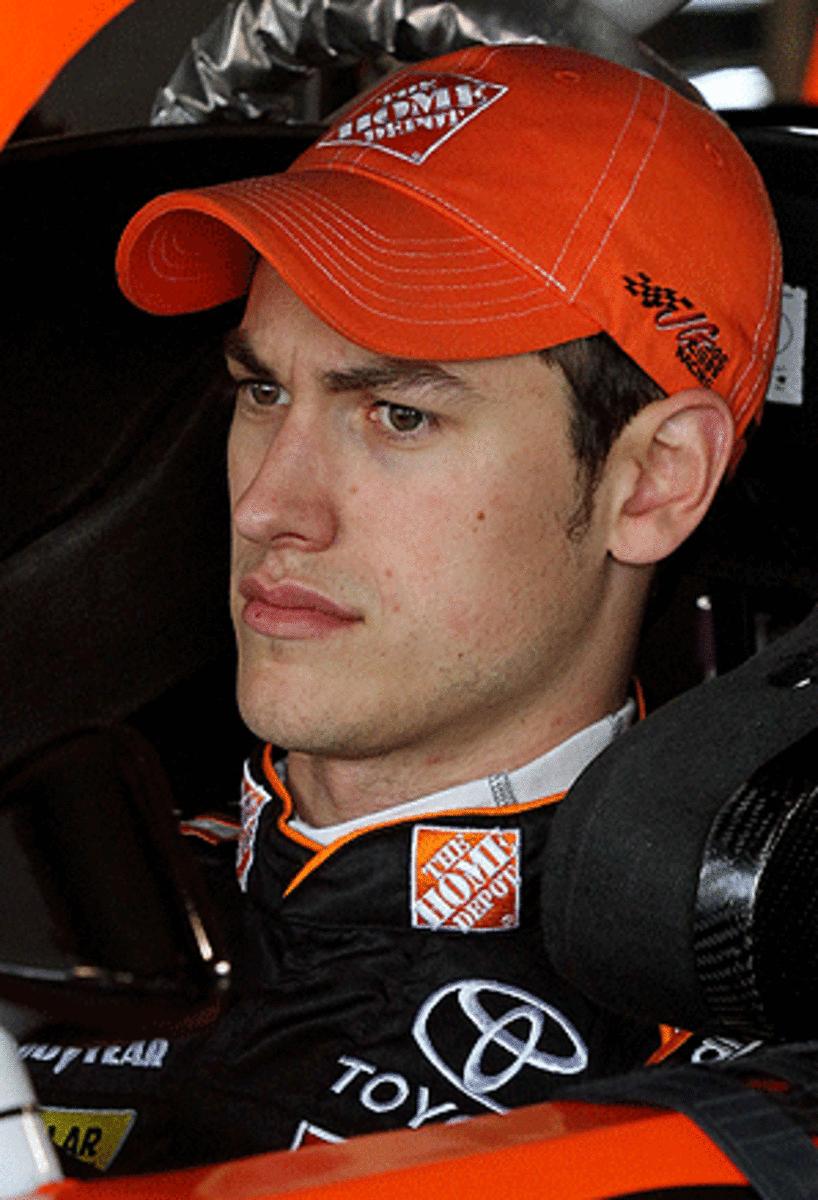 Joey Logano entered Joe Gibbs Racing's driver development program in 2007 and he whizzed through it in two seasons, arriving to the Sprint Cup No. 20 team in 2009 to replace Tony Stewart.
Logano was a wunderkind, a phenom, and there was no reason to hold him back. He'd barely turned 18 when he won in his third start in the Nationwide Series at Kentucky in 2008. Gibbs had intended to build a fourth Cup team around him, maybe not for 2009, but certainly for 2010, and Stewart's unexpected departure to become co-owner at Stewart-Haas elevated Logano into the big leagues of stock car racing.
Team owner Joe Gibbs, Logano and primary sponsor Home Depot knew it was going to be on-the-job training for a year or two, but they thought -- correctly-- that the best place to learn to race in Cup is to be in Cup.
Logano didn't disappoint in 2009 or 2010. He was 20th in the points and, with the help of some well-timed rain, won at New Hampshire at age 19, becoming the youngest driver to win races in NASCAR's top two series.
The 2010 season went well, too, particularly the final 11 races when Logano had seven top-sevens and finished 16th in the points. But 2011 was a setback with 24th in points and six top-10s.
This is the final year of Logano's contract with Gibbs. He'd make it an easy decision for the team to reward him with a long-term deal by winning a race or two, running consistently in the top-10 and challenging for the Chase. Going into the 13th race of the season at Dover on Sunday, he's fallen short in all three areas.
Logano is 16th in the points, an improvement over last year, but it hasn't been the kind of season on a race-by-race basis he's needed. Logano has been ninth at Daytona, 10th at Phoenix and 10th at Darlington and with nine finishes 26th or better, it's kept him in a decent position in the points. But he's not a contender for one of the guaranteed top-10 positions in the points or the two wild cards.
The Gibbs organization likes Logano. He grew up with them and he's a 22-year-old with 123 Cup starts with some respectable results. The potential is there to get to the next level. But they also have to ask themselves questions that could have difficult answers. Has Logano reached a plateau that he can't rise above? Can we take the chance on giving up on him too early and have him beat us for the next 20 years?
Logano's drawback is how his teammates are running. At Charlotte last week, Logano finished 23rd, while Denny Hamlin finished second and Kyle Busch third. Hamlin is third and Busch is eighth in the points. Hamlin has seven top-fives, Busch five. Gibbs knows their Toyotas and its chassis and engines are dramatically improved over a year ago. The teammates share information. They want to see Logano's results closer to his teammates.
"We work awful hard together," Busch said. "Denny, myself and Joey in team meetings every single week. Joey asks a lot of questions. He's a very bright individual and a good racecar driver. Can do it on the Nationwide side [12 wins in 97 starts]. Showed potential a couple of years ago on the Cup side, had some strong runs but hasn't been able to put it together. I think he lost a little confidence last year, crew chief [Greg Zipadelli], what have you."
Zipadelli departed to join Stewart-Haas. Logano is in his first season with crew chief Jason Ratcliff. Developing communication takes time.
"I think Jason being onboard now has helped a little bit," Busch said. "I talked to Jason at the shop. He's like, man, his feedback is so much different from yours. Jason and I worked really well together. It was seamless, the time it took for us to get working together well. He's trying to figure out exactly what Joe means when he says stuff."
Gibbs also has to consider who would replace Logano. Kurt Busch and Ryan Newman are free agents, both proven race winners and Chase participants. Busch won the Cup championship in 2004.
Kurt Busch carries some seriously bad baggage, hence the reason he's at Phoenix Racing and 25th in the points with one top-10. Roger Penske fired him and Jack Roush was happy to see him go. His temper and attitude are a problem with sponsors. But if you want to win races, he can do it. Busch doesn't fit in the personality type that Joe Gibbs would prefer, but neither did Tony Stewart.
Newman is intelligent, a Purdue grad in Vehicle Structural Engineering, and a class act. He's everything Gibbs would want. But Stewart is working hard on finding the sponsorship to keep him.
Gibbs probably wouldn't take Kurt Busch unless Logano's performance falls off to a point he has to make a change. Gibbs would jump at Newman, but he's got a good thing going with Stewart and seems likely to stay there.
Logano can control his destiny by performing better. He's got a window of about 14 races, to the end of the regular season.
"We had a frustrating weekend at Charlotte but we are working hard to put that behind us and move onto Dover," Logano said. "We've got a new package that we are taking to the track and we've learned a lot of stuff about practice and such over the last couple of weeks. I think that is going to help us get back to the point where we were to start the year when we rattled off a couple of top-10 finishes and were right there in the top-10 in the point standings. We are working hard to turn it all around and we'll start this weekend in Dover."
Logano understands that staying at Gibbs is his best chance for future success. The best seats in Cup are occupied with drivers with contracts for next year, with the possible exception of A.J. Allmendinger at Penske. Allmendinger is 24th in points with a team Busch took to the Chase a year ago and there might be an opening. But it's probably the only viable option for Logano if Gibbs decides to make a switch.