NASCAR's Aric Almirola could be a surprise addition to Chase field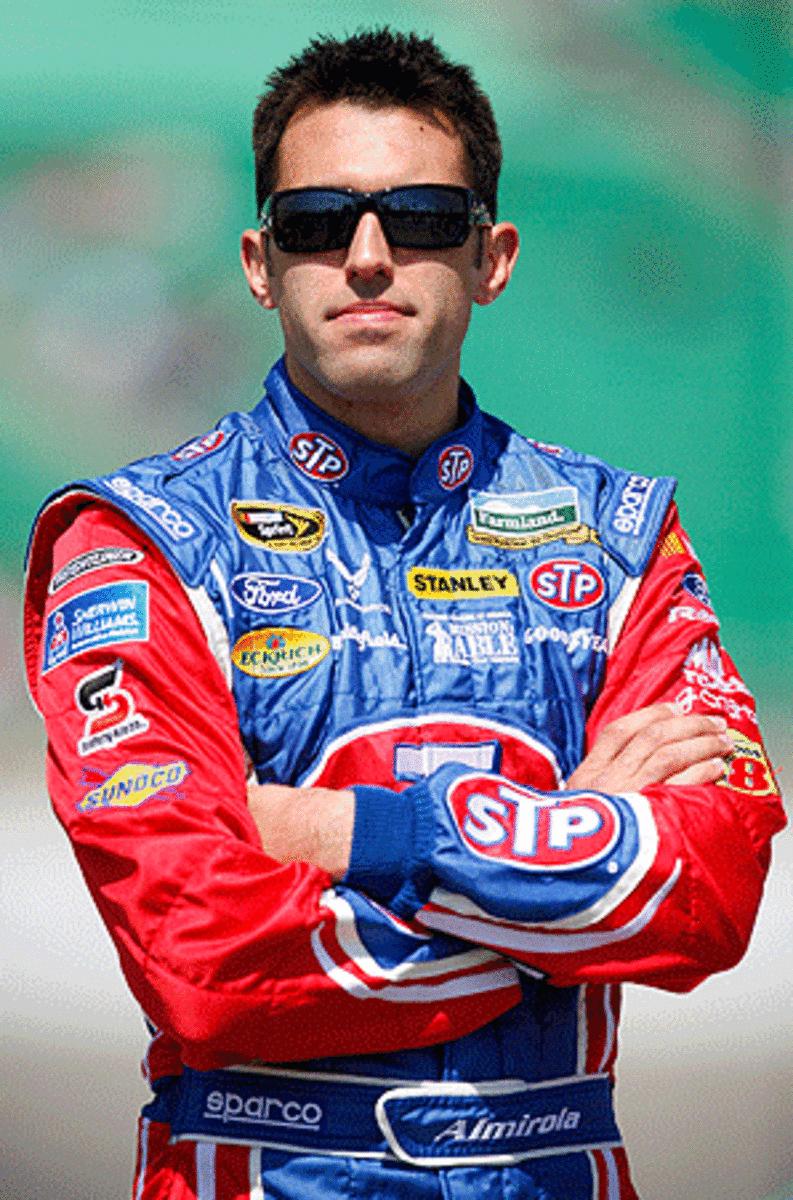 Aric Almirola popped up on the Chase's radar at Dover, where a season-best, sixth-place finish moved him to 17th in the Sprint Cup points. He's a long shot for one of those two wild-card spots, reserved for race winners who finish 11th through 20th in points, but the fact that he's in mathematical contention makes the 28-year-old Floridian one of the surprises of 2012.
Almirola is ahead of more experienced and established Richard Petty Motorsports teammate Marcos Ambrose, who is eight points behind in 19th. Almirola is also in front of veterans Jeff Burton, Juan Pablo Montoya, Jamie McMurray, A.J. Allmendinger and the most prominent name in the group, Jeff Gordon.
The Sprint Cup is 13 races down, halfway to the Chase, and there's still the possibility of a major shuffle. Gordon, certainly, will move up -- his luck can't stay bad forever -- and Ambrose's supreme skill on road courses with Sonoma Raceway and Watkins Glen ahead could make him a Chase contender, too.
But Almirola's 17th in points isn't a fluke, either. It's his first full season in Cup and his sixth-place finish at the Monster Mile, a track he'd never raced on in NASCAR's premier series, was an impressive accomplishment. Almirola also was eighth at Martinsville, 12th at Phoenix and Talladega and 16th at Charlotte.
"I don't think anybody would have thought we'd be in contention for the Chase this season," Almirola said. "We've flown under the radar. If we win a race and do the things the way we've been doing them, is it possible? Sure. Until we're mathematically eliminated, we have a shot. We've made progress.
"We didn't qualify that well early in the year and since Mike [crew chief Ford] has been on board, we're seeing positive things, the light at the end of the tunnel. We need to keep momentum on our side and show up with fast race cars and I think we can put ourselves in position to possibly be in the Chase. But if we don't, it's not devastation. It's a great year for us to build on."
Ford joined Almirola's No. 43 Ford before Talladega. He was previously crew chief for Denny Hamlin, guiding him to six straight Chases. Bringing in a crew chief during the season can be tricky and sometimes it's an act of desperation. That's not the case in this situation. Crew chiefs of Ford's experience and talent are not often available and their performances are evidence he and Almirola have clicked.
The Petty team has Roush-Yates engines and get its basic cars from Roush Fenway and then builds them.
"We have fast, competitive race cars and at Dover, we were in the mix with two cars in the top 10 [Ambrose was 10th]." Almirola said. "I don't think a lot of people would classify Richard Petty Motorsports as a top tier team. I don't think we get credit for how good our guys are."
Almirola made 35 Cup starts for six teams from 2007 through 2010. The most races he drove in a single season was 12 in 2008 with Dale Earnhardt Inc. After running out of opportunities in Cup in 2009, he moved into Billy Ballew's Camping World Truck team for 16 races. Almirola ran the entire truck season in 2010, won two races and finished second in the championship, and that earned him a full-time job with JR Motorsports in the Nationwide Series in 2011. He finished fourth in the championship.
Allmendinger departed the No. 43 for Roger Penske's No.22 Dodge and Petty hired Almirola.
"Until I went and ran that truck for Billy [Ballew], I never had the opportunity to run full time," Almirola said. "I was kind of the fill-in driver. To have that opportunity to run for Billy, it gave me the chance to win races and finish second in points and I followed up with fourth at JR Motorsports and it led to this. It made me a better driver and I'm taking everything I learned into this opportunity to run for Petty Motorsports and run for championships. I have an amazing opportunity to drive the No. 43."
Almirola's career grew driving regularly in Trucks and Nationwide and it figures he's learning plenty going to every Cup race. Sixth at Dover has been his best so far this season, but he's got 23 races to move up.
"Anytime we run in the top 10 makes me feel good," Almirola said. "Makes me feel worthy, makes me feel like I belong."