Jimmie Johnson, Greg Biffle to challenge for the Pocono checkers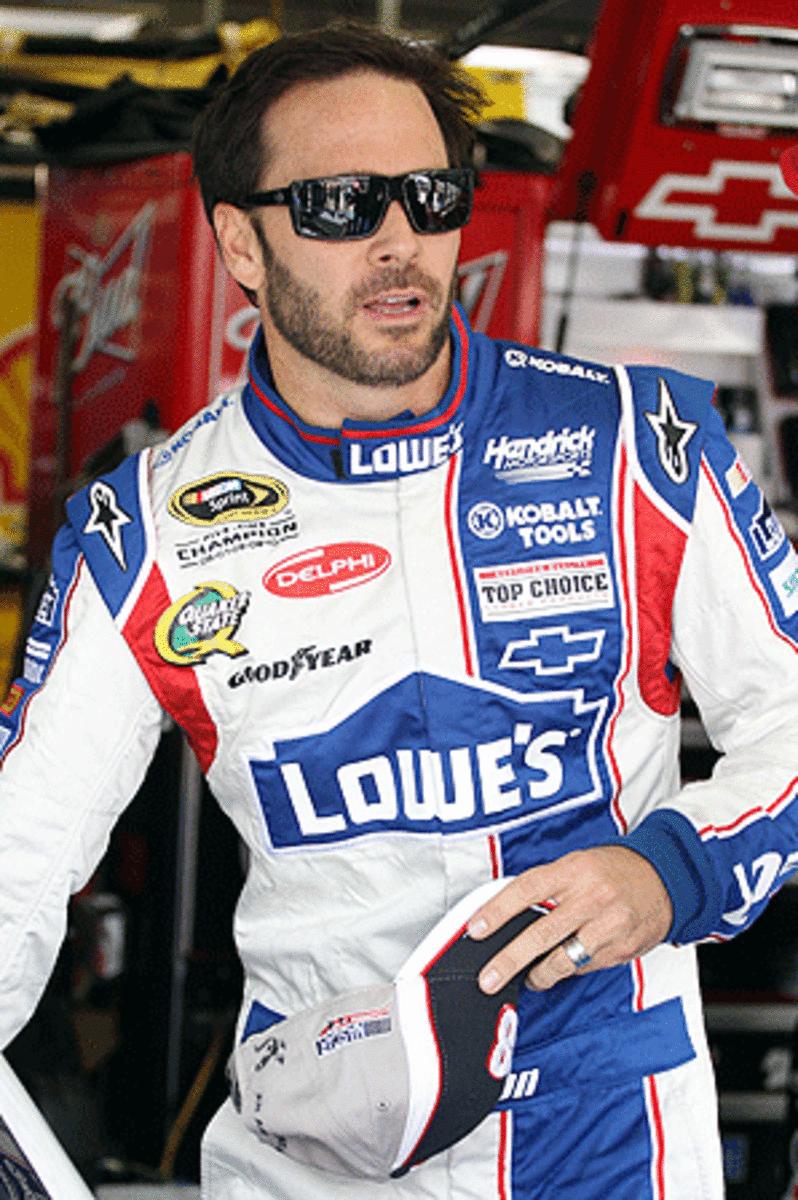 More and more, it's beginning to look like last year was an aberration in NASCAR. Because at the midway point of the Sprint Cup regular season, one driver already has emerged as the clear favorite to be hoisting the Cup trophy at the end of the Chase: Jimmie Johnson, the five-time champion.
In 2011, you'll recall, Johnson failed to win the Sprint Cup title for the first time since 2005. He held the points lead after winning the fourth Chase race at Kansas Speedway -- an effort that landed Johnson on the cover of SI -- but the next week he crashed violently at Charlotte Motor Speedway and was never again a factor in the championship.
Whispers spread throughout the garage that Johnson and his crew chief Chad Knaus were bickering, and that the dynasty was dead. After Johnson crashed in the opening laps of this year's Daytona 500 and finished 42nd, a few pens in the media center questioned whether Johnson would even make the Chase this year. After two races, he was 20th in points.
But now here he comes again. He won at Darlington Speedway on May 12, won the non-points paying All-Star race on May 19 at Charlotte, and last Sunday took the checkered flag at Dover International Speedway. He's up to fifth in points and can now concentrate on simply trying to win races and collect bonus points for the Chase. This means Johnson and Knaus can take chances both with their setups and on pit road over the final 13 races of the regular season. I fully expect the 48 team to win a few more races over the coming weeks, including Sunday's event at Pocono Raceway.
At Dover Johnson piloted a new car that Knaus and his crew had spent months developing and building, incorporating their latest technological gains. The results were spectacular: Johnson led over 70 percent of the laps and won the race in a snoozer. Add in the fact that Hendrick Motorsports has now taken the last three checkered flags and it certainly appears that Johnson and his teammates have a slight mechanical advantage over the rest of the field.
Johnson hasn't won at Pocono since he swept both races there in 2004, but he has finished in the top five in three of his last four starts. It says here his recent dominance of the circuit will continue on Sunday with another trip to Victory Lane.
Here are four other drivers to watch at Pocono:
1. Greg Biffle
Here's a stat that doesn't bode well for Biffle's title chances: Since the advent of the Chase format in 2004, the points leader at the halfway mark of the regular season has only won the championship once (Jimmie Johnson in 2006). Biffle, who currently has a one-point lead over Matt Kenseth in the standings, has yet to win a race this year, but he's tied with Kenseth with a series-best seven top-five runs.
Biffle's season closely resembles what Carl Edwards, his teammate at Roush Fenway Racing, did in the early stages of 2011. Like Edwards, Biffle has been a model of consistency, as he's held the points lead since after the second race of the season. But also like Edwards (who won only one race last year), Biffle hasn't been closing out races with wins after he's led a bunch of laps, like when he paced the field for 204 laps at Charlotte and wound up fourth.
In his last three starts at Pocono, Biffle has one victory and two top 10 finishes. He should contend for the checkers on Sunday.
2. Denny Hamlin
After struggling last season with only one win and a dud performance in the Chase (he finished ninth), Hamlin has had a nice rebound so far in 2012. He already has two wins (which means he's a virtual lock to qualify for the Chase) and is fourth in the standings. If he maintains his current average finish of 9.5, it would be the highest of his seven seasons on the Cup circuit.
Hamlin positively loves Pocono. Statistically, it's his best track on the schedule, as his average finish in 12 career starts is 5.9. Hamlin has four wins here, but in his last two starts he hasn't come in higher than 15th. Still, I expect him to be very fast on Sunday.
3. Kasey Kahne
Over the last seven races no driver has scored more points than Kahne, who during that stretch has jumped from 31st to 14th in points. Indeed, two months ago Kahne was the early leader to be the season's most disappointing driver, but now he looks like a good bet to make the Chase.
Kahne won the spring race at Pocono in 2008, but in his last four starts he's failed to crack the top 10. But career stats don't mean much this season for Kahne, because he's never had equipment of the level that he now has with Hendrick Motorsports. Don't be surprised if it's Kahne -- not Johnson -- who extends Hendrick's current winning streak on Sunday.
4. Brad Keselowski
Keselowski has been an all-or-nothing driver in 2012. He has two victories, but also three finishes of 32nd or worse. He's currently 11th in the standings.
After failing to be a factor in his first three career starts at Pocono -- he never came in higher than 20th -- Keselowski won here last August, a result that invigorated his season, leading to two more regular seasons wins, a wild-card berth in the Chase, and a fifth place finish in the playoffs.
Still, this appears to be Hendrick Motorsports' race to lose. Momentum is a very real force in NASCAR -- just as it is in stick-and-ball sports -- and look for it to propel Jimmie Johnson to Victory Lane on Sunday.