Americans have good chance to end Indy 500 drought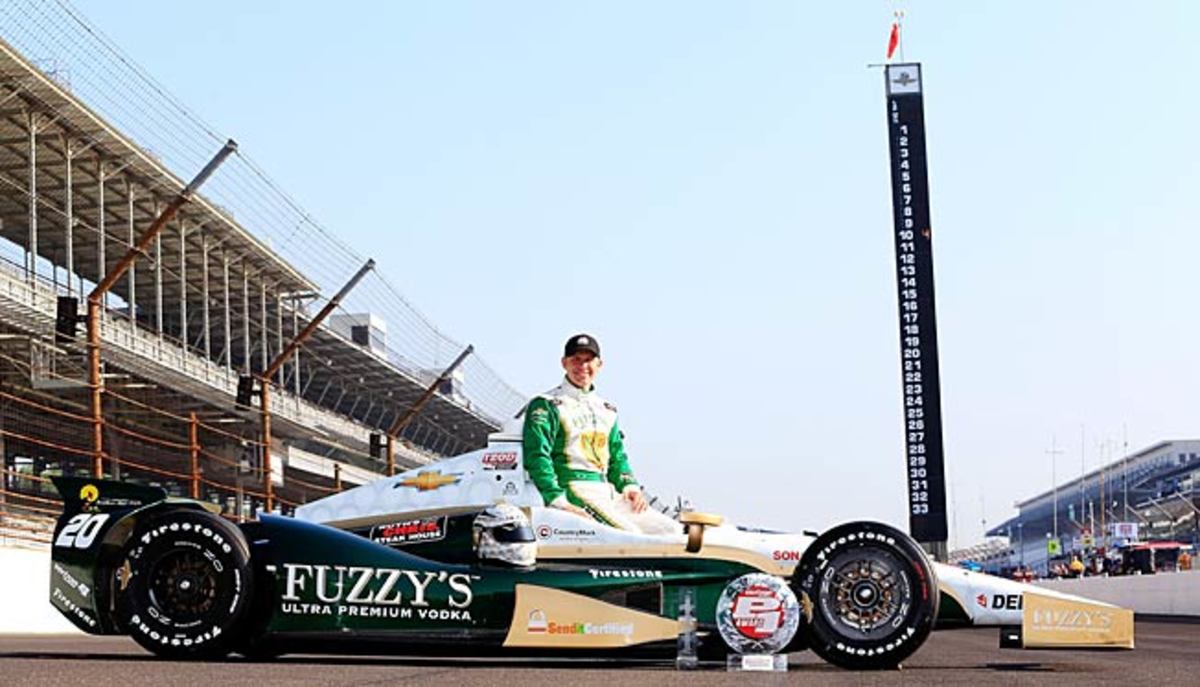 The Indianapolis 500 has always been an international event -- Jules Goux of France took the third running in 1913 -- but Americans have won the vast majority of the races, including 22 straight beginning with A.J. Foyt in 1967 and extending to 1988 with Rick Mears. That dominance began to fade with Emerson Fittipaldi's triumph in 1989. The Brazilian's victory signaled a shift from the oval short-track racers who had traditionally filled the 500 grids to foreign-born drivers, who were getting into an increasing number of the top seats in CART's Champ Car Series because of their road racing backgrounds.
Since Fittipaldi's victory, foreign-born drivers have won Indy 16 times. An American has taken the checkers only five times during the past 20 years, most recently by Sam Hornish Jr. in 2006. But a red-white-and-blue renaissance may be brewing.
GALLERY:Greatest Indy 500 moments
The prospects for an American winner this year are the best they've been since Hornish started on the pole and beat Marco Andretti to the checkered flag in the final 200 yards. (Michael Andretti was third that year.) For Sunday's 97th running, five Americans will start in the top 10 positions, including Ed Carpenter on the pole with Marco Andretti on the outside of the front row. NASCAR's A.J. Allmendinger, an Indy rookie, will start fifth. In the third row, inside, is Ryan Hunter-Reay, last year's IZOD IndyCar Series champion, the first American to win the IndyCar series title since Hornish in 2006 and the first in a unified series since Al Unser Jr. in 1994. JR Hildebrand starts on the inside of the fourth row.
Here are the field's top five threats from the USA:
GALLERY:Top 10 drivers to watch in the Indy 500
Ed Carpenter
He's the surprise pole winner, but not a surprise contender. The stepson of IndyCar and former Indianapolis Motor Speedway President Tony George has a solid record and, at age 33, plenty of experience. Carpenter won at Kentucky Speedway in 2011 and took the season-ending MAVTV 500 at Auto Club Speedway in Fontana, Calif., last year. This will be his 10th start at Indianapolis. He finished fifth in 2008 and eighth in 2009 while driving for George's Vision Racing. Last year, he made a run from the 28th starting spot to second with 20 laps to go before spinning out.
Carpenter's a throwback to the 1950s and '60s with his background in short track Midget and Sprint car racing, but he also made a stop in the Firestone Indy Lights Series -- IndyCar's top development series -- and won at Indy in 2003. He got the opportunity to start his own team late in 2011 when golfer Fuzzy Zoeller, a Hoosier, approached him with sponsorship; he is now the first owner-driver to qualify for the pole since 1975.
It's impressive that Carpenter ran so strongly last year with a one-car team. Multi-car teams are in vogue due to the massive amount of information they provide in preparing for the race, but his pole position indicates that he really knows what his Dallara DW12-Chevrolet wants and how he can get the best out of it. When the race starts, drivers who make the right calls with the changing track conditions go to the front. Carpenter has proved he's very skilled at it.
Ryan Hunter-Reay
Driving for Andretti Autosport, which put five cars into the grid's top nine this year, Hunter-Reay is the best all-around American in IndyCar. He has 10 career series wins, and has had success on every type of course, including the ovals at Milwaukee and Iowa last season and New Hampshire in 2011. The Indy 500 Rookie of the Year in 2008, he finished sixth for Rahal Letterman Racing that year. Andretti became a contender after Hunter-Reay signed on in 2010, and with a new technical formula -- chassis and engine -- last year, he started on the outside of the front row, but dropped out with a suspension failure after completing 123 laps. This year, he's picked up where he left off with his series title, arriving at Indy with a fast car.
The Andretti team spent the week of practice leading up to qualifying focusing on getting their DW12-Chevrolets ready for the race. That they had so much speed, likely achieved by taking off downforce in qualifying, speaks well of the full-tank-to-empty balance they've found for the race. Hunter-Reay will be dangerous.
Marco Andretti
He's shown supreme skill at Indianapolis since arriving as a 19-year-old rookie in 2006. The grandson of 1969 Indy 500 winner Mario Andretti led a race-high 59 laps in 2012 and was charging to the front in the closing laps when he spun and hit the wall in Turn One. Andretti finished third in 2008 and 2010. His most recent IndyCar win was on the oval at Iowa in 2011. At 26, he starts third in his eighth Indy 500. That's a ton of experience at a relatively young age and it should produce a mature drive as his speed has always been there at Indy.
JR Hildebrand
The Panther Racing driver came one corner away from winning in 2011 during his rookie Indy 500. He was leading when he hit the Turn Four wall on the final lap, but had enough composure to drive the wounded car past the checkered flag to take second place. It was the fourth straight year that Panther was runner-up in the 500. Hildebrand and Panther had an off-month of May last year, starting 18th and finishing 14th. They were never really in the hunt, but they've bounced back this year with more speed in practice and qualifying, and will be starting 10th. Both the driver and team are smart and capable of challenging at the front.