Isner stumbles in Paris tuneups, U.S. chances look rather bleak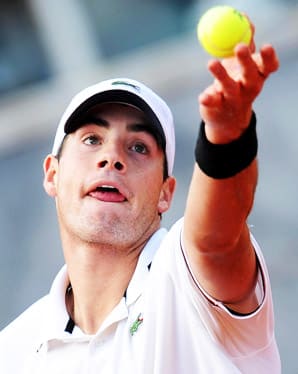 Just six weeks ago, John Isner was the hottest player in men's tennis. In the wake of some stunning early-season results, he scored Davis Cup wins over Gilles Simon and Jo-Wilfried Tsonga to anchor the United States' victory in the World Group quarterfinals, prompting forecasts of glory from around the globe.
As the French Open approaches, people are wondering if Isner -- or any American man -- can make a significant impact.
Before the year even started, U.S. team captain Jim Courier called Isner "probably the most disruptive force in the men's game. His serve is just a monster. No one from the top down likes to deal with it. He's not the best player in the world by any means, but he's the least enjoyable to play. If he keeps getting better, the top ten is where he should live."
As if on cue, Isner knocked off Roger Federer during Davis Cup play in early February -- in Switzerland and on clay, no less -- then stormed his way to the finals of the prestigious Indian Wells event, knocking off Novak Djokovic in the semifinals before losing to Federer in the final. By the time the U.S. had maintained its Davis Cup supremacy in France, it was apparent that Isner's movement, backhand and service return were superior to anything he'd displayed in the past.
Andy Murray was among those paying respects. In a Tennis Space feature, asked by his brother, Jamie, if he could have one shot from a rival player, he answered, "I'd take John Isner's serve, for sure. It's probably the best serve ever -- the second serve, as well. That would make life a lot easier."
Feeling especially bold, Isner even campaigned to play mixed doubles with Serena Williams at the Olympics (wasn't that supposed to be Andy Roddick's territory?).
"I may be the odd man out," he said, "but I'm pretty good friends with Serena. Might need to bribe her, maybe send her a gift in the mail. But to have her on my team would be a big advantage."
As a player known for his humility and team-spirit brand of camaraderie, Isner isn't the type to rest on his laurels. But he hasn't been the same player since the outdoor-clay event in Houston last month. He reached the final, as expected, but then lost a match he felt he should have won, 6-3 in the third, to Argentina's Juan Monaco.
Since then: clay-court disasters. He bombed out of Madrid without winning a match (Marin Cilic took him down in a pair of tiebreakers), then lost a second-rounder in Rome to local hero Andreas Seppi, 7-5 in the third.
Is this any way to approach Roland Garros? Remember, though, that one of the most revealing matches of Isner's career took place at last year's French Open. It was a terribly bittersweet affair; he drew Rafael Nadal in the first round, and after taking a 2-1 lead in sets by winning consecutive tiebreakers, Isner finally lost in five. But as he has said on more than one occasion, "I'd rather have lost in the first round, to such a great player, than last a few more rounds. It was a tremendous experience for me."
It's hardly a stretch to say that Isner represents the United States' best hope on the men's side at the French. How it looks for the others in this week's top 100:
No. 10 Mardy Fish: Still sidelined with an illness, one that he refuses to talk about, Fish hasn't played since the Houston event and has officially withdrawn from Paris.
No. 29 Roddick: Carrying on the dubious tradition of Pete Sampras -- an American lost in Paris -- Roddick's best career showing was a fourth-round appearance in 2009, and he's been bounced four times in the first round. Hardly in top form these days (he took a discouraging 6-2 6-2 loss to Argentina's Carlos Berlocq in his first match of the Team World Cup over the weekend), Roddick won't be a factor.
No. 50 Donald Young: At least he's in the event, as opposed to last year, when his omission from wild-card status prompted that savage Twitter rant against the USTA. Young is a dismal 2-11 in Tour matches this year, and he's lost seven straight since outlasting Grigor Dmitrov in a tense three-setter at Memphis in February. A first-round exit in Paris would be no surprise to anyone.
No. 56 Ryan Harrison: For all of the excitement and promise surrounding Harrison, he hasn't scored a really significant victory all year (13-12 overall). He did play well in Madrid, avenging that 2010 U.S. Open loss to Sergiy Stakhovsky before losing to Jo-Wilfried Tsonga. But he was knocked out of the Rome qualifying by 104th-ranked Victor Hanescu in straight sets, then fell to Leonardo Mayer at the Team World Cup. The man is capable of great things at any time, but this year has been marked largely by setbacks.
No. 71 Sam Querrey: He's actually been the most successful American on this year's clay-court circuit, at least in terms of wins. He won the nondescript Sarasota event with five straight victories (beating Italy's Paolo Lorenzi in the final) and followed that up with three more wins (twice in qualifying) in Rome before losing to 13th-ranked Nicolas Almagro in the second round. Still, the French Open isn't really his thing: first-round losses in his first four tries, then a second-round exit last year. Well under the radar for sure.
No. 96 James Blake: Truthfully, it's surprising to see him ranked even this high. His only big-time exposure of 2012 came in Miami, where he got into the main draw but immediately lost to Nikolay Davydenko. The Blake conversation begins and ends with sweet nostalgia.
On other fronts
The U.S. Women: One can never be sure what might happen at the "B" level in Paris -- wouldn't it be cool to watch Christina McHale play Sloane Stephens? -- and now that Serena Williams has a dodgy back, expectations have been tempered at the top. There's little doubt, though, that there would be tremendous anticipation surrounding a Serena-Maria Sharapova or Serena-Victoria Azarenka match. And I'd take Serena in either one.
Short on class: It's dubious enough to pull out of a Masters Series event in the immediate aftermath of a win (a breezy two sets over Shahar Peer), but Azarenka lost a ton of credibility when she blamed the WTA for her failing health. Sharapova absolutely nailed it, too, telling the press that Azarenka has become known for her injuries and retirements, and that if you're really not feeling up to standard, "Pay a little out of your pocket and not play."
The outsider: By all rights, this should mark the high point of Marion Bartoli's year. She's French, she's by far the best female player in the country, and in the grand French tradition -- Suzanne Lenglen, Francoise Durr, Henri Leconte, Yannick Noah, Amelie Mauresmo, Fabrice Santoro -- she's an original, possessing an on-court style reminiscent of no one else. Instead, Bartoli finds herself at odds with French officials and rudely dismissed from participating in the London Olympics. In fairness, Bartoli should be past the point of depending on her father, Walter, for every little thing. That's the central issue of the feud. But you'd think allowances could be made for a very talented player and a genuinely nice person at heart.
Grand theater: Roger Federer should know that he left Rome without losing a trace of his worldwide appeal. The fans were generally in his corner during the semifinal against Novak Djokovic, and just when the situation looked hopeless -- Djokovic leading 6-4, 5-4 and serving at 40-30 -- Federer hit a blistering inside-out forehand that just caught the line.
A roar of encouragement soon turned to bedlam as Federer took it into a tiebreaker. Whatever doubts had existed about Djokovic -- heartbroken in Monte Carlo, bummed out in Madrid -- were now thoroughly erased; it was clear that the world No. 1 was in top form and fully motivated. Watching at home, savoring the sight of the good red clay and Foro Italico's classic setting, I dearly wished I could be there. Rome served as the perfect lead-in to Paris, and here's a red-wine toast to tradition.