The dog days of tennis ... and an early peek at the U.S. Open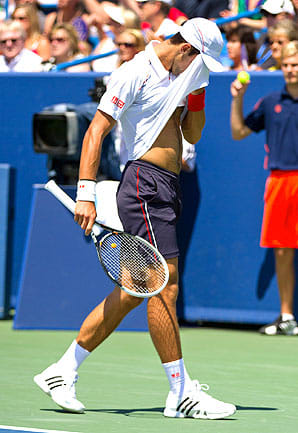 They're known as the "dog days" in baseball, and they are not to be trusted. Late August means blast-furnace heat, stifling humidity, mirage-like developments and a ballplayer confiding to friends, "I'm draggin'." Only in September, when the fresh breezes of autumn grace the stretch drive, will things begin to gain clarity.
Tennis had a dog-day week in Cincinnati. A number of fatigued players treated the event as an afterthought, if they competed at all, and you had to feel bad for the fans and organizers of a tournament that dates back to 1899. They didn't experience the game's top level as it truly exists.
By the time Serena Williams reached the quarterfinals, she seemed resigned to defeat. She somehow got past Ursula Radwanska, then lost to Angelique Kerber, all the while playing a listless, dispirited brand of tennis complete with frustration and the occasional loss of cool. It was perfectly explainable, given Serena's whirlwind schedule since Wimbledon, but it hardly meshed with the pre-tournament media hype declaring her unbeatable and the most dominant player in history.
As for Novak Djokovic, the man who took such awe-inspiring command of the tour last year, there wasn't much to be said for his competitive drive in Sunday's final against Roger Federer. It was totally nonexistent.
"Good stuff by Federer, but who gave Novak a dozen sleeping pills last night?" Matt Cronin wrote on Twitter after the 6-0 first set took all of 20 minutes. "Playing as if in coma."
Jim Courier, calling the match on CBS with Mary Carillo, was appalled, saying, "he's a shell out there" and "he's not engaged at all, mentally." But in Cincinnati and, to a degree, Toronto the week before, the stories were all about depleted fields and wide-ranging agendas. Like baseball, however, things will begin to make sense by Labor Day. The U.S. Open begins next Monday, and that's when everyone intends to peak.
Checking in on certain key participants and other issues with less than a week to go:
Rafael Nadal: His absence is a huge blow to the tournament. Of the so-called Big Three (or four, if you count Andy Murray), Nadal carries the most star power. We're certain to hear players align with Nadal's stance on the tour -- too long, too physically demanding -- and that's a good thing. Nothing will be done about it, but it's important to keep the dialogue moving. The players raise too many good points to be ignored.
Mardy Fish: He just might be the only American man to reach the second week. Andy Roddick's shoulder is a concern and John Isner's performances are too flighty; Fish had a solid week in Cincinnati, reeling off three impressive wins before a gallant losing effort (7-6 in the second) against Federer. "I feel fresher, stronger," said Fish, whose medical problems have been well documented. "The summer's gone well for me as far as getting my fitness back."
Lleyton Hewitt: He'll be a wild card with virtually no chance to win, but Hewitt is the only player, man or woman, who displays that old-fashioned Aussie resolve. There was a time when the country churned out tough, resilient players who were especially forthright in a crisis. The top two players now, Samantha Stosur and Bernard Tomic, find it nearly impossible to sustain a mental edge.
Venus Williams: Here was the ultimate contrast, over the course of consecutive matches: Venus leaping and clicking her heels after her third straight three-set win (over Stosur) in Cincinnati, then barely able to serve in the next round against Li Na. Tormented by a bad lower back, Venus gutted it out through another three sets and imparted a priceless lesson for any young kids watching. "I like to live life with no regrets," she said. "I don't want to look back and feel like I gave up or say I could have done this or that. I want to go to the very end and give it my all."
Sloane Stephens: Good show, after an up-and-down summer, winning the second set from Radwanska before going down in the third round. The Open is always a little more interesting when the up-and-coming Americans do well, and it's a great opportunity for Stephens, Christina McHale, Varvara Lepchenko or the other young U.S. women to shine.
Bud Collins: Incredibly, Collins recently underwent his 10th surgery in 10 months. He and his wife, Anita, will make every effort to attend the Open, even if he isn't able to work. "We're acting as if we're going to be there," Anita said via email. "We're doing it mainly so Bud can be recharged by seeing his old pals." The sentiment will be quite mutual.
Nostalgia: Consider Nadal, his career at a crossroads at 26 after attacking the game with such fierce passion over the years. Reflect upon Federer, still a physical marvel at 31. Then think back to 1991, when Jimmy Connors stormed into the Open quarterfinals at 39. There's a landmark of longevity that will never be surpassed.
How to Watch
ESPN is the primary rights holder and will feature its usual crew, plus John McEnroe (in his third year with the network) and considerable depth, including Tom Rinaldi (one of the best interviewers in sports television), Mike Tirico, Hannah Storm and espn.com columnist LZ Granderson. (Little-known fact about anchor Chris McKendry: She attended Drexel University on a tennis scholarship.)
CBS will be the heavy hitter, as usual, on weekends, airing live from 10 a.m. to 6 p.m. on the middle Saturday, Sunday and Monday. Bill Macatee has replaced Dick Enberg as the lead play-by-play announcer, and he'll work alongside Carillo and John McEnroe on the biggest matches.
Tennis Channel may be the third wheel at this event, but its coverage will be relentless. Jim Courier has been hired as the lead analyst on men's matches, and he joins a stellar crew including Carillo, Macatee, Martina Navratilova, Lindsay Davenport and one of the sharpest-ever analysts among ex-players, Mats Wilander. Tennis Channel has an exclusive prime-time window of 7-11 p.m. on the middle weekend, and it will also feature daily weekday coverage (10 a.m. to 7 p.m.), a nightly wrapup show (11 p.m. to 2:30 a.m.) and "Breakfast at the Open" each day from 6 a.m. to 10:30 a.m.
Courier was at his best on Sunday's CBS telecast as he worked the Cincinnati final. Aside from calling out Djokovic for his first-set apathy, Courier took viewers back to the semifinal of last year's U.S. Open, when Djokovic, facing a match point, took an absurdly ferocious swing at a forehand service return and drilled a stunning cross-court winner. (Federer's postmatch reaction was bitter and dismissive.)
At 7-all in Sunday's second-set tiebreaker, Federer hit a punishing first serve out wide to Djokovic's forehand, winning the point with ease. Courier's immediate take: "Federer almost dares Novak, every time they get in a situation like this now, to hit that same forehand from the U.S. Open again. That's the same serve. He did it at Wimbledon, and he did it again right here. I think Federer's trying to prove a point to himself, like, 'That guy got lucky last year.' That's what he's trying to say."