The good, bad from Davis Cup play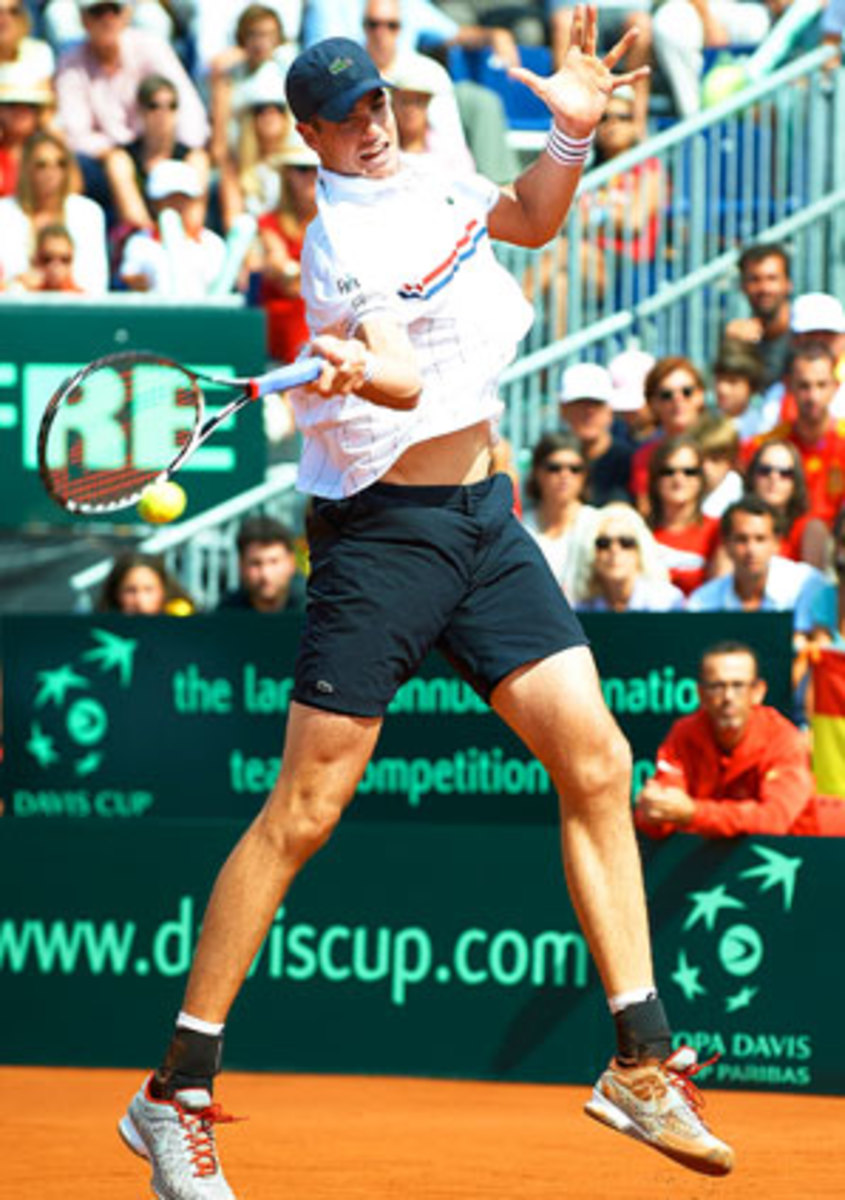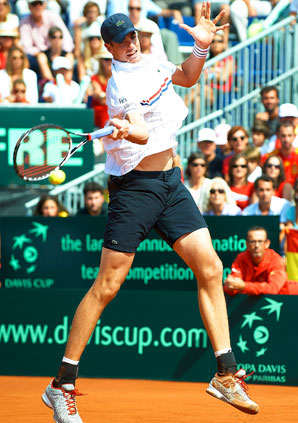 Ah, the dignity and harmony of Davis Cup. Great players giving it all for their countries, fostering team spirit on a prestigious stage that rivals anything in tennis.
Wait a minute; that must be some other Davis Cup. Certainly not the one we witnessed over the weekend.
Maybe it arrived too soon. Media sage Matt Cronin describes his thirst for tennis as "insatiable," but he tweeted that "Davis Cup four days after the U.S. Open final is a tough task, even for me." In any case, it was hardly compelling when measured against the event's lofty standards.
Breaking it down by countries:
UNITED STATES: I can't recall a pair of U.S. Davis Cup players who were less fun to watch. The too-tall timbers, John Isner and Sam Querrey, gave a spirited effort against Spain, but there just isn't enough variety in their games. It's not as if they could shrink a few inches on demand, but I've always been partial to quick, agile athletes who operate cleverly around the net and cover acres of ground during wild, improbable points.
The laid-back Querrey has quite likely reached his peak on tour: solidly inside the top 50, equally capable of an impressive win or a languid defeat, no threat to even reach the semifinals of a major. Isner has brought himself so close to the brink, he has gained untold fan support along the way, but he has become a symbol of negativity -- a trait that hardly meshes with his upstanding character.
Throughout his struggles in the clay-court season and the ensuing three majors, he was bitterly critical of his play, sounding as if his cause was utterly hopeless. Here's a man fairly defined by endurance -- that 70-68 set he took from Nicolas Mahut at the 2010 Wimbledon -- and yet, he has become a consistent failure in five-set matches (4-10 lifetime). Since his impressive early Davis Cup run, defeating both Roger Federer and Jo-Wilfried Tsonga on the road, he's found a way to lose virtually all of his important matches. And his lack of acceptable temperament surfaced once again in his loss to David Ferrer on Sunday, when he took to smashing and kicking his rackets on court.
Perhaps there's hope for the future in the presence of Ryan Harrison and Jack Sock, both of whom possess a fierce competitive nature, but when it comes to American prospects over the next few years, in any setting, Pete Sampras probably put it best as he pondered the retirement of Andy Roddick. "It's a little thin, unfortunately," Sampras told the New York Times. "Andy really is the last truly great American player. No disrespect to the guys playing now, but they are not quite to the level where Andy was."
SWITZERLAND: Worth mentioning only because Roger Federer played against the Netherlands, while the other Big Four stars sat out. And it doesn't sound as if Federer has much of a commitment to Davis Cup. "Not a whole lot, to be honest," he said on Sunday. "For me, it's about enjoying being with teammates, and that's about it, really." He also portrayed himself as "wounded, tired and exhausted," with no clear plan as to how to approach the rest of the year.
SPAIN: Just a fabulous performance against the U.S. in Gijon, the port city on Spain's Atlantic north coast. Even as he resides just outside the tour's elite, Ferrer is becoming a worldwide celebrity with his Davis Cup performances (lifetime 15-0 on clay) and inspired play at the majors. Nicolas Almagro had a great weekend, as well, winning that 7-5 fifth set against Isner to set the tone for a team heading once again to the Davis Cup final, this time against the Czech Republic, and who knows→ Rafael Nadal hasn't ruled out the possibility of competing.
CZECH REPUBLIC: Tomas Berdych and Radek Stepanek were simply sensational in the hostile setting of Buenos Aries, bringing down favored Argentina to reach the final for the second time in four years. This time, significantly, it will be on home soil, and imagine what that could do for the Czechs' tennis future. There will be thousands of young players in attendance or following the action closely. This country is building a base of exceptional power players, from Berdych and Lukas Rosol (who overpowered Nadal at Wimbledon) to Petra Kvitova and seven other hard-hitting women in the WTA's Top 100. Ivan Lendl and Martina Navratilova would be proud.
As for capturing the spirit of Davis Cup, Stepanek failed miserably. He ripped the Argentine fans for being "very noisy" (Radek, that's what this thing is all about) and lamely questioned the legitimacy of Juan Martin del Potro's wrist injury. Stepanek has always been sort of a weird cat, though. Cheer for him at your peril.
ARGENTINA: Rumors have spread this week about dissension on the team. That's certainly nothing new, recalling the Del Potro-David Nalbandian squabbles in past years, but it sounds rather contrary to hear that Del Potro set himself apart from the team. This guy has a heart bigger than the Valdes Peninsula, and he's earned worldwide admiration this year with his gestures of passion and dignity. He broke down in tears after defeating Novak Djokovic in the Olympics, thus earning a precious bronze medal. He was the epitome of class at Arthur Ashe Stadium after ending Roddick's career. And although he was devastated by this new injury (to his left wrist; he had surgery on the right), he ignored medical advice and put himself at further risk by competing in singles on Friday, because it meant that much to his country's cause.
Whatever people might be saying about Del Potro just now, they don't have an audience in this corner. This man is a class act all the way. Unless he needs a new round of surgery, he'll have more than three months to prepare for the Australian Open.
AUSTRALIA: If you think Isner and Querrey represent a grim reminder of past U.S. Davis Cup teams (try Sampras, Courier, John McEnroe and Andre Agassi in'92), imagine the level of disgust in Australia after its shockingly awful loss to Germany. This is the greatest Davis Cup country of them all, graced by the likes of Rod Laver, Roy Emerson, Ken Rosewall, John Newcombe and Tony Roche in the glory years. The current team is a joke in comparison, strapped by a hopeless confluence of old age and impetuous youth.
Nobody ever said Lleyton Hewitt gave up on the tennis court; it simply isn't in his nature. But this is a well-worn Hewitt, immersed in the twilight, and you know he's at the end of a distinguished career when he loses a win-or-else match to Germany's 127th-ranked Cedrik-Marcel Stebe in Davis Cup. It's an unthinkable result. Far more disconcerting, though, is the ongoing malaise of Bernard Tomic, the boy genius now considered an out-and-out embarrassment to a great tradition.
At Wimbledon, he was admittedly content with a first-round loss to David Goffin, saying, "To be honest, I haven't been really working hard the last two months. I like that I've lost. I think it's good for me."
At the U.S. Open, John McEnroe flatly accused Tomic of tanking against Roddick, and the 19-year-old essentially agreed. That prompted a lively critique from Australian Davis Cup captain Patrick Rafter, calling Tomic's performance "disgraceful" and adding, "There's no use sugar-coating something, and I'm sick and tired of tip-toeing around it. He needs to do the work. If he wants to be part of Davis Cup, he has to train and work hard. If those goals aren't met, then he won't be part of the team."
Fast-forward now to Sunday, on a clay court at Hamburg's Rothenbaum Stadium, and a match against Florian Mayer that could clinch the tie for Australia. It's not that Tomic's loss was particularly stunning, on the surface; Mayer is the more accomplished, experienced player. But in going down 6-4, 6-2, 6-3, Tomic "looked lost at times," according to The Age (of Australia), and by the middle of the second set, "his shoulders started to slump." The Melbourne Herald reported that Tomic "never looked in the game" and "he shook his head in frustration as everything he tried, failed."
This is not the type of attitude the Aussies remember from Emerson, Newcombe or Rafter himself. It reached the point where Roche, who helps coach the team, had a tempestuous courtside exchange with Tomic late in the first set. "We don't know what was said, but it was animated," said Brian Phillips, calling the match for Australian radio. "Tomic's effort was really disappointing, lackadaisical. He didn't dig deep enough...he almost waved the white flag."
Tomic talks big in his press conferences, even calling out reporters who dare mention his shortcomings, but for those who take pride in Australia's tennis history, he's a colossal failure. Perhaps the most biting comment came from Pat Cash, once a competitor of the highest order, in the Times of London during Wimbledon: "I really don't know if Tomic is the sort of guy who thinks about the words of the Australian national anthem, particularly that bit about toiling with hearts and hands."