Pay close attention, women's field on the rise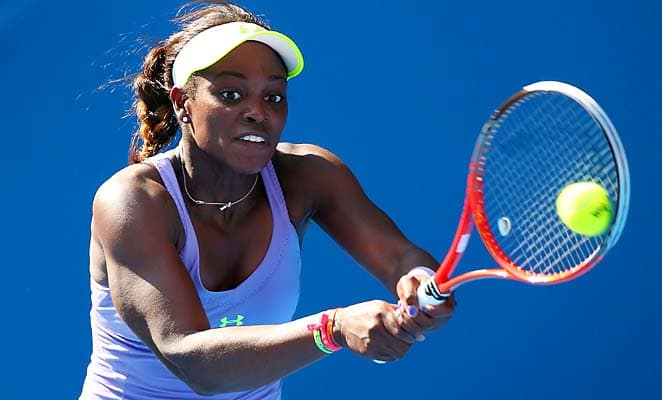 As the quarterfinal pairings were set at the Australian Open, one couldn't help but wonder: Aren't those women's matches as potentially appealing as the men's? And how often has that been the case at this stage of a major?
In a welcome and long-awaited development for the women's tour, fields are deep, talent-laden and full of surprises. Perhaps things aren't so dramatically different at the top, where Serena Williams, Victoria Azarenka and Maria Sharapova are solid bets to reach the final weekend of any major. But that sort of predictability was the case on the men's tour for years, in the form of Roger Federer, Rafael Nadal and Novak Djokovic. It's the bigger picture -- the chance for undeniable excellence over the course of two weeks -- that speaks so well for the women's game.
No. 1 ranking scenarios for Williams, Azarenka, Sharapova
This was marvelously evident in the third-round match between Sloane Stephens and England's Laura Robson. In a very short time, these two have developed a fierce and compelling rivalry. Stephens prevailed, 7-5, 6-3, in a matchup looming as can't-miss entertainment well into the future.
It's the sheer power of women's tennis -- launched in the modern era by the Williams sisters and becoming more widespread each year -- that makes the early rounds so entertaining. The first time I saw Bojana Jovanovski two years ago, I couldn't believe the force of her groundstrokes. She looked like a major champion in the making. She hit a few roadblocks thereafter (famously flying to Carlsbad, N.M., instead of the California stop on tour) and proved to be painfully erratic, but Jovanovski showcased her potential in Melbourne before losing a titanic fourth-round battle against Stephens, also 7-5 in the third.
"She was going down the line on every shot," Stephens said of her 21-year-old Serbian opponent. "Just hitting with every muscle in her body, and hitting it unbelievable. I couldn't find a rhythm, couldn't find anything. I just had to stick it out, and hopefully she comes down off her throne."
(Now, if Jovanovski could pipe down when she hits the ball instead of joining the all-out shriekers on tour, she'd do herself and her reputation a huge favor.)
When one speaks of newfound depth in women's tennis, Stephens enters every conversation. She is only now entering the top 20 (as of the post-tournament rankings), and perhaps she'll never win a major. But tennis aficionados are drawn like magnets to Stephens' huge forehand, court presence and engaging manner.
Best on-, off-court photos from Tuesday in Melbourne
Another good sign: Two players previously ranked No. 1, Caroline Wozniacki and Ana Ivanovic, are hanging in there. About to crash the penthouse parties again? Not likely. But again, if you're looking for an entertaining match near the end of the first week, these two will deliver -- not to mention the delightfully eccentric Marion Bartoli or the eternal lure of Petra Kvitova's power. And as long as I've been following tennis, I can't recall so many appealing players ranked outside the top 25. I'm thinking of Su-Wei Hsieh, Yaroslava Shvedova, Tsvetana Pironkova and Mona Barthel, just for starters.
(In reading one account listing Yulia Putintseva, Luksika Kumkhum and Donna Vekic as the top international teenagers to watch, I realized that you'd better stay right up to date with the women's game; I've yet to see any of them play beyond a few scattered TV clips.)
Just as Andy Murray's emergence has turned the elite of men's tennis into a Big Four, Agnieska Radwanska stands ready for a breakthrough on the women's side. She'll need to win a major to get there, but the fourth-ranked Radwanska hardly resembles the dreadfully dull baseliners who so disturbingly characterized the women's tour in the past. She's a beguiling talent, a thinker, with genius hands and a limitless supply of good ideas. Her loss to Li Na in the quarterfinals won't stall her progress.
Li shanks serve into crowd
"It's very tough," said England's Heather Watson after losing to Radwanska in the third round. "The ball isn't coming that fast, but it's just coming back. Every single time."
You'll notice only scant mention of American players in this discussion. No slight intended. It's just that, with the exception of Stephens, we'll need a bit more evidence that these up-and-coming players are for real. It's easy to get fooled by a flashy, somewhat deceiving performance like the ones displayed by Melanie Oudin and Beatrice Capra at recent U.S. Opens.
The best thing about American women's tennis, though, is that these prospects keep coming. Every major seems to bring a distinctly different story -- or several, with luck. Madison Keys' performance in Melbourne struck many observers as a revelation, and no one was more enthusiastic than ESPN's Pam Shriver:
"That was the real deal," she said. "You don't have a serve like that at 17 years old. The easy power. The big forehand. It's exciting. I haven't felt this (about young American players) for 15 years."
Then there was the raw and endearing intensity of Jamie Hampton, who gave Azarenka a major scare in the third round. What a fascinating background: Korean mother, American military father, born in Germany but raised in Alabama. This is a player with touch, variety and athleticism, with both a one-handed and two-handed backhand. She has spent months fighting off back pain, and she was absolutely furious at having to play the world No. 1 at less than full strength.
"I probably shouldn't be telling you this," she said after the match, "but I have two herniated disks in my back."
There was a classic mid-match photo of Hampton during a medical timeout, wearing a look of fierce determination, as if she was simply going to will her way through to victory.
"I went into that match with a lot of belief," she said after the 6-4, 4-6, 6-2 loss, "so I was not surprised that I played well. I didn't think I was going to lose."
Hampton was ranked No. 63 at the time, another shining example of an eye-catching trend in women's tennis. "Wake me up for the semifinals" is yesterday's lament.
WERTHEIM: No-quit Ferrer deserves respect