On-court coaching is uninteresting, unnecessary, at times disastrous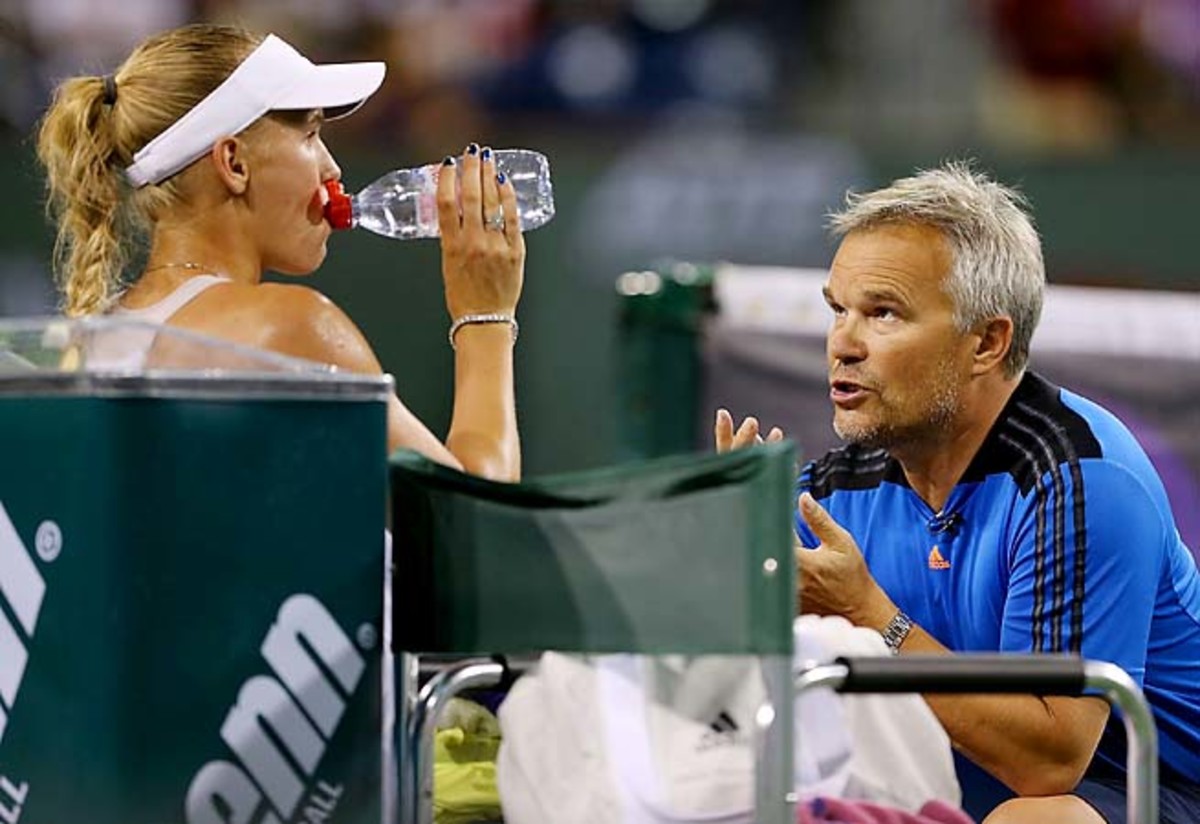 When it comes to verbal interaction on a tennis court, I prefer it to be right up front. That testy exchange between Serena Williams and Jelena Jankovic was instructive on Sunday, during their final at Charleston, for it displayed Serena's powers of intimidation and yet another opponent wilting in response.
If Maria Sharapova screams an obscenity beneath the din of a roaring crowd -- and it's meant for her opponent, not herself -- that's revealing. Jimmy Connors was famous for his finger-pointing lectures, and we've seen a number of snits between players on the men's tour in recent months.
Here's what doesn't qualify as interesting, provocative or necessary: on-court coaching. The ATP won't allow it, and the WTA should dispatch it with great haste. It's not allowed at the majors, thank goodness, but on regular tour stops, it has proved to be a colossal waste of time -- and even counterproductive, in some cases.
It would be easy enough for fans to ignore such nonsense, but it was instituted partly because of TV: viewers supposedly riveted to the screen as their favorite player talks strategy. So let's eavesdrop on one of these action-packed episodes:
Here comes the coach, ambling out of the stands. He chatters away in the player's native language. The player not only is silent, in most cases, but also not even making eye contact. She might be just staring into space, striking the image of some smart-aleck kid in the classroom, totally scoffing at a substitute teacher's admonishment.
Daily Bagel: Roddick discusses life in retirement
Here's something the WTA should know: This is awful TV. And it would be even worse if the two actually had a spirited discussion. Nobody needs to hear that, nor should it become part of a match. This is a new phenomenon in sports television -- dropping into sideline conversations or the dugout -- and I don't know about you, but I almost feel embarrassed, as if I opened the door of a bathroom to discover it's occupied.
One of tennis' most shining attributes is its creation of independent, problem-solving athletes. They escape from a crisis quite properly on their own, thank you, or perhaps they retreat from the burden of pressure. Either way, it's vital information for a fan and a character-building process for the player. As a disgusted Chris Evert said on ESPN recently, "You've got to rely on yourself. You can't rely on other people to help you. It's got to be inside you."
I find it offensive when players even look at their coaching box with regularity (Andy Murray and Justine Henin come quickly to mind). It's a sign of weakness. Not that any coaching is involved, necessarily; it's just that once a player takes the court, that's it -- shut off the world. Nobody else gets even remotely involved.
Mary Carillo had a wonderful take on this subject in an interview with Inside Tennis.
"I find that to be so sexist," she said. "Men don't have it, but the women are allowed to say, 'Daddy, she's breaking my serve'? Are you kidding me? This is the biggest women's sport in the world. We've had decades of mental toughness. It was always, 'Give me the ball, I'm going to figure a way to walk off winning this. I refuse to lose.' That's the whole, beautiful point of it. Here's a sport with a chance to show young girls what a strong and independent woman can do, yet you get this -- basically saying, 'I can't figure this out by myself, I'm just a woman.' That galls me."
Djokovic questionable for Monte Carlo after MRI results
A number of fans tell me they lost a ton of respect for Caroline Wozniacki after discovering that her father Piotr's advice is a vital, indispensable part of her matches, that some of her best performances came after a little chat. Former men's tour mainstay Mats Wilander told reporters that Wozniacki hasn't won a major because "she seems lost, compared to when she's getting coached [at regular WTA events]." At last year's Miami event, for example, such on-court coaching seemed vital to her impressive quarterfinal victory over Serena Williams.
My favorite moments are when the advice turns into a complete disaster. Not that I wish misfortune upon any player, but some truly preposterous scenarios unfold. After winning the first set against Agnieszka Radwanska in the recent Miami tournament, Sloane Stephens called for her coach, David Nainkin, and immediately went in the tank, unraveling physically and emotionally in a discouraging loss.
In that same event, Sharapova seemed prepared to execute a rare, soul-satisfying victory over Williams when, at one set apiece, she got a visit from coach Thomas Hogstedt. It was one of those relentless verbal beatdowns, Sharapova not saying a word, and at one point -- remember, Sharapova had been playing Serena on even terms -- he told her, "Don't start whining."
Sharapova was so fired up and enlightened by these words of wisdom, she went out and lost the third set 6-0.
I couldn't agree more with SI.com colleague Jon Wertheim, who has written that on-court coaching represents "the WTA at its toothless worst," and that "the WTA's claim that fans like on-court coaching simply reads false."
The whole issue is so off-putting, in fact, that I actually found a gem of truth in Juan Ignacio Chela's notorious list of "requirements for being a WTA player," revealed in the spring of 2012. Chela basically exposed himself as a chauvinist rogue -- and apparently took great delight in doing so -- but this was the last of his 11-step plan: "When you have your coach on court, look the other way."
Better yet, hang up the NO VISITORS sign.