U.S. Open report card: Final grades for breakout stars, disappointments
NEW YORK -- The 2014 edition of the U.S. Open was a series of zigs and zags. The women's draw appeared to be breaking apart with all the top ten seeds crashing out, but it was No. 1 Serena Williams who stood holding the trophy in the end. The men's draw looked to be holding to form with the top two seeds, Novak Djokovic and Roger Federer, earning spots in the semifinals, but No. 14 Marin Cilic was the last man standing on Monday as he captured his maiden title. It was a weird one, New York. 
​Serena Williams: A-plus. With everyone asking "What the heck is wrong with Serena?" after Wimbledon, Serena went 19-1 through the summer hard court season -- with that one loss coming to her sister -- and dominated the field in New York to finally get her hands on Slam No. 18. Through seven matches at the U.S. Open she never lost more than three games in any given set. And so once again, as the other challengers suffered early losses and tumbled around her, Serena remained the calm inside the storm. Now, she's thinking about No. 19.
​Marin Cilic: A-plus. This wasn't an instance of a player taking advantage of a broken draw to win their first major. After a straight set win over sixth-seed Tomas Berdych, ​Cilic broke open his half of the draw by beating -- err -- crushing No. 2 seed Roger Federer 6-3, 6-4, 6-4 in the semifinals. Then he took out the guy who defeated two reigning Slam champions in Kei Nishikori, and he did it all by winning 10 consecutive sets to win the tournament. This was an incredible run from Cilic and one no one saw it coming. Sure, he's been good. But he's never been this good. He has to be the most surprising Slam winner since Francesca Schiavone won the 2010 French Open or Gaston Gaudio claimed the 2004 French Open title. 
​Bob and Mike Bryan: A-plus. The pair is always chasing history and record-breaking feats. Last year they came into the U.S. Open trying to complete the calendar Grand Slam (they fell short) and this year attempted to win their 100th career title. No. 100 was going to come at some point, that was never the question. But the fact they were able to get it at the U.S. Open -- they beat Marc Lopez and Marcel Grannollers in the final -- was particularly sweet. 
Serena Williams bought Caroline Wozniacki drinks after the final match
​Caroline Wozniacki: A. It was surprising to see the Dane be affected so much by nerves in the final, but this was a triumphant summer for Wozniacki. She's back in the top ten and she's got a shot to qualify for the WTA Finals. Since her first round loss at the French Open she is now 26-6, with three of those losses coming to Serena. Her run to the final was aided by two retirements -- Magdalena Rybarikova retired in the third set of their tough opening match and Peng Shuai retired in the second set of the semifinal -- but Wozniacki's tournament will be remembered for her 6-4, 2-6, 6-2 win over No. 5 seed Maria Sharapova in the fourth round. That was, by my eye, the biggest win of her career. 
​Kei Nishikori: A. He beat the No. 5 seed Milos Raonic in five sets in a match that ended at 2:26 a.m. Less than 36 hours later he took the court and knocked out No. 3 seed Stan Wawrinka, again in five sets. The guy who was supposed to be the most fragile guy on tour -- he wasn't even sure he'd play the tournament after having a cyst removed from his foot in August -- bounced back to beat No. 1 Novak Djokovic in four sets in the semifinals. He didn't just beat Djokovic, he out-gutted him. In the stifling heat and humidity, it was Nishikori who looked the fresher, more determined man. But all of that hustle and time on the court finally caught up to him in the final, where he lost meekly to Cilic in straight sets. New York turned into a proving ground for Nishikori, and if he can figure out how to beat top players efficiently, the 24-year-old is going to win Slams. 
Here's how 'Special Kei' Nishikori beat Novak Djokovic
​Novak Djokovic: C-plus. Nishikori snapped Djokovic's streak of four consecutive U.S. Open finals, but after his poor lead-up, his ability to make the semifinals is definitely a positive. His hard-earned four-set win over Andy Murray in the quarterfinals was impressive, but he wilted against Nishikori, both in the face of Kei's game and the conditions. And so the 2014 Slam season ends with Djokovic, the best hard-court player in the game, failing to make both the Australian Open and U.S. Open final match. 
Roger Federer: B. His shining moment of the tournament came in the quarterfinals when he stepped up to save two match points and rally back from two-sets to love down to beat Gael Monfils. The way he saved those two points, with confident big-hitting, was a credit to all the winning he's done in 2014. The belief is there and the desire is there, as is his health. He ultimately ran into the buzzsaw that was Cilic, but Federer's Slam season gives you just enough evidence either way to argue whether he'll ever get No. 18. On one hand, he keeps putting himself in position at the majors and just fell victim to bad luck: a fifth set loss during the Wimbledon final, a squandered lead to Ernests Gulbis at the French Open, a selection into Nadal's half at the Australian Open and most recently, a match-up against Cilic. On the other hand, the question remains: Is he ever going to get as good a chance at No. 18 as he did in New York? 
​
Daily Data Visualization: What country has the most U.S. Open wins?
​Peng Shuai: A-minus. The scenes of her succumbing to heat illness and cramping in her semifinal retirement to Wozniacki were horrible to watch. Even worse, doctors advised her stop playing but she returned to the court anyway, and said she doesn't remember telling doctors or the umpire that she had to retire. But Peng's run was remarkable as an unseeded player. She advanced to her first Slam semifinal without losing a set, beating Agnieszka Radwanska, Roberta Vinci, Lucie Safarova and then Belinda Bencic in the quarterfinals. She was one of China's first breakout stars back in 2006 and it was great to see her finally join the ranks of China's other two stars, Li Na and Zheng Jie, as a Slam semifinalist. 
Ekaterina Makarova: A. A killer at the majors -- she had already beaten both Serena and Venus in the past -- Makarova took out Eugenie Bouchard and Victoria Azarenka to make her first Slam semifinal. She lost to Serena but she still walked away with a title. Along with partner Elena Vesnina, the pair knocked out the Williamses in doubles and then beat Martina Hingis and Flavia Pennetta in the final.
Watch: Gael Monfils gets angry, tanks point in U.S. Open win
​Gael Monfils: B-plus. It's easy to lament Monfils' collapse to Federer in the quarterfinal. He had a two-sets to love lead and two match points and disappeared in the fifth set. There was a chance of a win in four sets, but back-to-back double-faults did him in at the end of the fourth. Despite the loss, this was a massive summer for Monfils and he showed that when he's focused, he can compete with the game's best (he also took Djokovic to a third set tiebreaker in Toronto and Federer to three sets in Cincinnati). 
CiCi Bellis: A. Has there ever been as eye-catching a tour debut as Bellis' performance in New York'? In her first WTA match, which just happened to be her first match at a major, the 15-year-old from Atherton, Calif., knocked out Australian Open finalist Dominika Cibulkova in three sets. Cibulkova's recent slump is a non sequitur because Bellis took that match, and with her fluid stroke production and big-match mentality, there's a lot to like for the future. 
John Isner: C. For the third straight year he lost to Philipp Kohlschreiber in the third round of the U.S. Open. Frustrating.
​Maria Sharapova: C-plus. Her loss to Wozniacki in the fourth round wasn't surprising. Sharapova hasn't played at the level we expect from her since the French Open. She's only made it past the fourth round in New York once since she won the title in 2006.
Daily Bagel: Andy Roddick catches up with Serena Williams after U.S. Open
​Victoria Azarenka: B-plus. All things considered, her run to the quarterfinals was a huge success after her injury woes this summer. She's down to No. 24 now, a six-year low, but it should be fun watching her climb back up the rankings. She doesn't have much to defend over the next 12 months. 
Victor Estrella Burgos: A. Making his U.S. Open main draw debut at 34-years-old, the man from the Dominican Republic made the third round and is up to a career-high No. 69. 
Fashion hits and misses at the U.S. Open
​Andy Murray: B-minus. It was hard to know what to expect from Murray in New York and things started out...weird. He overcame a mysterious case of cramping in his first round win before putting forth his best single match of the year, beating Jo-Wilfried Tsonga 7-5, 7-5, 6-4 in the fourth round. But his fitness came into question again in his four set loss to Djokovic. I don't think Murray's best tennis is behind him, but he's still dealing with the aftershocks of his Wimbledon triumph and subsequent back surgery. 
Mirjana Lucic-Baroni: A. For the first time in 15 years, Lucic-Baroni was into the fourth round of a major. And there wasn't a single person in tennis who wasn't happy for her. Read more about her story here. 
For Lucic-Baroni, win against No. 2 Halep is 15 years overdue
​Simona Halep: C-minus. Yes, Lucic-Baroni was playing some great tennis in her straight set win over Halep in the third round, but that's a match the No. 2 should be able to figure out. After making her first French Open final and Wimbledon semifinal, it's been a dip for Halep. She hasn't made it past the quarterfinals of her last three tournaments.
​Eugenie Bouchard: C-plus. For the first time this season the Canadian fell before the semifinals of a major. She did well to even make the fourth round, scrapping out tight, three-set wins over Sorana Cirstea and Barbora Zahlavova Strycova. Her straight-set loss to Makarova doesn't look so bad in hindsight, but like Halep, she's in a post-Wimbledon slump. 
Grigor Dimitrov: C-plus. What a weird tournament for Dimitrov. He came in having never won a main draw match in New York and he made the Round of 16. That's obviously positive. But somewhere along the line he got bageled by David Goffin before winning in four sets and then put forth a poor performance to lose to Monfils in straight sets. 
Rare Photos of Roger Federer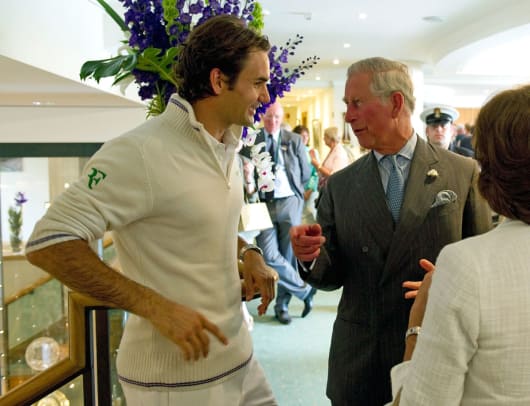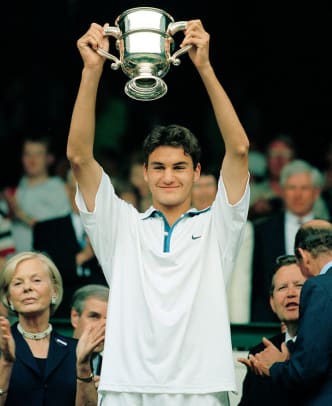 ​American men: D. Once again, no American man made it out of the third round. The last man to do so at the U.S. Open: Andy Roddick, who reached the fourth round in his last U.S. Open in 2012. 
American women: B-minus. Serena's triumph inflates the grade. The women were great over the first round, but then big hopes for a surge of players into the second week run came crashing down. Venus Williams went down in the third round to Sara Errani in a wonky 6-0, 0-6, 7-6 (5) scoreline. Sloane Stephens lost in three sets to Johanna Larsson in the second round. And Madison Keys lost in three sets to Serbian qualifier Aleksandra Krunic in the second round. But there were bright spots in CiCi Bellis, Nicole Gibbs, and even unranked NCAA champion Danielle Rose Collins, who bageled Halep before losing in the first round. 
Watch: Aleksandra Krunic wows the crowd with her defense
​Aleksandra Krunic: A. The diminutive Serbian qualifier ranked No. 145 beat Keys and then Wimbledon champion Kvitova in straight sets. Then under the lights of the biggest tennis stadium in the world, she put on a show of grit and moxie in pushing Azarenka to three sets. How a player of such slight stature can pop serves at 117 mph is mind-boggling. Get your ranking up, Aleks. We want to see more of you. 
Petra Kvitova: C-minus. The New York jinx remains. Kvitova still hasn't made it past the fourth round of the U.S. Open. Ever.
Ana Ivanovic: C-minus. The No. 8 seed crashed out in the second round in straight sets to Karolina Pliskova. 
Mailbag: 6 thoughts on the USTA, quarterfinals and more
​USTA: B. Tough to issue the grade here but here were the highs and lows of the last two weeks: I cannot overstate how great the improvements on the grounds have been. The new seated viewing platforms by the practice courts and overlooking Courts 4, 5, and 6 are fantastic. Court 17 continues to be such an underrated court. Even the simplest change in the font being used around the grounds on the big screens has made the tournament feel more modern. Practice court schedules are now posted to enhance the fan experience. And the food offerings are great. 
But on the eve of the tournament The New York Times reported on a number of conflicts of interest and instances of self-dealing within the Board of Directors. Mid-tournament, both The Times and Sports Illustrated report Patrick McEnroe was out as head of player development. Oh, and Monday finals are just terrible. Good riddance to those. 
ESPN: B. The Sports Leader has vastly improved in its flexibility when covering the early rounds. Hopping from court to court to follow all the big stories is now its strong-suit, including hustling out a camera for the otherwise non-televised Court 6 to capture Bellis' first round win. The commentary teams continue to improve, and I thought Chris Evert's repeated attempts to rein in the Bellis hype in particular was smart. But there were missteps, most notably the ill-conceived panel discussion of Patrick McEnroe's resignation that quickly devolved into a McEnroe pep rally that completely ignored the facts. Did Evert really say that American women's tennis is as strong as it's ever been right now? Yes, yes she did. It was awkward.
U.S. Open: Fifty parting thoughts
​The 2014 U.S. Open: B-minus. Serena not only salvaged her season by winning her 18th major at the U.S. Open, she salvaged the tournament. All the pre-quarterfinal upsets -- bye, Maria, Genie, Petra, and Simona -- left the tournament with no teeth in the business rounds. Serena vs. Makarova and Wozniacki vs. Peng were the semifinal matches. Peng vs. Bencic was a quarterfinal, as was Makarova vs. Azarenka. The women's tournament never picked up steam until Serena got her hands on the trophy. And then it was over, and followed by a flat men's final. The men's tournament motored through without much of a hitch for 13 days, which was fine given the potential blockbuster final between Djokovic and Federer. Then Super Surreal Saturday arrived (h/t Ryan Harrison) and two unexpected finalists produced a forgettable and drama-free final.