Mailbag: Marin Cilic goes from drug suspension to U.S. Open title
A quick mailbag while a) coming off a U.S. Open hangover and b) thinking that tennis' problems no longer seem so severe compared to other sports...
As a journalist, can you please address the elephant in the room: Marin Cilic wasn't even allowed to play in the U.S. Open last year because he was on a doping suspension. I'm not looking for an opinion piece, I'm looking for the facts, and something that might restore confidence in the sport. Or if warranted, tell us why we should be concerned. I just finished reading the entire CAS decision, so now I understand the situation. But I think the media will do a disservice to the sport if they just try to ignore this.
-- Helen, Philadelphia
• I risk being lampooned here, but I consider Cilic to be a triumph -- not an indictment -- of tennis' anti-doping apparatus. In a strict liability world -- which, necessarily, anti-doping must be -- Cilic was guilty. Alibis and explanation can minimize damage in the court of public opinion; but ultimately you are responsible for what you put in your body.
On the other hand, we should draw distinction between sloppiness (stupidity?) and malicious intent. In this case, Cilic demonstrated to both the tribunal and the satisfaction of most colleagues that he was guilty of the former and not the latter. (As discussed here, the Cilic provisional suspension was problematic, as it involved willful deceit. But it might be the best in a series of bad options.)
Celebrations, hot shots and upsets: Best and worst of the U.S. Open
He was penalized and while we can debate the severity, it was in keeping with the guidelines. There was no flimsy "seems to a good and remorseful guy" mitigation the way there was in the NFL. His ban was reduced by an independent tribunal based on evidence and precedent. Still, Cilic was deprived of six months of tournament play -- not insignificant in a profession where that could easily be five percent of your career. His reputation took a hit. He likely lost prize money. He lost commercial appeal.
He was given a chance, though, to author a new chapter, to do something so that "drug suspension" would not top-line his Wikipedia entry. And, to his credit, he did.
I don't think anyone is scrubbing this from the Cilic record. It's an unfortunate stain that he'll always have to counter. But he did the crime, he did the time and now he's playing again. This doesn't sound like a procedural breakdown. The system worked as it should.
If Scotland votes for independence, is Fred Perry retroactively the last Brit to have won Wimbledon?
-- Ro'ee, Israel
 • A few of you asked about that. It's an interesting inquiry but isn't this classic ex post facto? Murray was British while he won. Isn't that enough?
Daily Bagel: Andy Murray's China Open wildcard, Scottish or British debate
"Rafael Nadal was the last teenager to win a Major."
"No, wait, that can't be right. He's no longer a teenager -- not even close. He's 28 now!"
"Yes, but he was at the time."
What's become of Brian Baker?
-- @glamspintennis
• From the Baker camp: "Well…there is no easy answer here. Brian has some issues with his knee swelling up after several days of practice…so he has undergone re-evaluations by several doctors. There has been some improvement and the plan is to spend the next month in conditioning and strengthening and then test it again under match practice conditions. If all goes well, then we see him back in January…if the problem persists, not sure I have an answer yet for you there."
Too bad the Davis Cup final isn't in Switzerland. That way none of the players would have to leave the country.
-- James B.       
• We were making the same joke. Hold Davis Cup as an event pitting Switzerland versus Monte Carlo and half of Tennis Republic can play! Seriously, I wonder if this one of the reasons why Davis Cup has fallen out a favor a bit. That is, when players can change nationalities like hairstyles -- when they reside in countries other than ones on their country codes, as Jo-Wilfried Tsonga, Novak Djokovic and Milos Raonic, among others, do -- does it not take away from the our-warriors-versus-your-warriors appeal.
The Davis Cup semifinals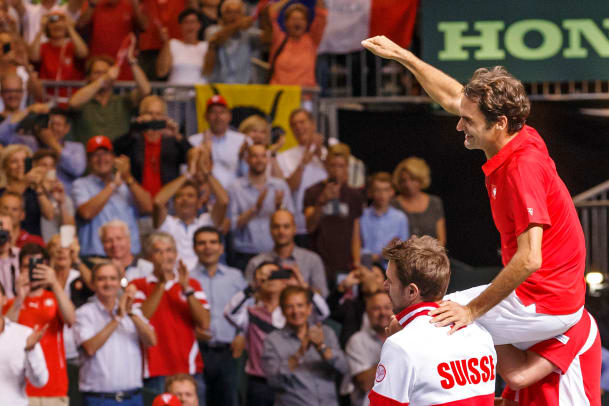 Why did chair umpire Eva Asderaki call Victoria Azarenka by her nickname "Vika" in the U.S. Open fourth round match against Aleksandra Krunic? That can't be professional.
-- Ahmed Mahmoud
• Meh. She didn't call her "Schnookums" or "Pumpkin." She called her by a shortened version of her name.  It's a delicate balance for officials. You want to speak to athletes, appeal to them on a human level and not be coldly robotic; while at the same time, you don't want your authority undercut or -- worse -- come across as chummy and therefore partial. But I think Asderaki is okay here. Speaking of nicknames….
Maybe it is and I just don't know this yet, but how is Cilic's [English] nickname not "Chilly" or something along those lines? The Big Chill, The Chilean Seabass, Chillpanzee, Mount Chillympus, Chillatron 3000, Just Chillin', License to Chill, Global Chilling, Chili's Baby Back Ribs, Red Hot Cilic Pepper, Curt Chilling's Bloody Sock...We really need Rob Schneider circa 1991 sitting next to a printer to help out with this.
-- Dan Bryant
• "Dan Bryant" is really a nickname for "Brad Gilbert."
Has it ever happened that two Davis Cup ties were contested in one country?
-- @BobbyB63
• Good question. Anyone know? Bobby is referring to the U.S. taking on the Slovaks in suburban Chicago while in Florida, Israel played Argentina at a neutral site. (The Americans and the Argentines were victorious.) Sadly this marked the last match in the career of Andy Ram, one of the all-time good guys.
I can't help notice that you tend to call Serena Williams, "Serena," but you call Roger Federer "Federer" and Rafael Nadal, "Nadal." Do I detect some sexism?
-- Michelle, New York
• There is some irony to the fact that Michelle did not give a surname. But, I plead innocent to sexism. First, "Serena" has a sister who is fairly accomplished in the same line of work and has the name last name. If Federer or Nadal had brothers who also played tennis, I suspect we would be more inclined to call them by their first names. Also, Serena has been with us so long, there's a certain familiarity and her name is sufficiently distinct it calls out for mononym treatment. Calling her "Williams" feels akin to calling Bono "Hewson," Oprah "Winfrey" or Benedict "Cumberbatch."
Shots, Miscellany:
• We got lots of mileage out of Federer's story last week. Here's another one: On the August 31, the middle Sunday of the U.S. Open, Federer cut the figure of a slender middle-man, lost on his way to the parking lot. Not long after beating Marcel Granollers, Federer made his way through the hinterlands of the U.S. Open grounds headed to the television compound, stopping when he reached the Tennis Channel's production truck.
Federer had heard that Bob Rossburg, a longtime tennis producer, was working his last day on the job. The two had barely met. But Federer cherishes his role as tennis' unofficial ambassador, and was happy to surprise "Rossi" and wish the man well in his retirement. A tournament official offered to transport Federer on a golf cart. "Thanks," he said. "But I'll walk." A handler warned that every security and volunteer would stop and ask for a photo. "That's fine," Federer said companionably. "I'm used to it."
The Evolution of Tennis Fashion: Ana Ivanovic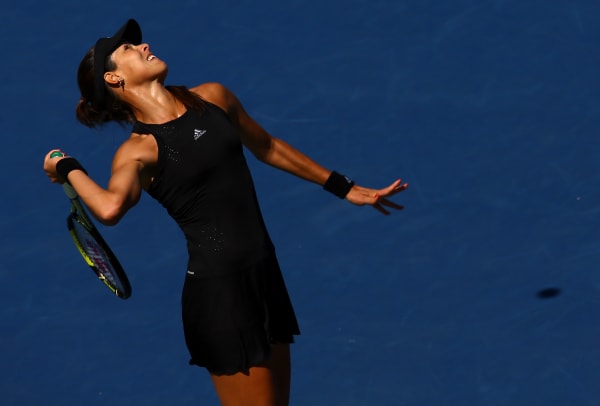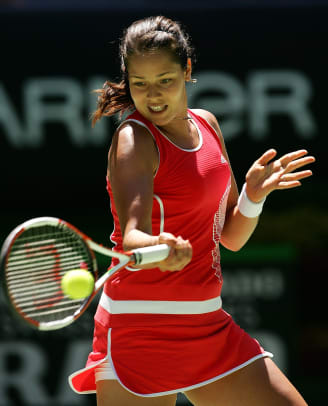 At the truck Federer chatted with Rossburg as though they'd been golfing buddies for years. They talked about golf and tennis and their kids, Federer volunteering that his newborn twin boys had already differentiated themselves from his four-year-old twin girls. "You know what stuck out most?" Rossburg recalled a few days later. "He never felt rushed."
Next week, we'll tell a comparably beneficent Nadal story.
• An urgent plea to the USTA from a local pro: "The USTA should re-brand now more than ever."
• Do we all know about this band? It's called Tennis.
• A few of you asked: here's the story on NFL player Greg Hardy.
• Nice piece by Nick Paumgarten (which is trafficking in redundancy): The Federerless Final. 
• Tom Perrotta with your tennis read of the week: "The strangest tennis match you never knew occurred."
• More tennis reading. Here's an excellent piece on Francis Tiafoe that, sadly, comes shrouded in red flags.
• The WTA announced on Tuesday that SimonaHalep has officially qualified for the BNP Paribas WTA Finals Singapore, held October 17-26. Check out her road to Singapore.
• As Madeline Kahn might say: "What a nice guy." Here's Marin Cilic on Page Six.
• Andy Roddick has joined the all-star lineup for Mylan World TeamTennis Smash Hits in London, which benefits the Elton John AIDS Foundation and is co-hosted by Sir Elton John and Billie Jean King. It will be held December 7 during the final session of the Statoil Masters Tennis at the Royal Albert Hall. 
• The China Open Organizing Committee announced that world No. 11 Andy Murray has been given a wild card into the 2014 China Open.
• This week's unsolicited book recommendation comes from author, college basketball coach, Ph.D. and good guy (even if he did play for Purdue) Carson Cunningham.
• The 2014 Barclays ATP World Tour Finals will kick off with a launch event on November 7 in support of male cancer awareness charity, One For The Boys. 
• Peter Kelly from Newton, Mass., has this week's LLS: David Henrie and Novak Djokovic.