Fast Break: Tar Heels charge back, Haws breaks through and more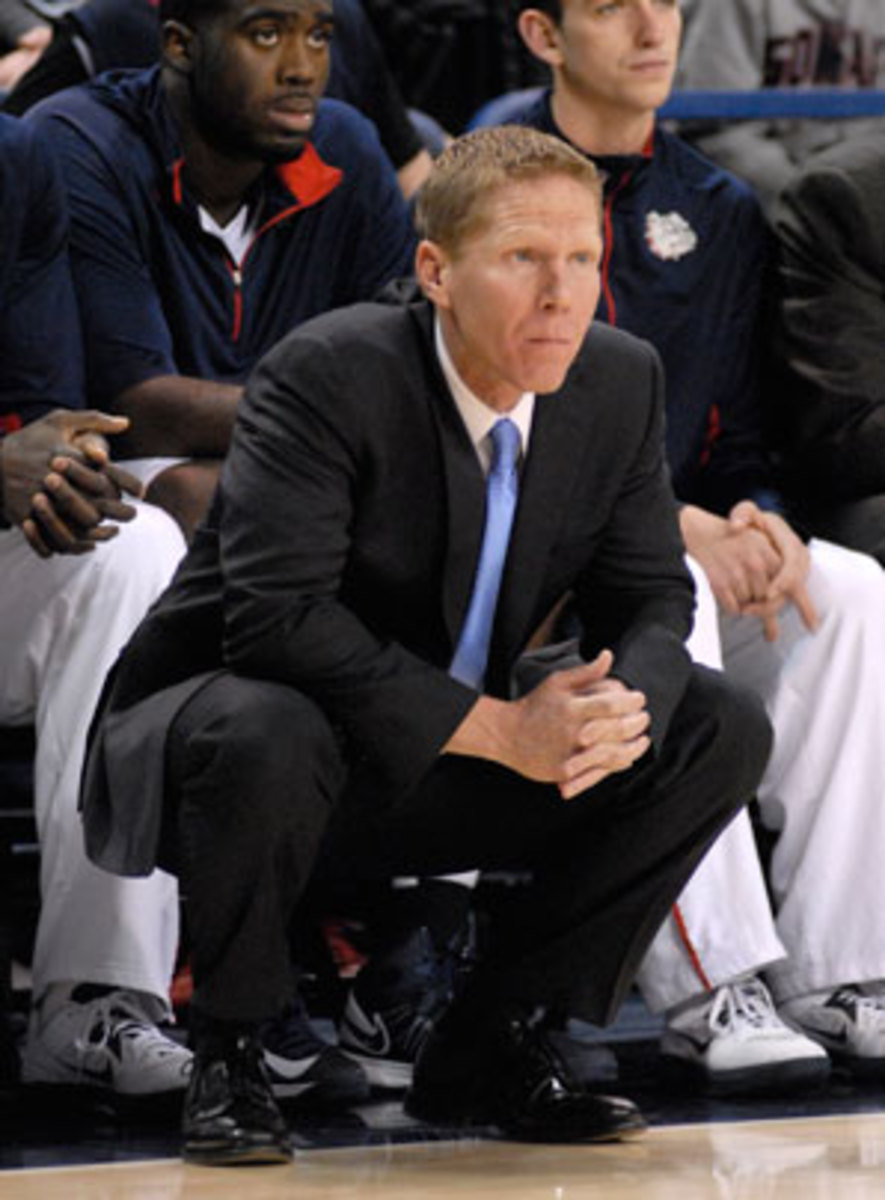 In this week's Fast Break, we've decided to trust our animal instincts. We've got a high-scoring Cougar, a studly young Buffalo, a sharp-shooting Bear, and a pack of rising Bruins. We've also got a Few words with a good man, and a brand new shade of blue at the bottom of our rankings. It's all a part of the great countdown to watching the (basket) ball drop. Happy New Year, Hoopheads! Now let's run the floor.
Player of the Week: Tyler Haws, BYU
The Cougars' 6-foot-5 sophomore guard has been flying under the radar for too long. He broke through in Jimmerific fashion on Saturday, when he scored 42 points -- 29 in the first half -- in a 97-71 win over Virginia Tech. It was the most impressive shooting performance in college basketball this season. Haws sank 14-of-25 from the floor, 6-of-8 from three-point range and 8-of-9 from the foul line. The game was exceptional but not an aberration. On the season, Haws is averaging 21 points, five rebounds and nearly three assists while making 41.5 percent from three-point range and 94.4 percent of his foul shots. That is incredibly impressive considering Haws just returned in April from his two-year Mormon mission, during which he played no basketball. To cap it off, Haws outscored two significant people on Saturday: Erick Green, the Virginia Tech senior guard who came into the game as the nation's leading scorer but managed only 12 points, and Haws' father, Marty, a former BYU Cougar whose career high was 40 points.
Team of the Week: North Carolina
The Tar Heels didn't just lose three times this season. They got embarrassed. They trailed Butler by 29 points in Maui before climbing back to lose by 11. They looked like a jayvee team while getting blown out at Indiana by 24. And they were embarassed by 18 points at Texas, which has hardly looked like a world-beater. On Saturday, North Carolina had to take on No. 20 UNLV without 6-7 junior forward Reggie Bullock (concussion), their second-leading scorer and top three-point shooter. Not only did the Tar Heels save their season by beating the Rebels 79-73, they did it by showing a characteristic that has been sorely lacking this season: toughness. North Carolina entered the game ranked 335th in the country in free throw rate, yet as a team North Carolina attempted 33 shots against UNLV and made 20. Even more impressive was the way North Carolina responded when UNLV made its run early in the second half to take a one-point lead with 13 minutes to play. The Heels bent in this one but they did not break. That's the sign of a young team growing up.
Glue Guy of the Week: Hugh Greenwood, New Mexico
When a team only scores 55 points, you'd think it would be hard for that team to muster eight assists. Yet Greenwood, a 6-3 sophomore guard from Australia, had eight assists by himself in the Lobos' 55-54 win at Cincinnati on Saturday. Greenwood doesn't get nearly the attention that teammates Tony Snell, Kendall Williams and Alex Kirk do, but New Mexico would not have won without his passing as well as his lockdown defense on Cincinnati guard Sean Kilpatrick, who shot 5-for-22 from the field. It takes a real Glue Guy to be able to dominate a game without scoring a point.
Freshman of the Week: Josh Scott, Colorado
If you haven't caught on to the Buffaloes' 6-10 forward, this was the right week. Scott had a career-high 21 points (on 9-for-12 shooting) and 10 rebounds in Colorado's 80-52 win over Hartford. Yes, the competition was weak, but Scott has been consistently productive all season, including a 19-point performance in a loss at Kansas. On the season he is averaging 13.2 points (on 51.3 percent shooting) and 5.9 rebounds. Smith needs to put more muscle on his slender, 215-pound frame, but he is a highly-skilled, ambidextrous post player whom defenses around the Pac-12 will have to key on for the next few months.
Under-the-Radar Player of the Week: Tucker Halpern, Brown
Providence and Brown play every year, but the game had not been held on Brown's campus since 1982. Halpern made sure they took advantage of the opportunity by making eight three-pointers en route to a 28-point performance in the 69-68 win. Halpern saved his best for last, hitting two threes in the final 31.3 seconds to help the Bears overcome a seven-point deficit with 45 seconds to play. Brown needed that kind of game from Halpern as the Bears were down to eight players because of injuries. The roster was so depleted that they had to use two assistant coaches to scrimmage during practice. Just goes to show that sometimes you really can do more with less.
Best Win: UCLA 97, Missouri 94 (OT)
The Bruins needed this win in the worst way. They had already lost three times, including once at home to Cal Poly, and the vultures were once again circling around Ben Howland. It's not often a team in that situation gets a chance to play a top-10 squad on its home floor, so it was paramount that they take advantage. It took a total team effort (and five extra minutes) to get the job done. Travis Wear and Shabazz Muhammad both had career highs with 22 and 27 points, respectively. Larry Drew II had 12 assists and just three turnovers. UCLA forced Missouri, which boasts one of the top point guards in the nation in Phil Pressey, into committing 17 turnovers. I love that Howland has shed his conservative skin and released his hounds to play an up-tempo style. This is a young team that's only going to get better, and this win signaled that UCLA will be a factor in the Pac-12.
Worst Loss (Tie): Harvard 67, California 62. Towson 67, Oregon State 66 (OT)
Cal had been touted in the preseason as a potential Pac-12 contender, but that notion has been scuttled in the last month. The Bears had four chances to play quality teams, and they came up empty -- including three times at Haas Pavilion. Harvard is certainly no slouch, but this is still an Ivy League team that is without two starters because of a cheating scandal. If you can't win that game at home with your reputation on the line, then you don't have much to hope for. (The difference in the game was the three-point shot. The Bears, who supposedly have a great guard tandem in Justin Cobbs and Allen Crabbe, did not make a single three-pointer in the game. Harvard made 10.) Meanwhile, a once-promising season for Oregon State suffered a setback as the Beavers blew a 19-point second-half lead to lose to a Towson team that came in with a 4-8 record.
Best Defensive Play: Nick Johnson, Arizona
I'd expect nothing less from the son of a guy who went by "Jumping Joey" when he played for Arizona State. In the most scintillating game of the week, Johnson's Wildcats were clinging to a 68-67 lead over San Diego State in the championship game of the Diamond Head Classic in Hawaii. With the Aztecs bringing the ball downcourt, Johnson had the tough task of guarding Chase Tapley, who had already scored a team-high 19 points. Tapley took a handoff from Xavier Thames, dribbled towards the paint, and lost Johnson behind a high ball screen from freshman forward Skylar Spencer. Spencer's man, 6-8 freshman Brandon Ashley switched on the screen, but Tapley easily slipped past him and headed for what appeared to be an uncontested game-winning layup. Johnson, however, closed that gap by taking two steps, soaring in the air, and slamming Tapley's attempt off the backboard as time expired. It was the signature move in a signature win, and one of the best defensive plays you'll see all season.
Five Games I'm Psyched To See This Week
Creighton at Illinois State, Wednesday, 8 p.m. We'll find out if Creighton is the prohibitive favorite in the Missouri Valley, or if the Bluejays are gonna be in a dog fight. Doug McDermott scored 29 points in the Jays' conference opening win over Evansville, but Creighton's interior defense will be severely tested on the road. Senior forward Jackie Carmichael has been on a tear of late for Illinois, averaging 24.3 points and 9.8 rebounds in his last four games.
Memphis at Tennessee, Friday, 8 p.m. This is going to be Memphis' final test before the start of its Conference USA schedule. It will be hard for the Tigers to garner an at-large bid, but if they want to stay in the hunt they need to prove it on the road against a Volunteers squad that has struggled to score as much as any major conference team this season.
Ohio State at Illinois, Saturday, 2 p.m. It's going to be a lot of fun watching the Big Ten powerhouse teams try to win on the road in conference. The Buckeyes have a gaudy record but are also plagued by an undercurrent of suspicion because they lost the two toughest games on their schedule. Another loss would here could cause the bottom to fall out on Ohio State's confidence.
Oklahoma State at Kansas State, Saturday, 1:30 p.m. I like Oklahoma State, but I remain unconvinced that Le'Bryan Nash is capable of carrying this team deep into March. A road win against a ranked conference opponent is a perfect opportunity to prove skeptics like me wrong.
Gonzaga at Santa Clara, Saturday, 8 p.m. If you saw Santa Clara give Duke a scare in Cameron Indoor Stadium on Saturday, you know this is a team that is capable of contending for a WCC crown. This game will be worth watching if only to see the matchup between two of the top scoring guards in the west, Gonzaga's Kevin Pangos and Santa Clara's Kevin Foster.
A Few Minutes With Gonzaga Coach Mark Few
SI.com: The Zags are 12-1 heading into your New Years Eve game at Oklahoma State. What's the most important thing you've learned about your team so far?
Few: That they're very comfortable with being a balanced team. Nobody is too hung up on who the leading scorer is night in and night out.
SI.com: A lot of people have said this could be your best team at Gonzaga.
Few: (Laughs) We've had a lot of those. I've been pretty consistent in saying this is not the most talented team we've had up here, but it's probably the deepest team we've had, and it's without a doubt the most balanced. We've got six guys who are capable of hitting 20 a game. And it's definitely up there with all the teams I've had with their chemistry and how close they are. So sure, we have a chance to achieve as much as any team we've had, but you gotta do it, you gotta prove it.
SI.com: Speaking of which, every year since you've been there, Gonzaga has been one of the best teams in the country. Yet you still haven't broken through and made a Final Four. Has that forced you to re-evaluate what you do?
Few: Not much. The tournament can be such a crapshoot. The one time we advanced to the Elite Eight, we played Minnesota after they had three players kicked off the team the night before the game. Then Casey Calvary tips one in at the buzzer against Florida [in the Sweet Sixteen]. I mean, when Butler made their first run, they tipped one in at the buzzer to beat Old Dominion. Last year, we played a heck of a game against Ohio State. They were really good. We played North Carolina in '09, they were the best team I've ever seen in the NCAA tournament. We ran into Syracuse in Buffalo. I mean, we evaluate ourselves constantly, but the fact that we're always in the discussion is the most important thing. I don't know who else has been to 14 straight NCAA touraments, but I know the list is real short.
SI.com: You have a Polish freshman, Przemek Karnowski, playing for you this season. What are the challenges in coaching him from a cultural standpoint? Does he speak English?
Few: Like most foreign kids, his English gets better and better by the week. Initially when we were recruiting him, it was good enough that he understood conversation, but now he's so much better at reading in his classes. The main thing is you have to stop and think about the coaching slang we use. We stop ourselves all the time. We'll say the elbow, or hedging, or X'ing the screen, and he won't get it. But he's doing better.
SI.com: Is it still really hard for you to schedule quality nonconference games now, or is it getting easier?
Few: Oh, it's way easier. We're at the point where we have to use discretion and turn stuff down. We're able to get home and homes with almost everybody. But you can't just play juggernauts all the time. Sometimes I'm like hey, we need some cupcakes in here.
SI.com: Does it bother you that so many people assume it's only a matter of time before you leave Gonzaga for a big job?
Few: This is a big job. I'm about to get on a charter to take us to Oklahoma State. We've been using a charter for six years. I think people need to re-evaluate how they look at college basketball these days. All these leagues are changing now. People need to start evaluating these jobs program to program.
SI.com: There has been some speculation Gonzaga could be added to the group of Catholic schools that broke off from the Big East. Does that intrigue you?
Few: I think with us, my president and my AD and me, we understand that this stuff happens fast. Whatever we do will be well thought out. We're not afraid to do what's in the best interest for Gonzaga, whatever that might be. So far the league we've been in has been pretty darn good for us as far as getting to the NCAA tournament.
SI.com: You turned 50 years old last Thursday. How was that?
Few: It kind of sneaked up on me. Ordinarily I don't like for people to know, but my wife got a hold of my phone and texted everybody. I started getting calls from Billy Donovan and Shaka [Smart] and all these dudes from around the country. So I spent all day answering text messages. My sneaky wife. Then when I went into the locker room, there were balloons all over the place. The players got me a cane with a rearview mirror and a little honking horn on it.
SI.com: A lot of times guys turn 50 and they start thinking about death and have a midlife crisis. I take it that didn't happen?
Few: No, I'm good. I'm still behaving like I'm 35, at least when I'm on my mountain bike or trying to surf or I'm fly fishing. My kids keep me young, man.
This Week's AP Ballot (Last week's rank on my ballot in parentheses)
1. Duke (1)
2. Louisville (2)
3. Michigan (3)
4. Kansas (4)
5. Arizona (5)
6. Indiana (6)
7. Ohio State (8)
8. Syracuse (10)
9. Missouri (7)
10. Illinois (11)
11. Gonzaga (12)
12. Michigan State (13)
13. San Diego State (14)
14. Butler (15)
15. New Mexico (NR)
16. Florida (16)
17. Pittsburgh (17)
18. Minnesota (18)
19. Notre Dame (19)
20. Cincinnati (9)
21. Georgetown (21)
22. UNLV (19)
23. Creighton (23)
24. Kansas State (24)
25. North Carolina (NR)
Dropped out: N.C. State (22), Wyoming (25)
For once, I had some real thinking to do about which teams to shoehorn into the bottom of my ballot. With so few significant games going on last week, there were no obvious teams to drop out because of bad losses. There were, however, four teams that I did not have ranked last week that earned a close look: New Mexico, North Carolina, UCLA and Kentucky.
New Mexico was an easy choice. The Lobos went on the road and beat an undefeated top-10 team. Cincinnati was probably overrated, but winning on the road still takes some doing, and it more than made up for New Mexico's home loss to South Dakota State. At this point in the season, almost every team has a bad loss of some kind. Very few have that kind of quality road win.
North Carolina and UCLA both beat ranked teams at home (UNLV and Missouri, respectively). This was basically a coin flip. I took a look at the bigger picture and went with the Tar Heels because a) two of their three losses were against teams currently ranked on my ballot, whereas UCLA lost at home to Cal Poly; and b) North Carolina played without its second-leading scorer (Reggie Bullock) and still won the game. (UNLV was at full strength, although Mike Moser, who was returning from his dislocated elbow, was ineffective in 12 minutes.) UCLA will probably have to wait three weeks to get a chance at a signature win. It plays at Arizona on Jan. 24.
As for Kentucky, there's no doubt the Wildcats looked like a top 25 team against Louisville on Saturday. But it didn't feel right to reward a team for losing. Also, even though the game ended up being close, Louisville basically led the whole way, at one point opening up a 17-point second-half lead. I was also influenced by the fact that Baylor, which won at Rupp four weeks ago, has been exposed as a pretty mediocre team this season. Is Kentucky one of the best 25 teams in America? Probably. But I've always believed you've got to win your way in.
Wyoming is now one of just four unbeaten teams in America, but since the Cowboys' best win came at home against unranked Colorado, I couldn't keep them in. Thus, I had to pick between N.C. State, Creighton and Kansas State to open up a spot on my ballot for North Carolina. Kansas State was the easiest keeper, since it has the best win amongst those three (over Florida in Kansas City). N.C. State's best win was by four points over UConn in New York City, and it lost to Oklahoma State by 20 and to Michigan by seven. Creighton lost to Boise State at home, but it has wins over Wisconsin, Saint Joseph's, Evansville and a road win at Cal. Close call, but I went with the Jays.
The dearth of losses kept my list of candidates pretty short, but I'll ask Maryland fans to spare me their lobbying until their 11-1 Terps beat somebody decent. Here's a list of Maryland' last five opponents: Maryland-Eastern Shore, South Carolina State, Monmouth, Stony Brook, Delaware State.
I'd much prefer to find a way to get VCU onto my ballot. I suspect it's just a matter of time.