Illinois beats Ohio State; Marquette surprises Georgetown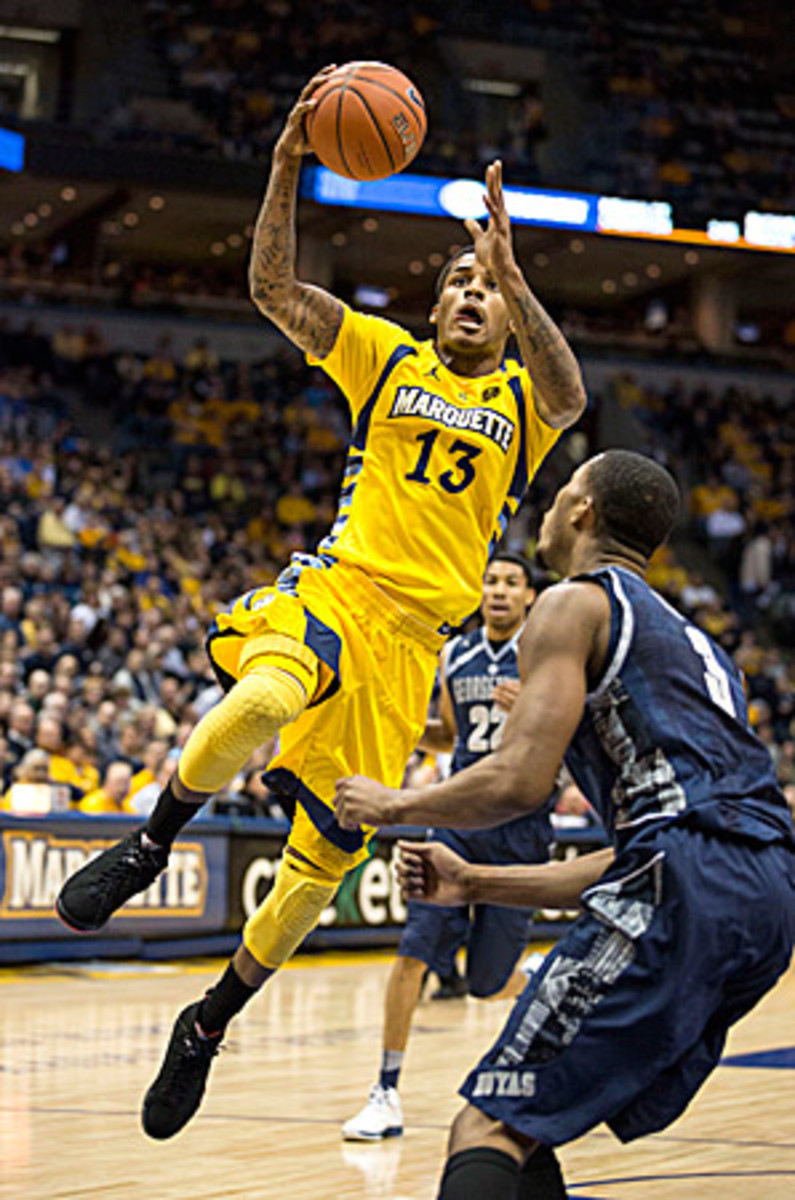 No. 11 ILLINOIS 74 No. 8 OHIO STATE 55:
Everyone knows it's difficult to win on the road in the Big Ten, but the Buckeyes were clobbered every which way at Assembly Hall, shooting just 33 percent from the field (including 21 percent from the three), turning the ball over 16 times (six more than their average) and getting outrebounded 39-28. They got 24 points from Deshaun Thomas, but not much offensive output from anyone else. Aaron Craft had 11 points to go with four steals, four rebounds and three assists-he didn't make any of those turnovers-but he was hardly an offensive force, making just one of his team's four (of 19) three-pointers and hitting just three two-pointers.
Illinois, on the other hand, delivered a balanced offensive effort, getting four players in double digits, including senior Brandon Paul, who had a relatively quiet night of 19 points a year after scorching the Buckeyes for 43 points in their last meeting in the Champaign. In a surprise performance that Buckeye coach Thad Matta later said was a clue this was going to be the Illini's night, Nnanna Egwu, a 6'11" sophomore center, added 16 points--10 above his average--and a game-high 8 rebounds. Egwu and fellow big men Sam McLaurin and Tyler McGriffey held Ohio State to just 10 points in the paint in the first half. Perhaps most significant for the Illini, they were able to win easily despite missing 19 of 27 three-pointers, a weapon they usually depend upon heavily.
The Illini's win, coming three days after a surprising 68-61 loss at Purdue, proved John Groce's squad has resilience. No doubt the Buckeyes do, too. They'll get a chance to show it at Purdue on Jan. 8.
MARQUETTE 49 No.15 GEORGETOWN 48:
Marquette coach Buzz Williams's decision to ice the Hoyas' Greg Whittington between two made free throws and a third that could have tied the game with 2 seconds left turned out to be the decisive move in this tightly contested matchup, the Hoyas' league debut and their first true road game of the season. The Golden Eagles, who had just two players, Davante Gardner and Vander Blue, in double figures, extended their home win streak to 18 games despite making just four of 17 three-pointers and shooting 36.4% from the field, and despite a terrific performance from Georgetown guard Markel Starks, who had 18 points and seven assists.
No. 25 KANSAS STATE 73, No.22 OKLAHOMA STATE 67:
Senior star Rodney Magruder came alive in the second half to score 26 of his 28 points, and reserve Nino Williams added a career-high 17 points as Kansas State gave coach Bruce Weber a very welcome welcome to the Big 12. Thanks largely to Magruder, who was 10 of 13 from the field and a perfect five for five from the arc in the second half, the Wildcats have another signature win to add to their 67-61 victory over then #8 Florida on Dec. 22. (The Wildcats have just two losses, to #2 Michigan and #10 Gonzaga.) But it was a tough loss for the Cowboys, who got another brilliant game from freshman Marcus Smart, who connected from all over the floor to score a season-best 25 points.
RUTGERS 67, No.24 PITTSBURGH 62:
Behind the 23 points of Eli Carter, who started the game on the bench as punishment for a minor violation of team rules, the Scarlet Knights overcame 17 turnovers and a furious second half rally for their first Big East win. The Panthers, who shot poorly (31% from the three for the game) and rebounded meekly (21 to Rutgers' 31) narrowed a 14-point half-time deficit to two with five minutes to go, but couldn't close the deal. They now fall to 0-2 in the league for the second year in a row. (Last year they started the Big East 0-7.)
No.23 NC STATE 78, BOSTON COLLEGE 73:
Scott Wood bailed out NC State four times in the final minute, scoring nine of his 12 total points in the final 43 seconds as the Wolfpack held off a young but tenacious Boston College squad. Four of Wood's teammates also scored in double figures, including rising star Richard Howell, who had 12 points and 11 rebounds.
No.17 BUTLER 57, NEW ORLEANS 44:
Among some pretty ugly statistics-15 turnovers, including seven in the first eight minutes, 5-16 shooting from the arc and a lot of missed layups-the Bulldogs did enough good things to pull out their seventh straight home win and ninth overall. Kellen Dunham led the team with 15 points while Khyle Marshall and Roosevelt Jones combined for 24 points and 14 rebounds.
No.10 GONZAGA 81 SANTA CLARA 74:
Buoyed by a record-setting home crowd and the 29 points of Kevin Foster, the Broncos stayed close but ultimately they had no answer for the 'Zags' 7-footer Kelly Olynyk, who had 33 points and 10 rebounds. Elias Harris and Gary Bell, Jr. combined for 26 more as the Zags won their third straight road game.
No.13 MISSOURI 66, BUCKNELL 64:
Led by Phil Pressey's career-high 26 points and five assists, Missouri survived a 25-point, 14-rebound effort by Bison star Mike Muscala to head into SEC play with a perfect home-court record.
No.1 DUKE 80, WAKE FOREST 62:
Ryan Kelly and Seth Curry each scored 22 points and Quin Cook dished out a career-high 14 assists as the Blue Devils beat the Demons Deacons for the sixth straight time. Player of the Year candidate Mason Plumlee added 13 points and 12 rebounds as Duke moved to 14-0 for the sixth time under coach Mike Krzyzewski.
No.18 MICHIGAN STATE 84, PURDUE 61:
Freshman Gary Harris scored a season-high 22 points and Branden Dawson added 14 points and 11 rebounds to help the Spartans bounce back from a conference-opening loss at Minnesota and win a physical foul-fest. The Spartans grabbed 41 rebounds to Purdue's 33 (including a 13 to 11 O-board margin) and made 18 of their 22 shots from the stripe to Purdue's 9-for-20.
No.21 NOTRE DAME 93, SETON HALL, 74:
Playing in their first game in 15 days, the Irish shook off the rust to emphatically end the Pirates' 7-game win streak and extend their own to 11 games. Sixth-year senior Scott Martin had a season-high 22 points on a career-high six three-pointers, while Jack Cooley added 19 points and 13 rebounds and Eric Atkins contributed 17 points and 10 assists.
ST. JOHN'S 53, No.14 CINCINNATI 52:
The Red Storm's JaKarr Sampson and D'Angelo Harrison combined for 31 points while the Bearcats, whose 45.3 rebounding average going into the game was second in the nation, were held to 34 boards and 32% field goal shooting in their second straight one-point home-court loss.
No.16 CREIGHTON 79, INDIANA STATE 66:
Doug McDermott did his Dougie thing, scoring 25 points and grabbing 9 rebounds, Gregory Echinique added 16 points and 9 rebounds and Grant Gibbs and Austin Chatman combined for 17 assists as the Bluejays pulled away from the Sycamores, who had tied the game at 49 with 11 minutes to go, for their 8th straight win.
No.3 ARIZONA 60 UTAH 57:
Behind Solomon Hill's 19 points and another stroke of good luck, the Wildcats dodged a bullet for the second straight game. After referees waved off a potential game-winning three by Colorado in regulation on Thursday, the Wildcats' saw the ball bounce their way again on Saturday, when a potential game-tying last-second three-point shot by Jarred DuBois bounced off the rim, the backboard and the rim again before falling harmlessly away. It was the fourth time this season the Wildcats have won a game that was within one point with a minute to go in regulation, and it was the second heart-breaker in a row for Utah, which lost to ASU 55-54 in OT on Thursday.
VCU 59 LeHIGH 55:
Traveon Graham scored 17 points and grabbed five rebounds while the Rams' havoc defense forced the Mountain Hawks into 21 turnovers and 38% shooting from the field. But the four-point defeat wasn't the worst news of the night for LeHigh: guard CJ McCollum, who came into the game as the nation's top scorer with 25.7 points a game, left the game in the first half with a left foot injury, which his coach, Brett Reed, said looks like a fracture.
UCLA 68, STANFORD 60:
It wasn't the kind of high-scoring game that has become a UCLA signature-the Bruins averaged 90.2 points in their previous five games-but other important things held true to form as the Bruins won their seventh straight game and got off to their first 2-0 start in league play in four years. Freshman Shabazz Muhammad, who had been averaging 23.2 points in the previous five games, had 23 points and added 10 rebounds, while Larry Drew II, whose assist-to-turnover ratio of 5.3 going into the game was second-best in the country, dished out seven assists to one turnover. Moreover, the Bruins are finally starting to show some defensive willpower; they held the Cardinal to just 34.4% shooting.