No. 20 NC State answers critics in upset of No. 1 Duke; more hoops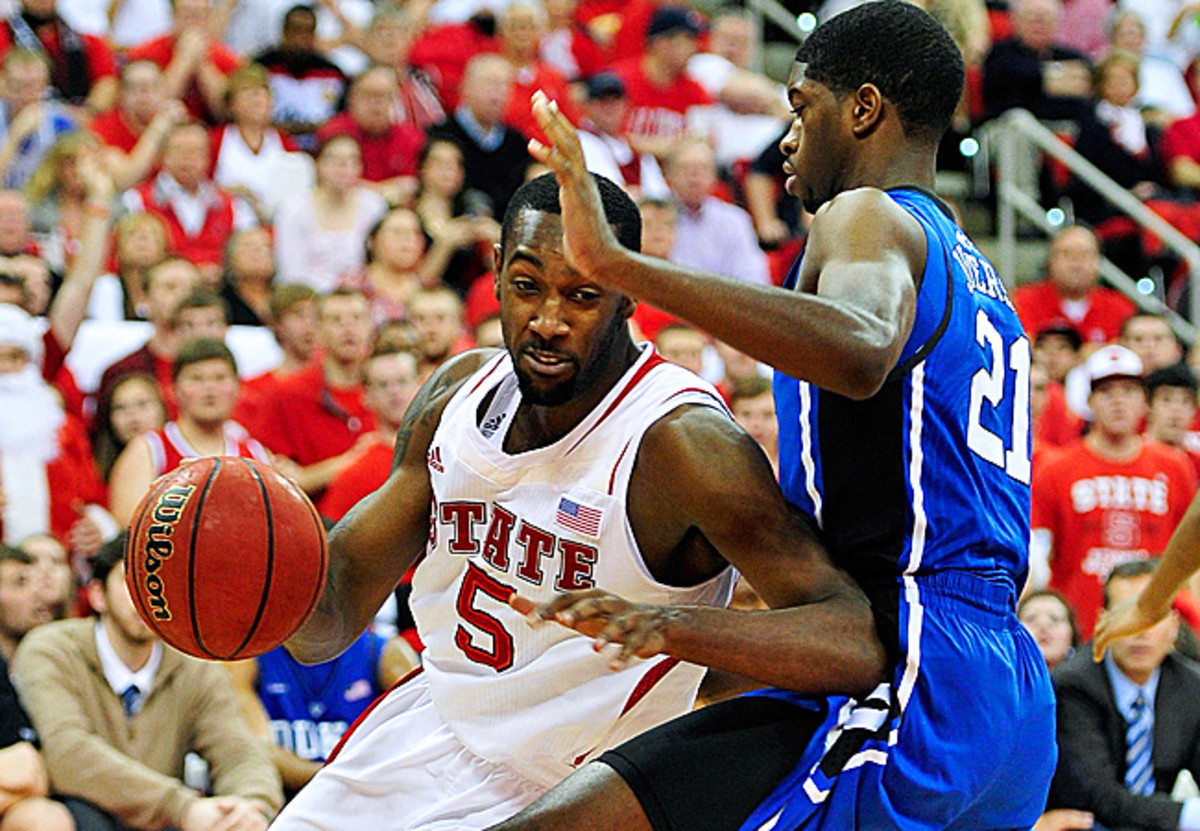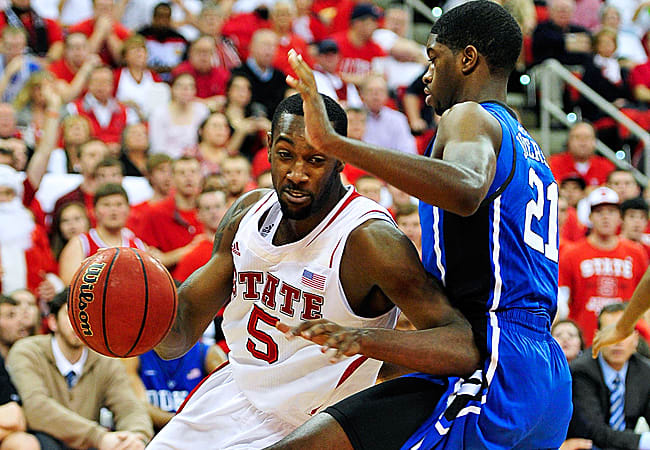 As the seconds ticked down on the Wolfpack's biggest win in years, ESPN's Dick Vitale posed one of the few questions that still remained about this team at midseason: Do they rush the court?
Most of the other unknowns surrounding NC State going into this game had been emphatically answered: Could the Wolfpack, picked to finish first in the ACC for the first time in nearly four decades, take advantage of their home floor and a hobbled opponent and finally deliver a performance worthy of that expectation? Could preseason ACC Player of the Year C.J. Leslie show a little killer instinct and take over a game? Could emerging senior star Richard Howell continue his string of eye-catching performances?
Yes, yes and yes.
Leslie, a 6-foot-9 forward who leads the team with 16.2 points a game, scored 25 points, including six straight during a crucial second-half stretch. Howell, a rebound hound whose team-leading 10.4 rebounds a game include 3.4 O-boards, had 16 points and 18 rebounds, including six off the offensive glass. And they weren't the only 'Pack players with huge games: junior guard Lorenzo Brown had 12 points and 13 assists while senior forward Scott Wood had 14 points, including three three-pointers. Together the four of them went 8-for-8 from the free throw line in the final 40 seconds.
The Blue Devils felt the absence of second-leading scorer Ryan Kelly, who went out with a foot injury earlier this week. Seth Curry kept the game close by delivering 22 points, including-back-to-back three-pointers that cut the 'Pack's lead to 58-57 with about 10 minutes to go. But once he limped off the court with an injured left ankle with just over three minutes to go, Duke never got closer than four. Quinn Cook had 17 points and seven assists; national Player of the Year candidate Mason Plumlee and 15 points and 11 rebounds; and the two main players who filled in for Kelly, junior Josh Hairston and freshman Amile Jefferson, combined for 18 points and nine rebounds. But it wasn't enough to topple an opponent who was determined to seize a great opportunity.
The 'Pack's upset victory, its 10th straight win after buzz-killing November losses to Oklahoma State and Michigan, gave NC State its first 3-0 ACC start since 1989. More than that, it gave NC State and its fans a rare trifecta of satisfaction. They vanquished a previously undefeated team, that happened to be the No. 1 team in the country, that happened to be hated Duke. Hell yes, they rushed the court.
? No. 5 Indiana 88, No. 8 Minnesota 81 -- By doing just about everything right in the first half -- hitting 7-of-11 three-point attempts, forcing 12 turnovers and shooting 65.6 percent -- Indiana built a fat 52-29 halftime lead that had the raucous home crowd swooning. Yet with 15 seconds to go in the second half, Minnesota had closed the gap to three. In between, there was a lot of gritty play by the Golden Gophers (they held Indiana to 1-of-8 from the arc in the second half) and a multitude of mistakes by the Hoosiers, including three fouls on a three-point shooter by Victor Oladipo (who had a team-high 20 points) and two turnovers and three missed free throws -- in the final five minutes -- by Jordan Hull, who had 19 points. (As a team the Hoosiers missed 13 free throws in the second half.) Despite 25 points and four steals by Andre Hollins, and 13 points and 10 rebounds from Trevor Mbakwe, the Gophers couldn't finish off their comeback. They fall to 15-2, 3-1 in the Big Ten. Meanwhile the Hoosiers, having beaten a very good team even after a bad half, move to 15-1 (3-0) knowing they can play much better, even spectacularly.
? Wisconsin 74, No. 12 Illinois 51 -- Led by senior forward Jared Berggren, who had 15 points, 12 rebounds and 2 blocks, and sophomore guard Traevon Jackson, who had a career-high 14 points, the Badgers crushed the Illini, who got just eight points from star Brandon Paul, shot just 14.3 percent from the arc (and 35.3 percent from the field) and were outrebounded 43-24. After winning their first 12 under new coach John Groce, the Illini have now lost four of their last six games.
? Connecticut 65, No. 17 Notre Dame 58 -- Today's good news for Irish fans: Brian Kelly is sticking around as football coach. The bad news? Notre Dame's 17-game home win streak was ruined by the same team that has messed up so many others: in 2009 the Huskies ended Notre Dame's 45-game home win streak and last year they squelched a 29-game home win streak. How did they do it this time? Behind the 19 points of Shabazz Napier and career-high 16 points of Tyler Olander, the Huskies outshot the Irish from the field (.509 to .429) and the free throw line (.636 to .571), outrebounded them 34-28, and outscored them 7-0 to end the game.
? No. 6 Kansas 60, Texas Tech 46 -- After a first-half offensive effort (28 percent shooting) that Kansas coach Bill Self called "miserable", the Jayhawks regrouped to quickly stretch a two-point half time margin to a double-digit lead they never relinquished. Senior forward Kevin Young took advantage of loose defense to lead the Jayhawks with 14 points. Center Jeff Withey and senior guard Travis Releford each added 12 points for the Jayhawks' 13th straight win.
? No. 19 Georgetown 67, St. John's 51 -- Playing without starting sophomore forward Greg Whittington, who sat out the game for a violation of team rules, the Hoyas put an emphatic stop to a two-game losing streak by dominating the Red Storm on the road for their first Big East win. St. John's, which made just 3-of-16 three pointers and just 6-of-16 free throws, had no answer for the Hoyas' sophomore forward Otto Porter, who had 19 points and 14 rebounds, and junior guard Markel Starks, who added 17 points and four rebounds.
? No. 7 Syracuse 72, Villanova 61 -- Playing without senior forward and second-leading scorer (13.6 ppg) James Southerland, who is benched indefinitely due to an eligibility issue, the Orange relied on junior forward CJ Fair (22 points, five rebounds and four blocks) and freshmen Trevor Cooney, DaJuan Coleman and Jarami Grant, who combined for 25 points, to hold off Villanova, win its 34th straight home game (the longest active streak in Division I), and move to 4-0 in the Big East and 15-1 overall.
? No. 14 Butler 79, Dayton 73 -- Led by the 16 points, seven rebounds and four assists of sophomore forward Roosevelt Jones, the Bulldogs won the game, but they lost leading scorer Rotnei Clarke, who was carried off the court on a stretcher after he was fouled on a first-half fast break and crashed into a padded backboard support. The injury wasn't as bad as it appeared -- he reportedly suffered only a sprained neck -- but a critical piece of Butler's offense will likely be missing for at least a few games.
?No. 18 Kansas State 65, West Virginia 64 -- In a tense game in Morgantown that saw six lead changes over the final eight minutes, Kansas State finally won it on the clutch play of junior guard Shane Southwell, who made two free throws with 21 seconds left and then blocked Gary Browne's potential game-winning layup with one second to go. Southwell had a career-high 17 points. Rodney McGruder, who also had 17, was the only other Wildcat in double figures.
? No. 3 Louisville 64, South Florida 38 -- Forget the score; the Cardinals dominated this one on the boards by outrebounding the Bulls 48-22 (the margin on the offensive glass was 19-4). Returning to action after missing just one game with a sprained ankle, Cardinals forward Chane Behanan grabbed all 12 of his rebounds in the first half and added seven points. Gorgui Dieng added 16 boards and 12 points and Peyton Siva contributed 17 points, including three three-pointers, the only threes (out of 18 attempts) the Cardinals made.
? No. 11 Florida 74, LSU 52 -- Despite playing on the road without second-leading scorer Mike Rosario, the Gators easily dispatched the Tigers to move to 12-2 overall and 2-0 in the SEC. Kenny Boynton led all scorers with 20 points, including four three-pointers.
? No. 25 New Mexico 72, Fresno State 45 -- Even without leading scorer Kendall Williams, who sat out the game for a violation of team rules, the Lobos had no trouble dominating the Bulldogs in Albuquerque. Center Alex Kirk led all scorers and rebounders with 19 points and 14 rebounds for the Lobos, who had lost two of their previous four games after starting the season 12-0.
? No. 21 Cincinnati 68, Rutgers 58 -- Deploying tenacious defense and smart ball handling, the Bearcats avoided a three-game losing streak by dispatching the Scarlet Knights on the road. Cashmere Wright had a game-high 23 points (including 9-of-10 from the free throw line) and made none of the Bearcats' six turnovers.
? No. 4 Arizona 80, Oregon State 70 -- Maybe Arizona is finally done with letting games be decided in the final seconds. After seeing their 14-game win streak ended by Oregon in their fourth straight nail-biter, the Wildcats made a more decisive statement in Corvallis, staking out an eight-point first-half lead over the Beavers that they didn't give up. Though they coughed up the ball 16 times, the Cats got 12 or more points from four different players including Mark Lyons and Solomon Hill, who both had 16.
?No. 16 San Diego State 79, Colorado State 72 OT -- Jamaal Franklin had 23 points, including five three pointers, but it was the contributions of Chase Tapley, who had 12 of his 19 points in overtime, that proved decisive for the Aztecs. San Diego State led 59-46 with 7:43 to play but then hit a scoring drought that allowed the Rams to tie it in regulation. Tapley went to work in OT, scoring all but four of the Aztecs points. The win was the Aztecs' third straight since a one-point loss to Arizona in Hawaii on Christmas Day. For CSU it was the end of a seven-game win streak.
? Mississippi 64, No. 10 Missouri 49 -- Without leading scorer Laurence Bowers, who sat out with a sprained MCL, the Tigers had little answer for Ole Miss' brawny forward Murphy Holloway, who had a game-high 22 points to go with eight rebounds and four steals. It was the first signature win for the Rebels, whose two losses this season are by a combined five points.
? No. 24 UNLV 76, Air Force 71 OT -- Bolstering the argument that the Mountain West is the toughest conference in the nation top-to-bottom, Air Force took UNLV deep into overtime before the latter was finally able to emerge from its home court with a win. Mike Fitzgerald led the Cadets with 22 points while freshman phenom Anthony Bennett led the Runnin' Rebels with 22 points and 16 rebounds for UNLV. In his strongest performance since returning from an elbow injury, teammate Mike Moser added 14 points and 11 rebounds.
? North Carolina 77, Florida State 72 -- Looking to avoid an 0-3 conference start, which would have matched its worst start ever, the Tar Heels played inspired ball against the defending ACC champions, winning despite being outplayed beyond the arc and at the free throw line. The Tar Heels' biggest advantage was on the boards: they grabbed 34 (14 on the offensive side) to Florida State's 18. Four of those were acquired by reserve guard PJ Hairston, who led all scorers with 23 points, including four three pointers.
? Texas A&M 83, Kentucky 71 -- Wildcat freshman Nerlens Noel had the game of his career to date -- 15 points, 11 rebounds, seven blocks, six assists and four steals -- but he and his teammates couldn't counter the performance of Aggies senior guard and former Washington Husky Elston Turner, who had 40 points (on 74 percent shooting), six rebounds, and four assists. It was the Wildcats' first home conference loss in John Calipari's four-year tenure in Lexington.
? UCLA 78, Colorado 75 -- Besides continuing to show a defensive grittiness and offensive flow that was missing early in the season, the Bruins are also discovering more go-to players than Shabazz Muhammad. The freshman star had 14 points and four rebounds in the Bruins' win, their ninth straight, but the hero of the game was senior forward Travis Wear, who had a career-high 23 points, including 14 in the second half.