Colorado State goes from outside the bubble to Top 25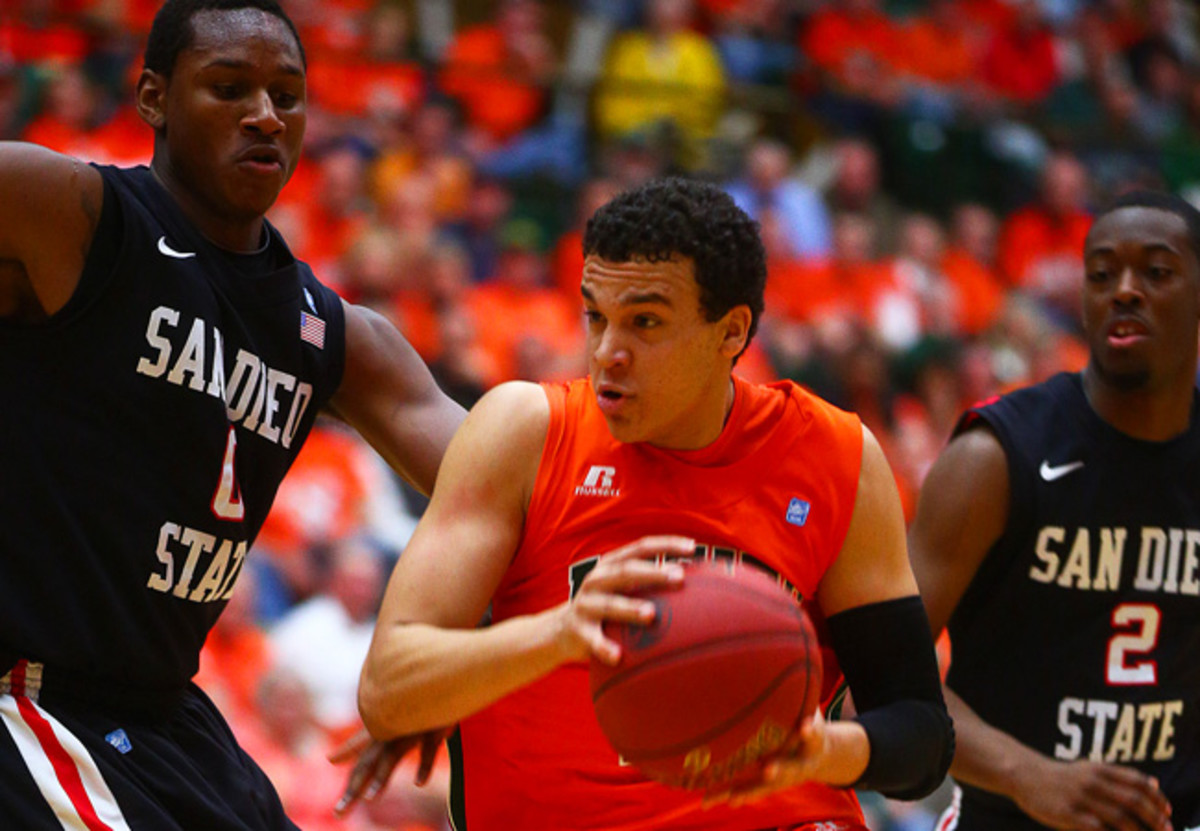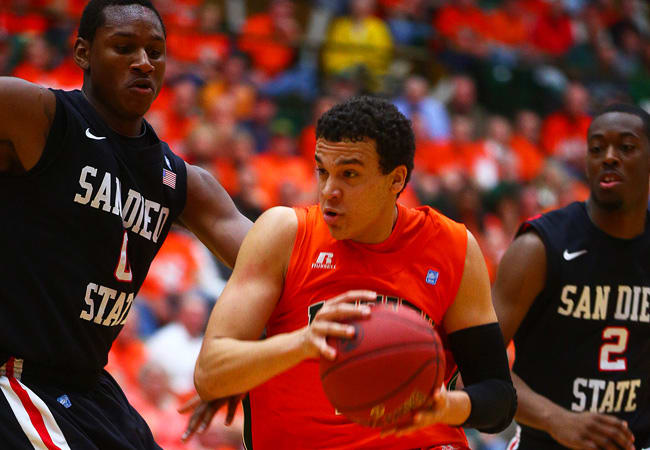 Are you feeling dizzy? So are we. The college basketball season keeps spinning and spinning, and we just never know where we might land. Or maybe the reason we're feeling dizzy is that we're breathing some thin mountain air -- as in the Mountain West Conference, which dominates this week's Fast Break like the league has dominated college hoops this season. Plus, we've got a Smart choice, a Glue Guy with a lot of Hart, and we bid hello and farewell to some bubblicious Wildcats. Are you ready to run the floor? Then lace 'em up and take a mad, mountainous dash through the week that was.
Player of the Week: Marcus Smart, 6-foot-4 freshman guard, Oklahoma State
I suppose it's a long shot that Smart could win national player of the year, but I could make a good argument that he is the best player in the country. For evidence, look no further than the last 10 minutes of play in the Cowboys' 84-79 overtime victory over Oklahoma on Saturday. With the Pokes facing a six-point deficit with five minutes to go in regulation, Smart hit a three-pointer deep in the corner; dropped in a difficult fadeaway bank shot; grabbed an offensive rebound off a missed free throw; got fouled on that rebound and sank two free throws. That sent the game into overtime, where he fired a brilliant post feed to Le'Bryan Nash for a dunk-and-one and then made the defensive play of the game by putting such a clean block on OU guard Steven Pledger that the refs called a held ball with the possession arrow facing Oklahoma State. Smart then made two free throws to seal the win. In all, Smart finished with a career-high 28 points to go along with seven rebounds, four assists and two steals. Last Wednesday, Smart also had 10 points and three assists in 18 minutes in the Cowboys' blowout win over Texas Tech. Smart's one weakness is supposed to be outside shooting (he is making just 31.6 percent of his three-point attempts this season), but last week he sank 4-of-6 from behind the arc and 11-of-20 overall. There is no player in the country who impacts the game in more areas -- including leadership -- than this guy.
Team of the Week: Colorado State
The Rams may be toiling in obscurity out in Fort Collins, but they got two big wins to maintain their tie (in the loss column) with New Mexico atop the Mountain West standings. Last Wednesday, Colorado State edged San Diego State, 66-60, thanks to some clutch late buckets from 6-2 senior guard Dorian Green, who had 16 points and six assists. On Saturday, the Rams pulled out an 89-86 win at Air Force, which had beaten UNLV at home three days earlier. A few weeks ago, Colorado State was barely looking like a bubble team. Last week, it entered the AP rankings for the first time since 1954. The wins keep coming, the rank keeps rising, and the season keeps getting better.
Glue Guy of the Week: Mike Hart, 6-6 senior forward, Gonzaga
My good friend Fran Fraschilla has been promoting Hart for Glue Guy recognition for so long, I was starting to wonder whether he owed Hart money. But Hart proved his worth last Thursday at Saint Mary's, where he helped the Zags stick together as the Gaels made a run in the second half and Gonzaga emerged with a 77-60 victory. Hart is Gonzaga's most versatile defender, and he was a big reason his team was able to hold the Gaels to just 39.7 percent shooting. Hart finished with five points, six rebounds and two assists in the win, but of course that doesn't begin to explain his value. For example, with a little over two minutes to play, Hart chased down an offensive rebound deep in the corner to give Gonzaga an extra possession. He shuffled the ball to center Kelly Olynyk, who in turn fed Gary Bell Jr. for a three-pointer. Working the game for ESPN, Fraschilla said from courtside, "Mike Hart gets an assist on that even though you'll never see it in the stat sheet." You will, however, see it in the Fast Break.
Freshman of the Week: Gary Harris, 6-4 guard, Michigan State
It may surprise you to learn that Harris had not yet won this award, mainly because he doesn't put up eye-popping numbers. Harris has scored 20 or more points just three times this season, and he has never scored more than 22. He has also struggled through a variety of injuries, including two slightly dislocated shoulders and recent back spasms. Yet Harris produces with a consistency and efficiency that belie his age. Last week was a prime example. He had 17 points on 6-for-13 shooting (5-for-9 from three-point range) to go along with four rebounds and three assists in the Spartans' rout of Michigan. He added 14 points (on 5-for-6 shooting) and one assist in Saturday's win at Nebraska. Harris' value to this team was evident late in the first half of that game, when he went to the bench because of foul trouble, whereupon Nebraska went on a run. Despite all of Harris' ailments, coach Tom Izzo has said that he could turn out to be among the best defensive guards Izzo has ever had. Just one more reason to believe the Spartans have a real chance to cut down the nets on April 8.
Under-the-Radar Player of the Week: Michael Lyons, 6-foot-5 senior guard, Air Force
It was not easy to win this award in a week when Mount St. Mary's guard Sam Prescott scored 44 points (nearly five times his average) in a win over league-leading Bryant, and Central Connecticut State guard Kyle Vinales went for 42 points in a loss at Wagner. Lyons topped them both by scoring 45 points in a home loss to Colorado State. Lyons is big, strong and smooth, and when he gets into a shooting rhythm he is impossible to guard. Against the Rams, he shot 6-for-13 from three-point range (17-for-25 overall), and he was 5-for-8 from the foul line. Many of his jumpers came on long fadeaways with Colorado State defenders hanging all over him. Lyons also had a mere 27 points last Wednesday in a big home win over UNLV. It remains to be seen whether the Falcons can string together enough wins to make the NCAA tournament, but if they do, Lyons is the type of player who can single-handedly shoot down a top seed.
Best win (tie): Villanova 70, UConn 61; Maryland 83, Duke 81
I usually don't like to use ties, but I also couldn't make Maryland my Team of the Week because it also lost at home to Virginia. That aside, it's hard to think of a team that needed a win more, both for its NCAA tournament resume and its mindset, than Maryland needed this one. Alex Len turned in the best performance of his college career by magically making Mason Plumlee disappear. The question now is whether Maryland can resist the urge to over celebrate. If the Terps handle this win as poorly as they did the win over N.C. State (after which they lost three of their next four), then you can forget about them being in the NCAA tournament.
As for Villanova, I believe the win at UConn puts this team on the inside of the bracket looking out (for now, anyway). Without those two home wins over Louisville and Syracuse -- heck, without even one of those wins -- Villanova wouldn't even be in the conversation. When lumped in with the home loss to Columbia and the sweep by Providence, those twin triumphs look more like an aberration than an affirmation. So the win over UConn served a dual purpose. First, it gave Villanova that critical third win over a team ranked in the top 50 of the RPI, which is often a separator when the final at-large bids are decided. Second, and more important, it came on the road. If the Cats can win their winnable games (home vs. Rutgers, at Seton Hall) as well as one more loseable one (home versus Marquette and Georgetown, at Pittsburgh) then they will have a nice relaxing Selection Sunday.
Worst loss: Tennessee 88, Kentucky 58
At least Kentucky isn't giving its fans any false hope. This was barely a bubble team even before Nerlens Noel went down with that torn ACL at Florida last Tuesday. Without him, the Wildcats aren't even sniffing the tournament. I was frankly surprised that John Calipari chose this game to bench freshman starters Ryan Harrow and Alex Poythress for the start of the game. You would think he would want to do everything he could to instill his players with confidence. Those two guys responded by combining for four points while Noel's replacement, Willie Caulely-Stein, had just two points and two rebounds in 23 minutes. All this against a Tennessee team that is highly unlikely to make the NCAA tournament. Kentucky still has some opportunities to make its case (the Cats will play Missouri and Florida at home), but my guess is that this team is too psychologically damaged to mount a miracle run.
Flavor of the Week: Akron
As you can see below, I have included Akron on my AP ballot for the third straight week. I don't know if my fellow voters are going to follow suit, but I promise it is no accident this team is undefeated in the Mid-American Conference with a 12-0 record (21-4 overall). The Zips' 17-game winning streak is the longest active streak in the nation and the second longest by any team this season. They are winning thanks to one of the best inside-outside tandems in the country. Senior center Zeke Marshall is the all-time career blocks leader in MAC history and currently ranks fifth in the nation at 3.48 blocks per game. Junior point guard Alex Abreu is on pace to break school records in assists for both a season and a career. He currently leads the MAC in assist-to-turnover ratio (2.16-to-1) and is second in both assists (6.0) and three-point percentage (39.8). Mostly, the Zips are on this streak because they have played lockdown defense, holding 17 of their 25 opponents to 65 points or fewer. In other words, Akron excels inside and out, as well as on both ends of the floor. Does that sound like a team you'd like to see in your first NCAA tournament game?
Five Games I'm Psyched To See This Week
Indiana at Michigan State, Tuesday, 7 p.m.
If this game is half as good as the one these two played in Bloomington, it will be must-see TV. Victor Oladipo is nursing a tender ankle, but I think it's safe to say he will be available. The Hoosiers better hope so, because he had 21 points, seven rebounds and six steals in IU's win over the Spartans on Jan. 27.
Kansas at Oklahoma State, Wednesday, 9 p.m.
I just called Marcus Smart arguably the best player in the country, but Kansas freshman guard Ben McLemore has the chance to make him look like the second-best player in this game. We'll find out whether Kansas really fixed its problems, or whether the team is still fundamentally flawed.
Saint Louis at Butler, Friday, 7 p.m.
The Billikens have won seven in a row to move into a tie (in the loss column) with VCU for first place in the Atlantic 10. That streak includes a 17-point drubbing of Butler in St. Louis on Jan. 31. Will the Bulldogs return the favor?
Georgetown at Syracuse, Saturday, 4 p.m.
One of the great rivalries in college basketball will come to a close with this one. This is what conference realignment has wrought. Thanks a lot, presidents.
New Mexico at Colorado State, Saturday, 4 p.m.
A fight for supremacy in the ever-tough Mountain West Conference.
A Few Minutes With ... New Mexico Coach Steve Alford
SI.com: The Mountain West Conference is ranked No. 2 in conference RPI behind the Big Ten, and for part of this season it has been No. 1. Is it fair to say this is the best the league has been since you got there?
Alford: Yeah, top to bottom. The last three years have been really good, but it has been a little top heavy. This year, it' s a fight to win every night, which makes it a lot of fun.
SI.com: The surprising thing is this is happening right after your league lost one of its marquee teams in BYU. Were you worried about that?
Alford: That's been the most intriguing thing. With all this conference realignment, we've lost Utah, TCU, Utah, BYU. It's just been nuts, yet each year it seems like we keep getting better. We had some teams in mind to replace San Diego State and Boise State, but I'm obviously glad that they're back. Remember, we're a fairly young league. This is only our 13th year. Players know about our league now, and players talk to each other. We add Utah State next year, so that's a very good basketball school as well.
SI.com: I'm not sure people around the country really understand how good the fan bases are in the Mountain West. It reminds me a lot of the Missouri Valley Conference, where you coached. Is that a fair comparison?
Alford: Yeah, but our arenas are bigger. The Thomas and Mack [Center, where UNLV plays] is 17 or 18,000. We're 15,200-plus. San Diego State has got to be 14 or 15,000. Same with Colorado State. They used to be half full, but now they're selling out. Vegas sells out. San Diego State sells out. Air Force's attendance has been up this year. It' s just a fun league to play in.
SI.com: Let's talk about the Lobos. You all are in first place with at 9-2 record and you're 22-4 overall. That's pretty amazing considering you lost two key starters and an important reserve.
Alford: I honestly thought we'd be a year away because we lost two big-time forwards in Drew Gordon and A.J. Hardeman and a three-year starter in Phil McDonald. I knew we had a very difficult schedule. The funny thing is, we're only shooting about 41 percent, so it's not like we've caught fire. I just think we're a very good offensive team. We're tough, we're together, we're a unit. A lot of kids in our locker room have won.
SI.com: When I watch you guys, it never seems like anyone is trying to make a spectacular play. Everyone just kind of stays with what they can do. Is that the blueprint?
Alford: That's right. Even in games where we haven't made shots, we've taken good shots, so you're able to set your defense. That has really helped.
SI.com: Your 7-foot sophomore center, Alex Kirk, has been really impressive. He's from Los Alamos, New Mexico. Is he someone you recruited from an early age?
Alford: Oh yeah, when you're seven-foot in New Mexico, you don't hide. We don't get them very often. He was highly recruited out of high school, so we were fortunate to get him. He had a very good start to his freshman season and then in the summer he injured his back and had to redshirt last year. He has done a great job getting back. Our power forward, Cameron Bairstow, the Aussie, has also been really good here lately. He's a big, strong, aggressive kid. It helps for them to play each other in practice.
SI.com: You may have noticed your alma mater, Indiana, is having a pretty good season. Would it be weird for you to play them in the NCAA tournament?
Alford: (laughs) We were at the same site last year in Portland, but we were in a different part of the bracket. I'd just as soon not play them because other than the team that I coach, that's the team that I follow the most. I don't want to see either of us lose.
SI.com: Your older son, Kory, is a freshman guard on your team, and his younger brother, Bryce, is joining the team next year. Is either one as good as his dad was?
Alford: Well, I try not to talk about it with them. They get enough pressure in the fishbowl of coaching. I don't know if they've ever seen a tape of me playing. They hear enough about it that I've always wanted them to be their own guys. If they enjoyed it, I'd be there for them, and thankfully they've both enjoyed it.
SI.com: Do you still play one-on-one with them?
Alford: Probably more H-O-R-S-E than one on one. I'm older now, I don't need to be blowing an Achilles or anything.
SI.com: What about your other players? Will you still challenge them to a free throw shooting contest?
Alford: That hasn't happened often. I think they know that would be a difficult chore for them. I don't want to mess with their confidence. I can still stand and shoot, but it gets a little dicier if I try to move around. Mostly, we just mess around and have fun. If anything, we'll shoot some half-court shots. That makes things a little more even for everybody.
This Week's AP Ballot
(Last week's rank on my ballot in parentheses)
1. Indiana (1)
2. Miami (2)
3. Michigan State (4)
4. Duke (3)
5. Michigan (5)
6. Gonzaga (7)
7. Syracuse (8)
8. Florida (10)
9. Arizona (6)
10. Kansas State (11)