Minnesota win over Indiana is season's latest 'upset'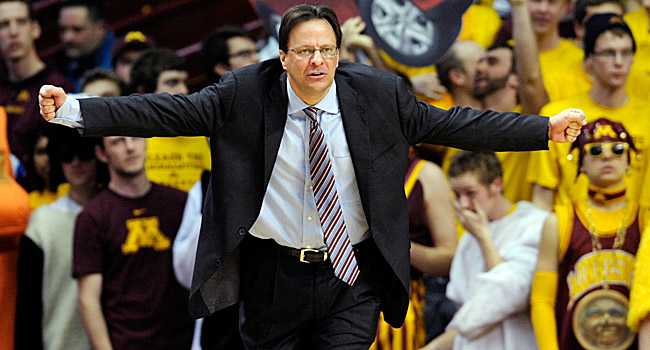 Indiana was a moderate road favorite Tuesday night at The Barn, so in Vegas terms, the Hoosiers' loss to Minnesota should be construed as an upset. Based on everything else we have seen unfold so far this season, though, it's really anything but.
In a twisted way, nothing makes more sense than a Hoosiers team that walked out of East Lansing with a defining road win last week getting shoved around by a Golden Gophers squad that had lost eight of its last 11 games and had a kumbaya session with a sports psychologist over the weekend. In this season where Mark Twain, if he were a college hoops junkie, may have muttered "If you don't like the national polls right now, just wait a few minutes," are you really surprised by this? No. 1 loses for the umpteenth week this calendar year, and the collective response from CBB Nation at this point most likely is a shrug.
Or, at least, it should be. Because we should know better by now. Despite my semi-breathless Twitter annointing of the Hoosiers last week as possibly this season's "great team" (whatever that means), they're beatable. Everyone in the nation is beatable. Every night, good teams from coast to coast are showing they are beatable. This season has been one long string of court-stormings and polls angst.
So no, I'm not going to worry more about Indiana's March prospects than I was six hours ago. And no, Minnesota is not nearly as bad as their recent run suggested. And no, this won't cost Indiana a 1-seed in the NCAAs or precious placement in Indianapolis, at least on its own. And no, Minnesota fans don't have to continue freaking out about their team's chances of missing the NCAA tournament entirely.
It's one game. In a season where grander perspective has been lacking because of so many of these "one games," it's time to think bigger. A loss on the road, against a semi-desperate foe in bad need of some positive juju, is not a mandate on the Hoosiers. They're still one of the best teams in the country, and fully capable of winning an NCAA championship. There is no common thread to the Hoosiers' losses this season. They don't regularly get pounded on the glass, or turn the ball over, or shoot a poor percentage from the field. On a few select nights, they have just gotten beat. Again, shrugs. The Big Ten is really good. C'est la vie.
It's the same for Minnesota. This doesn't fix all the things that were going wrong for the past six weeks. It doesn't mean they're Final Four contenders. What it means is that for the first game in ages, the Gophers ripped it up on the offensive glass while also not turning the ball over very much. Their formula is simple. The more shots they get up on the rim, the more second chances they have to grab and put back. Tonight, they had those chances, and they made the Hoosiers pay.
At least as it stands tonight, the game was the latest outlier in a season full of them. Minnesota will reap the rewards of the win and Indiana will learn the latest lessons of defeat, but in the grander scheme of things? It doesn't change much of anything at all. That said, this is still a heck of a lot of fun.