Zeller, Buckeyes highlight final week; more Fast Break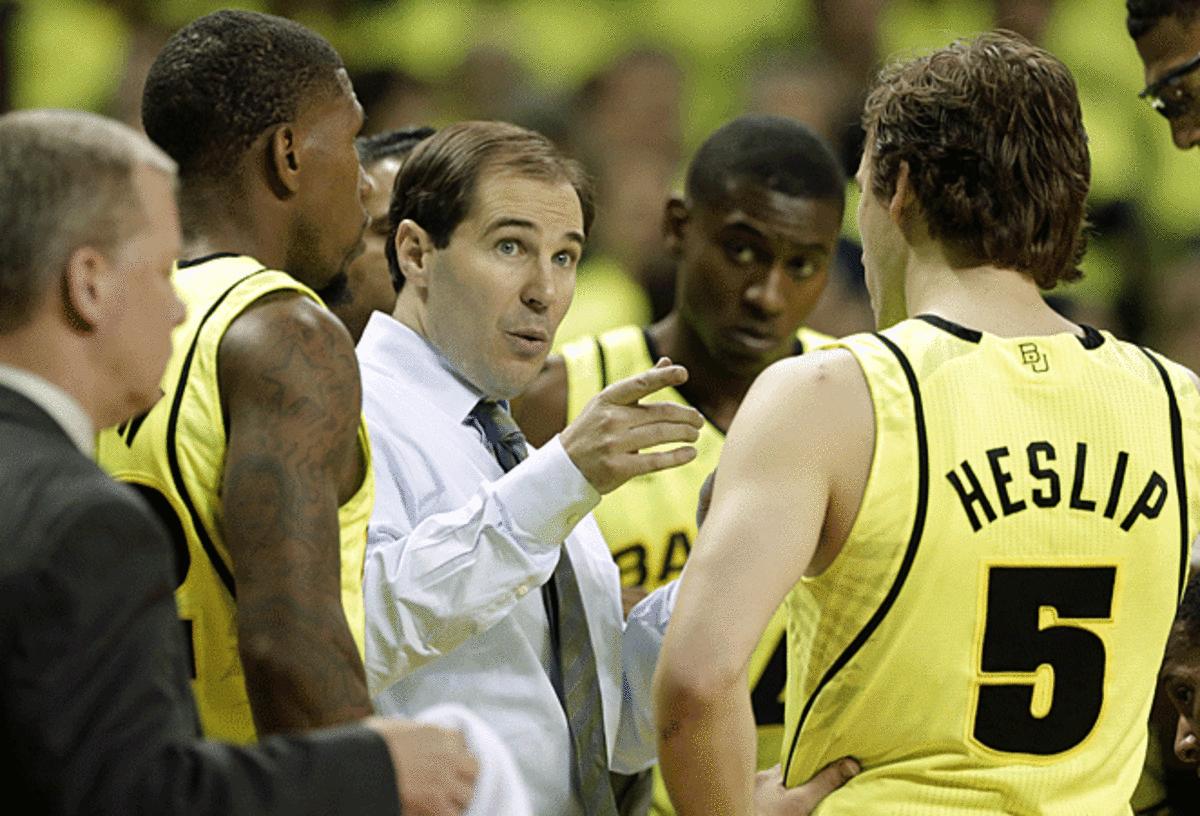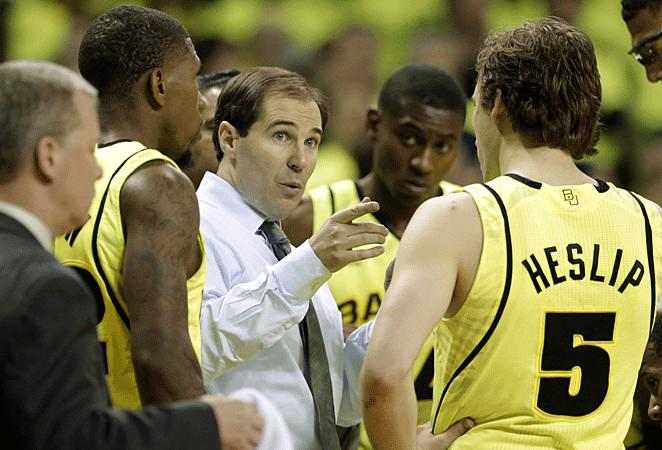 The Fast Break is coming to a close, but as you all know, the final sprint is still to come. Since the Big Ten dominated both the basketball and the conversation this season, it's appropriate that it dominates our final dash as well. (Though in the case of one team, it was an inclusion it could have done without.) We'll also lock horns with a sticky Ram and hear from a Bear whose team still has a little fang left. So one last time, lace 'em up, run the floor and let's break down the best and worst from the week that was.
Player of the Week: Cody Zeller, 7-foot sophomore center, Indiana
It is fitting that in the final edition of the Fast Break, Zeller should given this award for the first time. Zeller started the season as college basketball's poster child, the home-grown All-American who chose to play for State U. For the last five months, so-called experts like myself have sized up Zeller's game and picked at all of his nits. He's not tough enough. He's too passive. He gets pushed around. Well, Zeller showed on Sunday why he is so valuable to his team, and why he may still in fact be the national player of the year. He had 25 points -- including the game-winning layup with 13 seconds remaining -- to go along with 10 rebounds, two assists and one block to deliver the Hoosiers to an outright Big Ten regular season title with a 72-71 victory at Michigan. Zeller also had 17 points, four rebounds and three assists last Tuesday loss to Ohio State. Like all college sophomores, Zeller is very much an unfinished product, but he has been remarkably efficient and consistent this season. He averaged 16.5 points on 57 percent shooting (75.5 percent from the foul line) to go along with 8.0 rebounds, 1.3 blocks and 1.2 assists. If that's an underachiever, give me a team full of them.
Team of the Week: Ohio State
I've taken more shots than anyone at the Buckeyes this season, going back to last October when I visited their practice and called them overrated. Well look at 'em now. They finished in a tie for second place in the nation's toughest conference, and they did it the hard way -- by knocking off Indiana in Bloomington, on senior night no less. They also beat Illinois at home on Sunday to claim their fifth consecutive win and their sixth in their last seven games. Ohio State still has not corrected its fundamental flaw -- a lack of consistent second scorer to Deshaun Thomas -- but it has done a better job of masking it. Much of that starts with Aaron Craft's defense, which actually seems to get better at a time when so many players are running out of gas. Ohio State has a relatively low ceiling, but whoever plays this team better beat it, because the Buckeyes are not gonna beat themselves.
Freshman of the Week: Raphael Davis, 6-5 guard, Purdue
Davis is just one more reason why Boilermaker fans -- who supported their team admirably during this rebuilding season -- have reason to expect big things in the future. Davis has very good size and strength for his position, and though he is capable of occasionally knocking down a long-range jumper, he knows that is not is strength. His strength is attacking the rim, and that's what he did so well last week. In a close loss to Michigan at home, Davis was 4-of- 5 from the foul line and finished with 15 points (to go along with nine rebounds). During Saturday's home win over Minnesota, he had the finest game of the season, scoring 18 points (on 6-for-7 foul shooting) while adding four assists and two rebounds. If Davis adds the three-point shot to his arsenal, he has the potential to be an all-conference caliber player. In the meantime, it was enough that he gave this program hope for the future.
Glue Guy of the Week: Pierce Hornung, 6-5 senior forward, Colorado State
Like most Glue Guys, Pierce Hornung usually doesn't put up big scoring numbers -- unless he has to. I guess he felt that he had to against Nevada on Saturday, When Hornung had 16 points, 13 rebounds and four assists in the Rams' 77-66 win over Nevada. Hornung also had 10 rebounds, three points and three assists last Wednesday in a win at Wyoming. Hornung exemplifies what makes Colorado State so tough to beat. He is one of five seniors who start for Larry Eustachy's team, and he uses his limited size to great effect on the glass. According to Kempom.com, Hornung ranks sixth nationally in offensive rebound percentage (16.3), and he is the nation's 13th-most efficient offensive player. In conference games, Hornung ranks fifth in the Mountain West in rebounding (8.6), sixth in steals (1.3) and he's 10th in assists (2.8). His versatility and guile is a major reason why Colorado State has stuck together and won so many games this season.
Under-the-Radar Player of the Week: Kerron Johnson, 6-1 senior guard, Belmont
With a little over four minutes left in Belmont's Ohio Valley Conference tournament final against Murray State, Johnson crashed hard to the floor while driving to the rim. He cut his chin so badly that twice he tried to get up and crumpled back to the floor. No problem. Johnson received four stitches, re-entered the game in the final minute, sank two free throws with 46.8 seconds remaining in regulation and then drilled the game-winning basket with 1.2 seconds left in overtime to send Belmont to a 70-68 win and a return trip to the NCAA tournament. With the Bruins' leading scorer, Ian Clark, limited to 11 points on 4-or-10 shooting, Johnson, who was named the tournament's Most Valuable Player, had 12 points, six rebounds and three steals in the final, which followed his sterling 23-point, seven-assist, three-steal performance in the semifinal win over Tennessee State.
Best win: Tennessee 64, Missouri 62
Kentucky picked up a big one at home against Florida, but I went with Tennessee because I think this win exemplifies the way the Vols have been playing over the last month. At one point, the Volunteers looked dead in the water after losing at home to Georgia to fall to 3-6 in the SEC and 11-10 overall. Well look at 'em now: The Vols have won eight of their last nine, and this win over the Tigers was their fourth over a team ranked in the top 50 of the RPI. The only problem is that all four of those wins came in Knoxville (although they also have a neutral court win over fellow Bubble Boy UMass). That puts some pressure on Tennessee for the SEC tournament. The Vols have to win their first game against the South Carolina-Mississippi State winner, and they might have to beat Alabama in their next game if they do. But the win over Missouri gives Tennessee a bit more breathing room, and in a year where the bubble is so weak, that might be enough.
Worst loss: Nebraska 53, Minnesota 51
It's hard to find a more frustrating team to watch than the Golden Gophers. They took care of "bid"-ness last week by beating Indiana at home, but they took another big step back by losing in Lincoln. Minnesota's bugaboo this season has been turnovers, but the Gophers coughed it up just eight times against Nebraska. The reason they lost: They shot 10-for-20 from the free throw line. Minnesota followed that up by losing at Purdue by 16 points on Saturday. The Gophers are still going to the NCAA tournament, but it's hard to imagine them doing much damage once they get there.
Flavor of the Week: Liberty
So what does it say about college basketball that a team can go 15-20 and still have a chance to win the national championship? I suppose the answer depends on your point of view, but from where I'm sitting, Liberty's dramatic dash to the Big South title illustrates what is so terrific about college basketball's postseason. The Flames got six three-pointers from tournament MVP Davon Marshall to become just the second team 20-loss team ever to qualify for the NCAA tournament. Liberty's run to the championship was especially impressive considering it included a win over Coastal Carolina, which was hosting the tournament. Liberty is almost certainly headed to the First Four in Dayton, where it will have a chance to keep this Cinderella run going.
A Few Minutes With ... Baylor Coach Scott Drew
SI.com: You guys played really well on both ends of the floor to beat Kansas. Is there a part of you that wonders why you haven't played like that more often?
Drew: I just think that's the parity in college basketball. We've played hard, but haven't always executed. Today, we did both. We've proven that we can beat anybody in the country, and like everybody else we can lose to everybody.
SI.com: I saw RG3 was at the game. Did he bring you luck?
Drew: He gets the credit for the pep talk on Friday in practice. He came in and shared what the Redskins talked about when they had their backs against the wall at 3-6. He's a hug basketball fan. He was a very good basketball player in high school. He was just phenomenal with our guys. If he ever retires from football, he can be a great coach.
SI.com: Has this been a frustrating team to coach?
Drew: Inconsistency is always tough on everyone. Everybody feels the frustration with the highs and the lows. At the end of the day, this team likes one another and they're good people. It's easy to coach a team like that. Hopefully, we can end things on a high note.
SI.com: You guys are pretty squarely on the bubble. How much do you pay attention to the mock brackets and RPI rankings? Or do you just keep your head down and coach your team?
Drew: Right now, I focus on us trying to make sure we do all we can for ourselves, but at the same time you can't be immune to it. You have people telling you you're in the last four in and stuff like that. We know who we need to cheer for and who we need to root against.
SI.com: I remember a couple of years ago, you guys were the very last team that popped up during the Selection Show. Was that tough to go through?
Drew: That was the most excitement I've probably felt in basketball other than when my brother [Bryce] hit that shot to beat Ole Miss. You think you're in and you're sweating it out and you're thinking, what am I going to tell the team? What am I going to tell everybody here? We had a big party for the show. Then when they called our name, to see the excitement and jubilation was amazing.
SI.com: I'm not sure many casual basketball fans understand just how talented your senior point guard, Pierre Jackson, is. What makes him so effective?
Drew: Pierre is the first player in a power conference to lead the league in assists and points since Jason Terry. He's got a gear that very few people have. He can really accelerate, and his top speed is ridiculous. The fact that he can shoot allows him to use his speed even more. I think people will know him a lot more in the next few years playing in the NBA.
SI.com: If Britney Griner were on your team, could she help you?
Drew: I think Britney Griner will be the best women's post player to ever play the game, but I think the physicality in the men's game, as well as the speed of the game, is still different.
SI.com: When the Harbaugh brothers coached against each other in the Super Bowl, did you and your brother, Bryce, talk about the possibility of someday coaching against each other in the NCAA tournament?
Drew: Yeah, we said how we'd like to do that at the Final Four. I've always said that if that happened in the Sweet 16 or Final Four, it would be great, but we would take it at any time this year.
SI.com: Finally, we all remember the stories about how both of your parents were stricken with cancer at the same time. How are they doing?
Drew: Dad and Mom are both cancer free and doing great. It's a blessing because anybody that has faced cancer knows the magnitude and severity of it.
This Week's AP Ballot
(Last week's rank on my ballot in parentheses)
1. Gonzaga (1)
2. Duke (3)
3. Indiana (2)
4. Louisville (7)
5. Georgetown (4)
6. Kansas (6)
7. Michigan (9)
8. Michigan State (10)
9. Ohio State (15)
10. Miami (5)
11. Kansas State (11)
12. New Mexico (12)
13. Oklahoma State (13)
14. Marquette (17)
15. Florida (8)
16. St. Louis (16)
17. Wisconsin (19)
18. Memphis (22)
19. UCLA (NR)
20. Pittsburgh (NR)
21. North Carolina (25)
22. Creighton (NR)
23. Wichita State (NR)
24. Arizona (NR)
25. Colorado State (NR)
Dropped out: Syracuse (14), California (18), Illinois (20), Louisiana Tech (21), Oregon (23), VCU (24)
I gave some thought to ranking Duke No. 1 this week on the basis of that awesome performance in Chapel Hill. But there are certain unwritten rules in poll voting, and I honestly believe one of them should be a team gets to hold onto the No. 1 ranking until it loses. So Gonzaga gets my stop spot heading into the postseason, and if it wins the West Coast Conference tournament it will almost certainly be a No. 1 seed.
Florida fans have been all over me for ranking their team consistently lower than other voters for most of the season, yet when I tweeted out my ballot on Sunday night, I heard no such complaints from Gator Nation. If anything, I may have overrated the Gators at No. 15. They simply cannot win away from home, as their loss at Kentucky on Saturday revealed yet again. That is a fatal flaw for the NCAA tournament.
It's not often that a team can lose by 16 points (in a game that was not even that close) and still rise in the rankings, but it was that kind of week. Heck, it has been that kind of season. If Duke was nearly No. 1, it doesn't make sense to penalize North Carolina for losing to them, even if it is by a sizable margin. Besides, look at the teams that I dropped out. They all lost bad games last week. Each time I dropped one out, the Tar Heels moved up, and that opened up a spot for teams that won last week. The one team that lost who re-entered my ballot was Wichita State, but if you watched that Missouri Valley Conference final against Creighton, you could see that those two teams were pretty much even. The Shockers don't have a ton of talent, but they do have a lot of fight, and they deserve to have a number next to their name. For now, anyway.
Among the schools tied for 26th this week were Temple, Louisiana Tech, Montana and Illinois. Often times this season, my challenge was to shoehorn qualified teams into the last few spots, but this week I had to scavenge a bit just to fill out my ballot. This, of course, is college hoops. The world is flat.