Oklahoma coach Bob Stoops receives raise, will make $5.25 million in 2014
Oklahoma coach Bob Stoops has been given a raise by the university that will put his salary at $5.25 million for 2014, according to Jason Kersey of The Oklahoman.
The increase is intended to bring Stoops' pay in line with Texas A&M's Kevin Sumlin and Texas' Charlie Strong, who also make around $5 million next season, reports The Dallas Morning News.
The new pay scale brings the total value of Stoops' remaining deal with the school to $39.9 million over the next seven years, with a salary of $6.15 million scheduled for 2020.
In addition to an increased contract for Stoops, the school's board of regents also approved $370 million in improvements to Gaylord-Family Memorial Stadium, including creating a full bowl at the stadium's south end and updating the teams on-site facilities.
Oklahoma's Stadium Renovation Renderings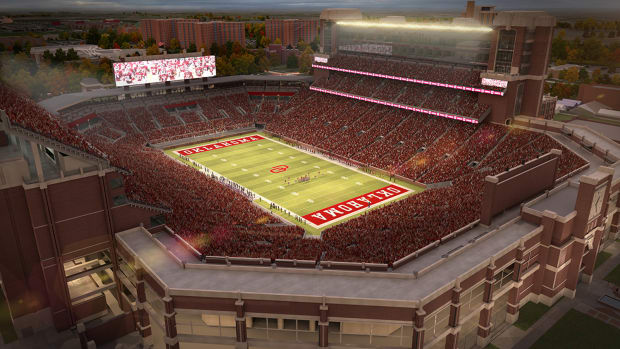 -- Brendan Maloy and Tim Newcomb