Here are the 10 best dances from the NCAA tournament.
The Big Dance often lives up to its name in a literal sense.
March Madness and jubilation go hand-in-hand. Big wins and upsets lead to memorable locker room celebrations, including some legendary dance moves.
As the 2016 edition of March Madness gets underway, we rounded up the 10 best dances of the last five Big Dances. Don't try these at home.
2014 – North Dakota State upsets Oklahoma
2011 – VCU's Heath Houston celebrates Sweet 16 win
2014 – No. 15 Mercer upsets No. 2 Duke, Kevin Canevari hits Nae Nae
2013 – Florida Gulf Coast reaches Sweet 16
2015 – Wisconsin's Frank Kaminsky appears in promo
This @BadgerMBB stud sure can cut a rug! http://t.co/Kb9xgUdGzd

— March Madness TV (@MarchMadnessTV) March 29, 2015
2013 – Kansas State prepares for La Salle
2014 – Iowa State earns Sweet 16 berth, coach Fred Hoiberg leads celebration
2015 – UNC women defeat Ohio State to earn Elite 8 trip
2013 – Florida beats Minnesota in second round
2015 – UC Irvine bench loses it during first round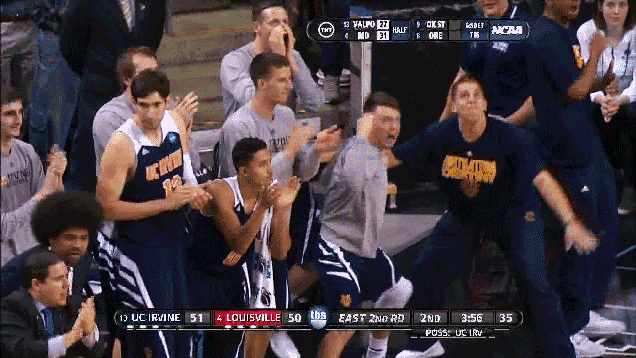 BONUS: Florida's Joakim Noah celebrates 2007 SEC tournament win