Week 16 Start 'Em, Sit 'Em: Peterson always in style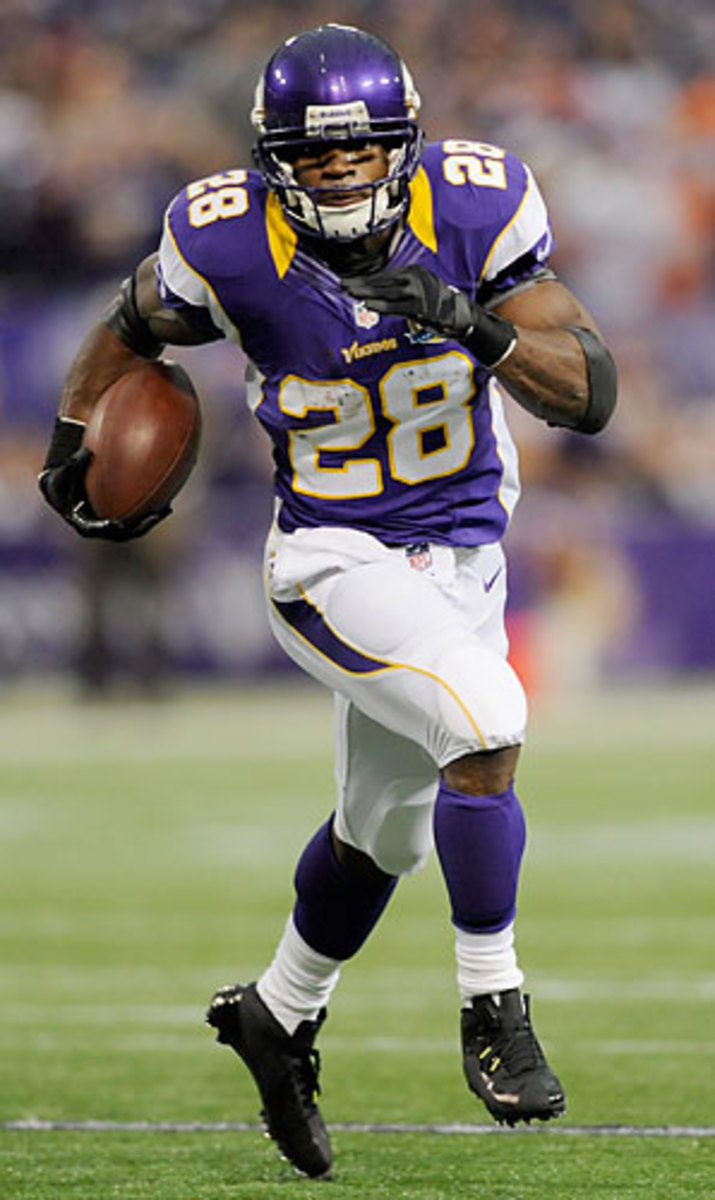 If you're still playing fantasy football, you either have an embarrassment of riches or your lineup got hot at the right time. Either way, any lineup decisions you have this week are akin to comparing apples to oranges, or Douglas Firs to Fraser Firs.
Heck, spend more time selecting your holiday tree than your fantasy football starting lineup. You've done a bang-up job getting to championship week in most leagues. Don't screw it up by changing anything now.
But there still may be roster decisions to consider. If you're stumped or second-guessing, we'll help you break the ties with SI.com's penultimate Start 'Em, Sit 'Em:
Atlanta Falcons at Detroit Lions (Saturday night)
Start
? Falcons -- Matt Ryan, Michael Turner, Julio Jones, Tony Gonzalez, Matt Bryant: This is almost a "start-all" game for the Falcons against a Lions team that was blown out by the Cardinals. The Lions' defense has proven to be mostly a neutral matchup in fantasy, except against running backs, but Turner has been hot at getting into the end zone and should remain active. Roddy White and the Falcons' D/ST are solid options, too, but White's quiet week against the Giants and the sore hamstring he's playing on are worries. The Lions are the third-worst team in fantasy versus D/STs, so consider the Falcons a strong unit for those who those units.
? Lions -- Matthew Stafford, Calvin Johnson, Jason Hanson: Last week showed that the Lions are mailing the rest of the season in. This is a home game, though, so in addition to these must-start options, consider tight end Tony Scheffler (facing a bottom-10 team in fantasy versus the position). Perhaps the Lions show more spunk at home in prime time, but don't expect miracles.
Sit
? Falcons -- Jacquizz Rodgers, Harry Douglas: With the Falcons healthy and closing in on home-field advantage, these guys don't project to get enough touches this week while Atlanta still has something to play for.
? Lions -- Joique Bell, Kris Durham, Mike Thomas, Brandon Pettigrew, Lions D/ST: Pettigrew had the ankle issue, Bell didn't get a large enough share of the touches and the Lions' D/ST choked in a much more favorable matchup last week. Durham showed well, but the Falcons shut down the Giants' wide receivers and rank seventh-best in fantasy versus the position, allowing a league-low six touchdowns to receivers.
Washington Redskins at Philadelphia Eagles
Start
? Redskins -- Robert Griffin III, Alfred Morris, Pierre Garcon, Redskins D/ST: RGIII (knee) looks likely to play this week. If Kirk Cousins starts, consider him a viable option, too, against the eighth-worst team in fantasy versus wide receivers. The Redskins face the worst team in fantasy versus D/STs, so the unit is a great streaming play this week as well. Also worth a look is Kai Forbath, who faces the 10th-worst team versus kickers.
? Eagles -- Jeremy Maclin: The Redskins are the second-worst team in fantasy versus wide receivers, so Maclin is a solid start. Riley Cooper and Jason Avant are sleepers as needed. Nick Foles is facing the fourth-worst team in fantasy versus quarterbacks, but no title game player is in the championship because of Foles. The big news in Philly is that LeSean McCoy (concussion) is returning to the starting lineup. On the downside, McCoy will face the sixth-best team in the NFL in rushing yards allowed. Start McCoy if you've been starting Bryce Brown, but otherwise, but it is hard to say just how effective McCoy will be, particularly in a tough matchup, in his return.
Sit
? Redskins -- Evan Royster, Santana Moss, Leonard Hankerson, Josh Morgan, Aldrick Robinson, Logan Paulsen: The Redskins run a simple offense: Run, run, option, play-action, deep ball. These guys aren't involved enough on a weekly basis.
? Eagles -- Bryce Brown, Brent Celek, Alex Henery, Eagles D/ST: The good news for Celek (concussion) is that he is practicing again and Clay Harbor (back) has been placed on IR. The Redskins are second-worst in fantasy versus tight ends, but Celek is too big of a risk to trust in crunch time, along with these others.
Minnesota Vikings at Houston Texans
Start
? Vikings -- Adrian Peterson: Uh-oh; Peterson faces the No. 1 team in fantasy against running backs. Sit him. Kidding. Period. Exclamation point. If you need a tight end, Kyle Rudolph isn't a bad gamble against the fifth-worst team in fantasy versus tight ends. If you have been trusting Blair Walsh, stick with him even if he is facing the fourth-best team in fantasy versus kickers.
? Texans -- Matt Schaub, Arian Foster, Andre Johnson, Owen Daniels, Shayne Graham, Texans D/ST: This is a "start-all" game for the Texans at home as they look to clinch home-field advantage. Schaub and Daniels have favorable matchups against the sixth-worst team versus quarterbacks and 11th-worst versus tight ends.
Sit
? Vikings -- Christian Ponder, Jarius Wright, Jerome Simpson, Michael Jenkins: Since Percy Harvin (ankle) went down, the Vikings' passing offense has been completely worthless.
? Texans -- Ben Tate, Justin Forsett, LeStar Jean, Keyshawn Martin, Kevin Walter: These guys are not championship-worthy options.
Indianapolis Colts at Kansas City Chiefs
Start
? Colts -- Andrew Luck, Vick Ballard, Reggie Wayne, Adam Vinatieri: Ballard is the surprise play here. He was effective against the No. 1 team in fantasy on the ground and now draws the ninth-worst team versus running backs. Also, his backups are banged up. We should see a lot of Ballard here.
? Chiefs -- Jamaal Charles: This one is dangerous. Charles choked against an awful Raiders run defense and now draws a steadily improving Colts run defense. Still, Charles is all the Chiefs have going for them and it's doubtful many have better replacement options. Cross your fingers and hope a home game will allow them to stick to the run more.
Sit
? Colts -- Delone Carter, Mewelde Moore, Deji Karim, T.Y. Hilton, Donnie Avery, Dwayne Allen, Coby Fleener, Colts D/ST: The sleepers here are Hilton and Avery, but remember that the Chiefs have allowed the fewest receptions to wide receivers in the NFL. They have solid corners. Hilton is a marginal option you probably shouldn't trust, especially because his targets can go to Wayne or Avery in any given week.
? Chiefs -- Brady Quinn, Peyton Hillis, Jonathan Baldwin, Dexter McCluster, Terrance Cooper, Tony Moeaki, Ryan Succop, Chiefs D/ST: Nothing to see here. Please disperse.
Buffalo Bills at Miami Dolphins
Start
? Bills -- C.J. Spiller, Stevie Johnson: We have to give the Bills, a lost cause, credit: They get the ball to their playmakers through thick and thin. Stick with these guys, even if the Dolphins are a tougher than average defense, particularly at home.
? Dolphins -- Reggie Bush, Dolphins D/ST: Not only are the Bills the third-worst team in fantasy versus running backs, but Daniel Thomas (knee) is out for the season. Bush should get plenty of work. Also, the Bills are the ninth-worst team in fantasy versus D/STs.
Sit
? Bills -- Ryan Fitzpatrick, Tashard Choice, T.J. Graham, Brad Smith, Scott Chandler, Rian Lindell, Bills D/ST: You didn't get here using these guys did you?
? Dolphins -- Ryan Tannehill, Brian Hartline, Davone Bess, Marlon Moore, Armon Binns, Anthony Fasano, Daniel Carpenter: The Bills are a suspect defense, but the Dolphins are a suspect passing offense, despite what they showed last week. If you need a sleeper in the passing game, it is Fasano and his touchdowns in back-to-back weeks or Hartline in PPR formats for the targets he gets. Carpenter faces the team that has allowed the fewest field goals in the NFL. Pick a different kicker.
Cincinnati Bengals at Pittsburgh Steelers
Start
? Bengals -- BenJarvus Green-Ellis, A.J. Green, Jermaine Gresham: The Steelers are one of the toughest matchups in fantasy, but Green is a stud no matter the matchup, BGE is on a hot streak at a thin position and Gresham ranks among the top 12 options at tight end (but barely). Keep them active and hope they are the ones that get the touches.
? Steelers -- Ben Roethlisberger, Mike Wallace, Heath Miller, Steelers D/ST: The Bengals are above average against the pass (seventh versus quarterbacks, sixth versus receivers), but Big Ben, Wallace and Miller rate as fantasy starters in crunch time. Antonio Brown is useful as needed, too, despite the matchup. The Steelers' defense faces the seventh-worst team in fantasy versus D/STs.
Sit
? Bengals -- Andy Dalton, Andrew Hawkins, Marvin Jones, Mike Nugent, Kris Brown, Bengals D/ST: The Steelers are No. 1 (versus quarterbacks), No. 5 (versus running backs), No. 4 (versus receivers) and No. 3 (versus tight ends). Don't mess with these marginal options. The kickers are question marks due to the health of Nugent. The Steelers aren't a favorable matchup for a defense with Big Ben back and playing a must-win game at home.
? Steelers -- Jonathan Dwyer, Rashard Mendenhall, Isaac Redman, Emmanuel Sanders, Plaxico Burress, Shaun Suisham: Dwyer will remain the starter at running back, but Mendenhall returns from a team-imposed suspension and all three backs will be used against what is an improved Bengals run defense. Avoid these guys, if possible.
St. Louis Rams at Tampa Bay Buccaneers
Start
? Rams -- Steven Jackson, Danny Amendola: These two are starter-worthy options while facing opposite matchups. The Bucs have the best run defense in the NFL, which isn't good news for Jackson. Amendola, on the other hand, faces the worst team in fantasy versus wide receivers. You will want to have both active here. Even Sam Bradford, Chris Givens and perhaps even Brandon Gibson are sleepers in this favorable matchup, too.
? Buccaneers -- Doug Martin, Vincent Jackson: The Rams are mostly a neutral matchup, but the Bucs are coming off getting blanked by absolutely the worst defense in the NFL last week. Martin and Jackson are the only two you can trust, if you survived through the bust that was last week. Mike Williams, Dallas Clark and Connor Barth are marginal starting options, too, but you probably have better alternatives if you're in the championship round.
Sit
? Rams -- Lance Kendricks, Greg Zuerlein, Rams D/ST: Ignore them. Only two teams have allowed fewer field goals, while the Bucs are also, quietly, the sixth-best team in fantasy versus D/STs.
? Buccaneers -- Josh Freeman, Buccaneers D/ST: Freeman (along with the defense) choked last week, so you cannot trust him against the ninth-best pass defense in the NFL.
New Orleans Saints at Dallas Cowboys
Start
? Saints -- Drew Brees, Darren Sproles, Marques Colston, Jimmy Graham, Garrett Hartley: The Cowboys are mostly a neutral matchup in fantasy, so consider all of your primary Saints solid plays in a game that figures to get loose late. This might be the highest-scoring fantasy game of the week, so you'll want to get a piece of it if you can. That makes Lance Moore a viable option, too.
? Cowboys -- Tony Romo, DeMarco Murray, Dez Bryant, Miles Austin, Jason Witten, Dan Bailey: If you're made it this far with your Cowboys, you're going to love what they have in store in the title game. The Saints are second-worst versus quarterbacks, dead last versus running backs and third-worst versus wide receivers. Murray arguably is the best play in fantasy, and even the inconsistent Austin is a start against the Saints secondary. Sure, the Saints shut out the Bucs, but that was in New Orleans. Dallas has new life and should soar here.
Sit
? Saints -- Mark Ingram, Pierre Thomas, Chris Ivory, Joe Morgan, Devery Henderson, David Thomas, Saints D/ST: Ingram is coming off his best week of the season against the No. 1 run defense in the NFL, but that was a function of a home blowout. This game should go the other way and limit Ingram's opportunities, save for a potential short touchdown run (that might even go to Thomas for all anyone knows). Ignore these.
? Cowboys -- Felix Jones, Dwayne Harris, Cole Beasley, Kevin Ogletree, Cowboys D/ST: As exciting as this matchup this is, it's not good enough to consider these options.
Tennessee Titans at Green Bay Packers
Start
? Titans -- Chris Johnson: Here's the thing about C.J.: he's a ridiculously fast back who is as likely to break a 94-yard run as he is to go 20 carries for 28 yards. The Packers are not that unfavorable enough of a matchup to sit him in your championship game. And if you need a receiver, Kenny Britt isn't a bad option against a secondary that is in the bottom half of fantasy versus wide receivers.
? Packers -- Aaron Rodgers, James Jones, Randall Cobb, Jermichael Finley, Packers D/ST: Rodgers to Jones (or Cobb) is hot, so keep that active -- especially since Greg Jennings (hernia) or Jordy Nelson (hamstring) are not 100 percent. Finley has been better after an awful start and could take advantage of a Titans team that is third-worst in fantasy against tight ends. They are also fifth-worst versus D/STs.
Sit
? Titans -- Jake Locker, Nate Washington, Kendall Wright, Craig Stevens, Rob Bironas, Titans D/ST: Don't bother with anyone here.
? Packers -- Alex Green, DuJuan Harris, Ryan Grant, John Kuhn, Mason Crosby: Green was going to be a sleeper against the fourth-worst team in fantasy versus running backs, but he is dealing with a concussion. Harris is a potential sleeper if Green does not play, but there likely are safer options. Crosby, meanwhile, keeps missing field goals and should be cut by all fantasy teams, if not the Packers.
New England Patriots at Jacksonville Jaguars
Start
? Patriots -- Tom Brady, Stevan Ridley, Wes Welker, Brandon Lloyd, Aaron Hernandez, Stephen Gostkowski, Patriots D/ST: Keep the Pats' first teamers active, especially the surging Lloyd and Hernandez. Ridley, despite his fumbling issues a week ago that led to a second-half benching, has the best matchup, facing the second-worst team in fantasy versus running backs. If Rob Gronkowski (arm) plays, he might be good for a score, but only play him if your tight end options are marginal.
? Jaguars -- Cecil Shorts: He has been too consistent to bench in a matchup that figures to force Chad Henne to throw plenty while in catch-up mode. The Patriots are the eighth-worst team in fantasy versus wide receivers, so consider Justin Blackmon as needed in three-receiver formats. In two-quarterback leagues, Henne is a decent streaming play against a Pats secondary that has given up the third-most points to quarterbacks.
Sit
? Patriots -- Shane Vereen, Brandon Bolden, Danny Woodhead, Donte Stallworth: These guys could be used in garbage time, particularly one of the backs, but it is too difficult to project which one gets the touches. Don't take the risk.
? Jaguars -- Maurice-Jones Drew, Montell Owens, Rashad Jennings, Marcedes Lewis, Josh Scobee, Jaguars D/ST: MJD is too risky if he plays -- especially against the Pats' run defense. Ignore the rest.
Oakland Raiders at Carolina Panthers
Start
? Raiders -- Darren McFadden, Brandon Myers, Sebastian Janikowski: McFadden has proven healthy and effective in recent weeks, so get him active against the sixth-worst team in fantasy versus running backs. And for those who have used Myers and Sea Bass, you can keep them active in the "good enough to rate" category.
? Panthers -- Cam Newton, DeAngelo Williams, Steve Smith, Greg Olsen: Newton's hot streak keeps him, Smith and Olsen among the starts. Williams is also a solid play against the fifth-worst team in fantasy versus running backs, assuming Jonathan Stewart (ankle) remains out.
Sit
? Raiders -- Carson Palmer, Marcel Reece, Mike Goodson, Denarius Moore, Darrius Heyward-Bey, Rod Streater, Juron Criner, Raiders D/ST: Consistency is the problem all around with these guys. Quietly, though, the Panthers are eighth-best against quarterbacks and fifth-best against wide receivers.
? Panthers -- Brandon LaFell, Louis Murphy, Graham Gono, Panthers D/ST: They don't belong on rosters any longer.
San Diego Chargers at New York Jets
Start
? Chargers -- Antonio Gates, Chargers D/ST: Gates rebounded with a score in Week 15, so he rates among the top-12 options at tight end this week, while the Chargers have a dream matchup against the sixth-worst offense in fantasy versus D/STs.
? Jets -- Jets D/ST: If there is one redeeming feature with this team, it's that it has a solid defensive unit. And this week it faces the eighth-worst team in fantasy versus D/STs.
Sit
? Chargers -- Philip Rivers, Ronnie Brown, Curtis Brinkley, Jackie Battle, Danario Alexander, Robert Meachem, Eddie Royal, Nick Novak: The Jets are fourth-best versus quarterbacks and second-best versus wide receivers. Further, Rivers has been a mess this season. The Week 15 disappearance of Alexander makes him particularly difficult to trust. As for the running backs, who are facing the sixth-worst team in fantasy versus opposing rushers, there is no certainty who will get the touches or goal-line carries (if there even are any to be had). Avoid these Chargers; this team has quit.
? Jets -- Greg McElroy, Tim Tebow, Mark Sanchez, Shonn Greene, Bilal Powell, Braylon Edwards, Jeremy Kerley, Chaz Schilens, Clyde Gates, Dustin Keller, Jeff Cumberland, Nick Folk: The Jets blew it by not going to Tebow in an RGIII-type offense. The read-option makes for simple throws as safeties are needed to come up cover the pieces in the option. A bad quarterback like Tebow can be effective when the threat of the run is there. But, alas, the Jets want to continue to be the Jets. Continue to avoid their fantasy options. This week you should even avoid the running backs because of the probable limitations of McElroy and the stiffness of the Chargers' seventh-ranked run defense.
Cleveland Browns at Denver Broncos
Start
? Browns -- Trent Richardson: The Broncos blew out a better Ravens team last week, but Richardson has earned his crunch-time starting status with his run of scoring games. He is the only moderately trustworthy option for the Browns at one of the toughest places to play in football.
? Broncos -- Peyton Manning, Knowshon Moreno, Demaryius Thomas, Eric Decker, Matt Prater, Broncos D/ST: This could be a run-heavy game in which the Broncos blow it out early and sit on the ball. Still, the Browns are sixth-worst in fantasy versus wide receivers, so keep Thomas and Decker active. Moreno, facing a bottom-10 team in fantasy versus running backs, is too hot to sit either.
Sit
? Browns -- Brandon Weeden, Josh Gordon, Greg Little, Ben Watson, Phil Dawson, Browns D/ST: Believe it or not, but the only real viable start here in a standard league against that Broncos defense is Watson. The Broncos are top 10 against wide receivers and dead last against tight ends in fantasy. Avoid your Browns as much as possible. They could get shut out.
? Broncos -- Ronnie Hillman, Lance Ball, Brandon Stokley, Joel Dreessen, Jacob Tamme: The one best option here is Stokley, but he's barely worth owning. The Broncos' tight ends are too much of a crapshoot week and there's no telling when those backup running backs are going to finally get touches.
New York Giants at Baltimore Ravens
Start
? Giants -- Victor Cruz, Lawrence Tynes: This Giants team can be a fantasy gold mine or land mine. Cruz is the only trustworthy option, but if Ahmad Bradshaw (knee) is active, he would rate as a starter-quality option against the eighth-worst team in fantasy versus running backs. Tynes is coming off the worst week of his career, but the Ravens are third-worst in fantasy versus kickers, allowing a league-high 34 field goals. Tynes is worth the risk for that reason, especially because Eli Manning has been terrible in the red zone this season.
? Ravens -- Ray Rice, Dennis Pitta, Justin Tucker, Ravens D/ST: Rice should rebound, Pitta is hot and the defense gets to take aim at an error-prone quarterback that is having protection issues. It should be a good week for your Ravens, particularly in the passing game, if you want to take a shot on Joe Flacco or Anquan Boldin. Boldin is especially intriguing if Torrey Smith (concussion) is held out. If Smith starts, he's too explosive not to trust.
Sit
? Giants -- Eli Manning, David Wilson, Kregg Lumpkin, Hakeem Nicks, Domenik Hixon, Martellus Bennett, Giants D/ST: The Ravens are top 10 against quarterbacks and fourth-best against tight ends. You can start Nicks, as needed, but avoid Manning, Wilson and Bennett, if you can. Wilson might look like a viable play if Bradshaw is ruled out, but that was the thought last week, too, before the Giants did something dumb like giving Lumpkin timeshare carries. It's entirely possible they'll let Wilson go to waste again, as they have for all but a couple weeks of the season (the two most-recent blowouts). This won't be a blowout -- unless it is the other way. The defense is a bad streaming option against what likely will be a conservative Ravens attack that is still top 10 in fantasy versus opposing D/STs.
? Ravens -- None: If you own a Raven, it's a good week to expect decent numbers. The Giants defense has been getting torched, especially against the pass (fifth-worst in the NFL).
Chicago Bears at Arizona Cardinals
Start
? Bears -- Matt Forte, Brandon Marshall, Bears D/ST: There are not a lot of Bears to trust, but this trio stands to be the best at their position(s) this week. Forte gets the benefit of having his touchdown vulture, Michael Bush (ribs) go out for the season. The defense faces a terribly quarterbacked team that is second-most-forgiving team in fantasy versus D/STs.
? Cardinals -- None: The Bears haven't played great defense in awhile, but they match up well against this terrible offense that tries to focus on the running game. The Bears are good at stopping the run.
Sit
? Bears -- Jay Cutler, Alshon Jeffrey, Earl Bennett, Kellen Davis, Olindo Mare: Cutler is the only one worth owing in a standard league and he's facing the toughest matchup against the third-best team in fantasy versus quarterbacks.
? Cardinals -- Ryan Lindley, John Skelton, Beanie Wells, Larry Fitzgerald, Andre Roberts, Michael Floyd, Rob Housler, Jay Feely, Cardinals D/ST: Many are going to go with the Cards' D/ST playing at home, but that is dangerous if the Bears get their defense and running game going. They could easily blow the Cardinals out and make Arizona's D/ST look bad. Wells is coming off a big week, but the Bears are fourth-best in fantasy against running backs. You should sit him, unless you're desperate for a short, late, garbage-time touchdown.
San Francisco 49ers at Seattle Seahawks (Sunday night)
Start
? 49ers -- Frank Gore, Michael Crabtree, 49ers D/ST: Seattle is an awfully tough place to play, but the 49ers play there once a year, so they are more accustomed to the 12th-man than most. Use any of the 49ers you need in this crucial game, even Colin Kaepernick, Vernon Davis or David Akers. Remember, Gore had a season-high 131 yards against a good Seahawks defense last time out. The Niners can impose their will against anyone when it's time to get to brass tacks.
? Seahawks -- Marshawn Lynch, Seahawks D/ST: The 49ers defense gave up a lot against the Pats after going up 31-3 last week. If the Niners get a lead here, there will be no let up. But this game is likely to be played tight, along the lines of a 15-14 score. Lynch and the D/ST are the only good plays. Others, like Russell Wilson and Sidney Rice, are riskier.
Sit
? 49ers -- LaMichael James, Mario Manningham, Randy Moss: Few of the 49ers are particularly strong plays at Seattle. The Seahawks are No. 2 versus quarterbacks, No. 8 versus running backs, No. 3 versus wide receivers, No. 1 versus tight ends, No. 2 versus kickers and No. 9 versus D/STs.
? Seahawks -- Robert Turbin, Golden Tate, Zach Miller, Steven Hauschka: Avoid all of your marginal Seahawks against the 49ers, who rank No. 6 versus quarterbacks, No. 2 versus running backs, No. 1 versus wide receivers, No. 11 versus tight ends and No. 6 versus kickers. Hopefully you have enough points to claim your championship before this low-scoring final game of Week 16.
Money where the picks are ...
For those of you that play in those weekly salary-cap games, here are some lineup suggestions:
QB -- Tony Romo RB -- DeMarco Murray RB -- Stevan Ridley WR -- Dez Bryant or Miles Austin WR -- Cecil Shorts or Justin Blackmon WR -- Wes Welker or Brandon Lloyd TE -- Jason Witten K -- Matt Prater D/ST -- Chicago Bears, Houston Texans or Denver Broncos
Eric Mack writes fantasy for SI.com. Track his weekly starts and sits every Thursday, his last-minute Cheat Sheet on Sunday mornings and his Fantasy Fast Forward on Sunday nights. You find also him on Twitter, where you can mock him, rip him and (doubtful) praise him before asking him for fantasy advice or challenging him to a head-to-head fantasy game @EricMackFantasy. He reads all the messages there (guaranteed) and takes them very, very personally (not really).