ADP review: Sankey's hype levels off, a wide receiver convergence and more
Average draft position can move sharply as the summer progresses, and understanding it is crucial to constructing an effective draft strategy. For the rest of the fantasy draft season, we'll take a look at changes in ADP with some of fantasy's most intriguing players to help you get the most value out of each and every one of your draft picks. All ADP numbers are courtesy of Fantasy Football Calculator as of August 18.
Bishop Sankey, Titans
ADP: 47
Player before: Andre Johnson (46)
Player after: Michael Crabtree (48.3)
One month ago, Sankey was typically going early in the fourth round of 12-team drafts. Now he's at the end of the fourth round and slipping into the fifth. This has always felt like the more appropriate price for the rookie out of Washington. It just never made much sense that Sankey was going before guys like Ryan Mathews and Frank Gore, both of whom are now coming off the board early in the fourth. If you're going to take a rookie running back in the fourth round, you probably don't want his coach to be saying that he needs to be better at taking handoffs. In that same report from the Tennessean, Titans beat writer John Glennon says that Sankey runs a lap every time he fumbles during practice, which sounds like something out of high school, not the NFL.
FANTASY FOOTBALL BREAKOUTS: AFC | NFC
FANTASY FOOTBALL BUSTS: AFC | NFC
FANTASY FOOTBALL SLEEPERS: AFC | NFC
Fantasy football 2014 five-minute guide: One sheet to rule them all
There still is a lot to like about Sankey. He's undoubtedly a talented runner. Before fumbling in the Titans' preseason game against the Saints on Friday, Sankey ripped off runs of 13, seven and 11 yards. The only other backs on the roster who figure to see much time are Shonn Greene and Dexter McCluster, so he doesn't have much in the way of competition. The Titans return four of five starters from an offensive line that ranked fourth in the league in run blocking a year ago, according to Pro Football Focus. The Titans also have legitimate weapons out wide in Justin Hunter and Kendall Wright. If Jake Locker can stay healthy, this offense will be able to surprise some people. Sankey is definitely worthy of being drafted as a starting running back, but don't pass up established options at the position for an ambitious view of his upside.
A four-pack of receivers:
DeSean Jackson, Redskins
ADP: 51.7
Michael Floyd, Cardinals
ADP: 51.9
Percy Harvin, Seahawks
ADP: 53.6
T.Y. Hilton, Colts
ADP: 55.3
Player before: Shane Vereen (51)
Player after: Trent Richardson (55.4)
Check out the way these four receivers have converged upon one another in the last month.
There are 24 different ways to rank these four guys, and if you ask 24 respected fantasy experts to do so, you're liable to get 24 different answers. For my money, they go Jackson, Floyd, Hilton, Harvin, though the more important takeaway is that Jackson and Floyd are in one tier, while Hilton and Harvin are a step down.
Jackson had the best season of his career in 2013, catching 82 passes for 1,332 yards and nine touchdowns. I have no way of proving this, but I'd be willing to bet that if he were still in Philadelphia, he'd be 15 slots higher in ADP where guys like Victor Cruz and new teammate Pierre Garcon are coming off the board. There's simply no way that the offensive environment in Washington is that much worse than in Philadelphia for Jackson to slide this far down draft boards. In fact, I wouldn't be surprised if the Redskins had a better year on offense than the Eagles. Robert Griffin III is 20 months removed from his knee injury and out from under Mike Shanahan's thumb. Garcon and Jackson are one of the most dangerous receiver duos in the league. Throw in tight end Jordan Reed, and Griffin has no shortage of weapons at his disposal. Alfred Morris remains an underrated runner who will force defenses to be honest. The line, which ranked fourth in pass protection last year, returns four of its five starters. Jackson will be a steal in the mid-fourth round.
FANTASY POSITION PRIMERS:
QB | RB | WR | TE | K | DST
Floyd, meanwhile, is slowly but surely taking over as the top receiver in the Arizona offense. He could pass Larry Fitzgerald this year, but even if he doesn't, expect him to get more than the 14 red-zone targets he had in 2013. Fitzgerald had 24 red-zone targets last year, and it's more likely than not that the breakdown this season is closer to a 50/50 split. Floyd is also a deadly deep threat who puts safeties on their heels. He had just five touchdowns a year ago. Assuming an uptick in targets, and some better luck in the red zone, he should push up in the 8-to-10 score range.
On the flip side of this are Hilton and Harvin. I've discussed Harvin in multiple places this summer, so I'll sum up my argument against him here. Put simply, there's too much risk and too many other good, similarly priced options – you know, like Jackson, Floyd and Hilton – on the board for me to take him at his ADP. If he stays healthy for 13 or 14 games, I might look foolish in December. Still, it's important to let process, not results, drive your decision-making. I'm trying to reduce my risk exposure in this instance, and that means staying away from Harvin.
As for Hilton, he's a guy I'd like a whole lot more if the price were just a bit lower. Reggie Wayne, Hakeem Nicks, Dwayne Allen and Coby Fleener are all in Indianapolis. Andrew Luck is going to cannibalize some passing scores with his legs. I think it's hard to take Hilton when someone like Torrey Smith is typically available. Smith, who's ADP is about seven picks behind Hilton's, is the unquestioned top receiver in Baltimore. He had 65 catches for 1,128 yards last year but found the end zone just four times. As we've discussed time and again, receiving scores are among the most volatile stats in football. In my book, Hilton is more on par with Smith, not Jackson and Floyd.
2014 Fantasy Football Sleepers Vol. 2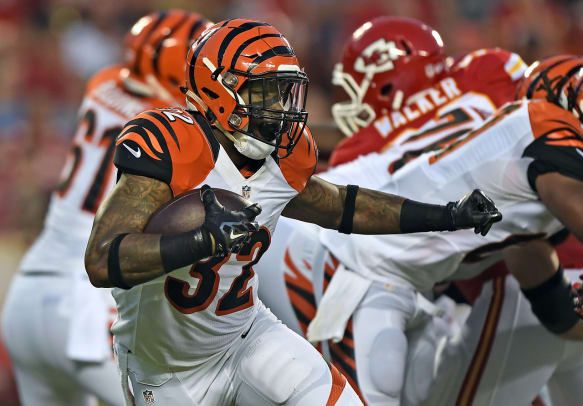 Jay Cutler, Bears
ADP: 89.5
Player before: Seattle defense (89)
Player after: Fred Jackson (90.5)
Looking at Cutler in this light should make two things clear. First, seeing the No. 11 quarterback (by ADP) ranked alongside a defense and a 33-year-old running back in a crowded backfield should drive home the extravagance of springing for Matthew Stafford or Andrew Luck. Should Stafford or Luck come up even just a bit short of their respective best-case scenarios, all you have is a glorified Cutler at twice the cost. Unless he comes at a significant discount from his ADP, the fourth quarterback taken in a one-QB league will likely be the worst pick, based on value, in a 10- or 12-team draft.
The other item of relevance that should be apparent is how great a target Cutler is. Matt Forte is seen universally as a top-five fantasy player. Everyone has both Brandon Marshall and Alshon Jeffery in the top 10 at receiver and top 25 overall. If those three players are all considered among the elite at their positions, does it not follow that Cutler should also have a very good 2014 season? Marshall and Jeffery aren't putting up top-10 numbers with Jimmy Clausen under center. If we're all right about Marshall and Jeffery -- and, to a lesser extent, Forte -- then at least some people are wrong on Cutler. Assuming Marshall, Jeffery and Cutler produce as expected, then Cutler should be looking at something like 4,000 yards and 32 touchdowns as floors.