Absurdity reigns league-wide in Week 10; more Snaps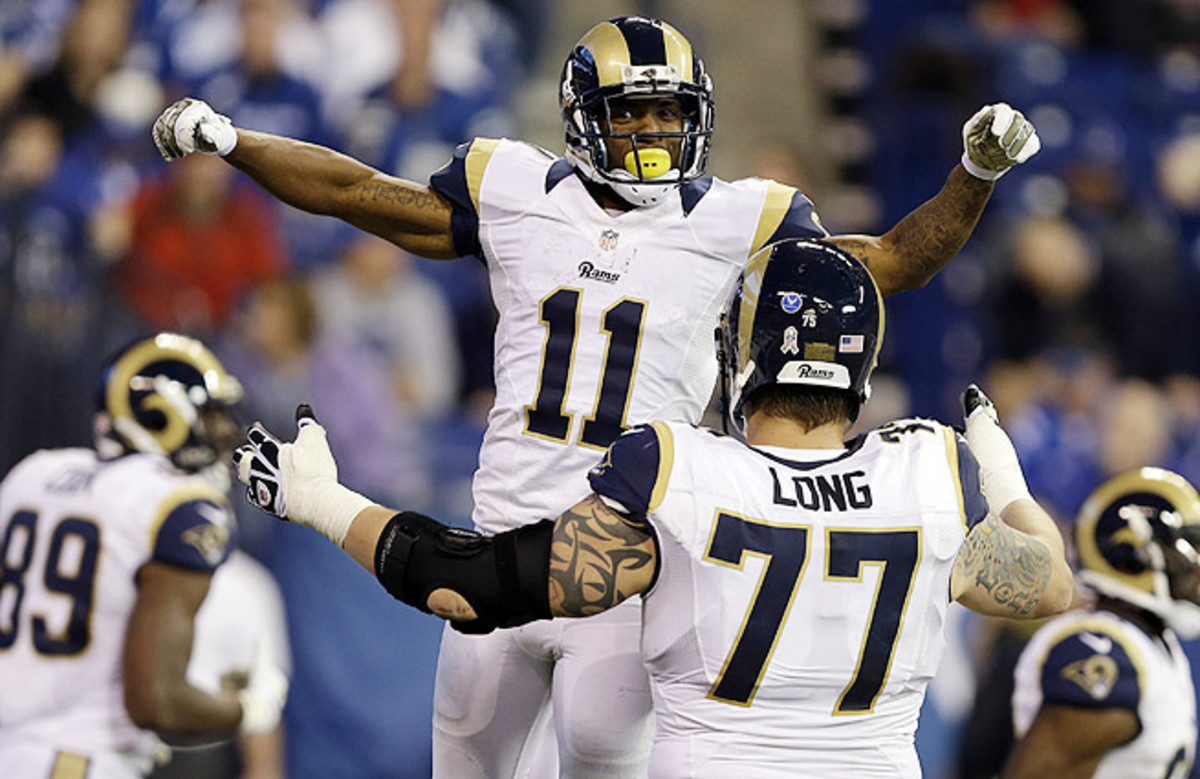 • Why would anyone want to play quarterback in the NFC North these days? Only Detroit has been free of the injury plague at the game's most vital position this season, running Matthew Stafford out there every week. Green Bay lost new starter Seneca Wallace to a groin injury suffered on the first Packers possession, and had to go with recently promoted practice squad quarterback Scott Tolzien the rest of the day. It was the first regular-season appearance of Tolzien's career. You'd have to think Green Bay will sign ex-Packer QB Matt Flynn at some point in the coming days, just to provide some depth.
BURKE: Tolzien replaces an injured Wallace for Packers
The Bears, meanwhile, started Jay Cutler for the first time since his Week 7 groin injury at Washington, but he didn't last the whole game, giving way to Josh McCown in the fourth quarter due to a left ankle injury. McCown almost rallied the Bears to victory, and we'll see who starts for Chicago next week at home against Baltimore. Cutler seemed to be hurting in at least three spots, his groin, his hand and his ankle, and it was a dubious decision by Bears head coach Marc Trestman to keep him in the game as long as he did.
Throw in the recent Christian Ponder and Josh Freeman injuries in Minnesota, and the quarterback position has taken a pounding in the NFC North. No wonder Detroit's in the division lead. The Lions have their No. 1 quarterback playing, and the rest of the division is improvising.
• Game-saving play by Lions defensive tackle Nick Fairley on that potential tying two-point conversion in the final minute -- he stuffed Bears running back Matt Forte for a big loss -- but Detroit's discipline issues reappeared in its win over Chicago. The Lions were called for four personal fouls, including one by Fairley, and two by defensive lineman Willie Young, who was flagged for a helmet-to-helmet hit on McCown on the Bears' first attempt at the game-tying two-pointer with 40 seconds remaining.
It didn't cost the Lions this time, but only because Fairley wouldn't let it.
BURKE: Should Trestman have pulled Cutler earlier?
• The Colts learned they can't rely on Andrew Luck's comeback skills every week. Indy dug out of a big hole to win in Week 9 at Houston, but the Rams led 38-0 in the second half at Indy, and Colts head coach Chuck Pagano didn't even let Luck finish the game with the 30-point blowout loss unfolding in the fourth quarter.
Luck's three interceptions doubled his season total, and backup quarterback Matt Hasselbeck came on in relief and tossed a fourth Indianapolis pick, in the red zone no less.
Can't quite figure the Colts, who have now lost at San Diego, beat Denver, won at Houston and got embarrassed by the visiting Rams in their past four games. They still look like the class of the weak AFC South by a good margin, but they have to get Luck some help with receiver Reggie Wayne lost for the season. The Colts running game was abysmal against St. Louis, gaining just 19 yards on 13 carries.
• If the 0-8 Bucs can defend their turf Monday night against the distracted Dolphins, it might end up being quite the weekend for the 2008 Lions. As is, that 0-16 Detroit club is halfway home to popping the champagne corks (or is it cracking the Bud Light?) with Jacksonville earning its first win and avoiding the infamy of a winless season. The Bucs are too good to avoid winning, and will get a W or two at some point in the season's second half. It was Jacksonville that looked like the real threat to run the table in reverse.
• Saw a number of dubious calls by the referees on Sunday. For starters, I thought that was a terrible horse-collar tackle called on Bengals defensive lineman Carlos Dunlap, who didn't pull Ravens quarterback Joe Flacco down by the back of his jersey or neck area. Dunlap had his hand up near the collar area in the back, but Flacco actually fell forward and showed no effects of a horse-collar tackle.
Also, though it was very difficult to see, it looked like Packers receiver Jordy Nelson did have his hand cradled underneath that ball that was a ruled a non-catch on fourth down in the end zone. The fourth-quarter call, which would have made it a one-score game with about nine minutes remaining, was challenged by Packers head coach Mike McCarthy, but it was not over-turned.
• That settles it, Tracy Porter is the NFL's pre-eminent Manning killer. The Raiders cornerback had a pick-six against Eli Manning on Sunday, jumping a Victor Cruz route and returning his prize 47 yards for a touchdown that put Oakland up 17-14 with 1:18 left in the first half.
Porter, of course, was the player who picked off Peyton Manning in the Colts' Super Bowl loss to New Orleans, with that fourth-quarter, 74-yard interception-return touchdown putting the game away for the Saints. He's the only player to ever record interceptions for touchdowns against both Mannings.
It had actually been four weeks since Eli Manning threw an interception, even though he now has 16 this season. The Giants have to like where they are, as much as you can at 3-6. With a home game against the quarterback-challenged Packers next week, New York could be 4-6 and on a legitimate roll by the time its Week 12 home game against current co-division-leading Dallas arrives.
FARRAR: Porter makes history with pick-six of Eli
• The Raiders (3-6) know they let a winnable game get away against the Giants, and a decent share of the blame should go to quarterback Terrelle Pryor, who has regressed of late. Pryor was a dismal 3-of-12 for 27 yards, with a one-yard rushing touchdown in the first half, and things didn't get a lot better in the second. His third-quarter interception was a killer, setting up a short-field Giants touchdown, and he finished just 11-of-26 for 122 yards passing, with a key lost fumble in the fourth quarter.
• Hard to imagine Tennessee's playoff hopes not being essentially ended by the double whammy of losing to the 0-8 Jaguars and the report that Titans (4-5) starting quarterback Jake Locker could be done for the season with a Lisfranc foot injury. Locker played well in the season's first four games, but missed 2½ games with a hip injury, and now might be finished for 2013.
That makes it difficult for Tennessee to render an accurate judgment on the third-year quarterback, who was taken in the first round of the 2011 draft. Locker has struggled to stay healthy and productive, and this seemed like it would be his breakthrough season. If there's a coaching change at the end of this season in Tennessee, there's a decent chance the Titans' new coach could head in a different direction at quarterback as well.
• With or without head coach Gary Kubiak, it's officially a lost season in Houston. The Texans' 27-24 loss at Arizona gives Houston seven consecutive defeats, the longest skid in the franchise's 12-season history. The Texans (2-7) are just a game ahead of last-place Jacksonville (1-8) in the AFC South, and now even the Case Keenum factor isn't enough to put a hopeful face on the situation. Houston generated just seven points and 41 yards of offense in the second half, after leading 17-14 at halftime. Once he returns to the team, Kubiak, in all likelihood, will be coaching for his job.
• The Cardinals continue to impress with their ability to remain in the NFC wild-card chase. Arizona has won four out of six games, and at 5-4 the Cardinals are just one game behind NFC wild-card leading Carolina and San Francisco (both 6-3). Quarterback Carson Palmer is still making too many mistakes (he had an interception and a fumble lost against the Texans), but the Arizona defense is good enough to cover for Palmer's miscues in a lot of instances. With a winnable game at Jacksonville next week, the Cardinals should be in position to go two games over .500 for the first time this season.
• The more we learn about the Jonathan Martin-Richie Incognito relationship in Miami, the more we're left to wonder how head coach Joe Philbin and general manager Jeff Ireland could possibly survive in their jobs after presiding over a locker room culture that featured this much garbage. In his interview with FOX Sports on Sunday, Incognito painted a picture where he and his teammates routinely talked to each other using racial slurs, threats and the crude language that has been at the middle of this story.
"It speaks to the culture of our locker room,'' Incognito told FOX's Jay Glazer. "It speaks to the culture of our closeness, it speaks to the culture of our brotherhood.''
It speaks to the problem that Miami has to get cleaned up. And it's hard to see how putting Ireland and Philbin in charge of that is the best plan of action, since they either condoned it in the past, or weren't even aware of how potentially corrosive it was.
FARRAR: Incognito defends actions toward Martin in interview