A Lonely World
Part II of The MMQB's special three-part mini-series on the the kicker. From practice fields to post-games, the kicker is often sequestered from the rest of the team... except for those 1.3 seconds when he carries the hopes of an organization
Read Part I, "Pity the Kicker", and Part III, "Makes and Misses, The End and The Aftermath."
The eccentric kicker is little more than an anachronism from the 1960s and '70s, when an influx of quirky, strong-legged Europeans burdened future generations with their peculiarities. Even Matt Bahr, a Philadelphian, ran afoul of accepted pigskin decorum. At his first training camp in Pittsburgh, Bahr volubly played the banjo one evening when linebacker Jack Lambert rapped on his dorm room door. Bahr opened the door to Lambert, arms crossed, shaking his head slowly. "I realized then," Bahr says, "I better start to learn guitar to fit in with Terry Bradshaw."
Norwegian Jan Stenerud, still the only full-time kicker in the Pro Football Hall of Fame, came to Montana State University on a ski jumping scholarship before moonlighting with the football team. Garo Yepremian, an Armenian who grew up in Cyprus, moved to London by himself when he was 17 and worked in a basement warehouse. He won a Super Bowl with the Dolphins and made the NFL's 1970s All-Decade team, yet he became immortalized by a comical blunder in Super Bowl VII. The balding, 5'8" Yepremian scooped up a blocked kick and tried to throw a pass, but instead had the ball slip out of his hands straight up, after which he clumsily batted it into a defender's hands. That defender, Mike Bass, ran it back for Washington's only points, making an otherwise lopsided game interesting. In the '70s, NFL teams held open tryouts for placekickers, traipsing across the U.S. and Europe in alliteratively contrived "Kicking Karavans." One prospective kicker, a bus driver, parked his yellow bus on the tryout field, made his kicking attempts in his driver's regalia—money-changer jangling at his waist—and drove away.
The stereotype endures in some small measure. Titans kicker Ryan Succop hears friends and teammates crack the occasional kicker joke. "In the back of my mind I'm thinking, 'If they actually knew that dude, that dude's a stud, and he would whip you.' You know what I mean?" he says. "People think, like, 'Oh, the kicker just missed a tackle. I would have made that tackle.' And I'm like, 'Nah, bro. You wouldn't have.'"
"Kickers don't really come across as the toughest folks, and we don't look that way," Nate Kaeding says. "But I think there has to be an element of toughness amongst all those guys. You know, I'd meet anybody in the alley and I'd probably get my ass kicked. I'm not tough on that side of it. But I think when it comes to being resilient, when it comes to dealing with adversity, when it comes to the variety of different kinds of mental and emotional things, there's not a kicker out there in the NFL that isn't tough."
The modern kicker is, for the most part, an athlete who chose to kick. New England's Stephen Gostkowski was a starting pitcher on the University of Memphis baseball team. Oakland's Sebastian Janikowski was a talented enough soccer player to make Poland's Under-17 national squad. Carolina's Graham Gano won Florida state titles in the 100, 200 and 400 meters in high school, while the Giants' Josh Brown was a two-time state champion high jumper in Oklahoma. Succop was a star soccer player his freshman year at North Carolina's Hickory High when his coach encouraged him to try out for the football team. "Man, I don't know," Succop thought. "I don't really want to be the kicker." Then he flushed his first kick through the uprights. "It just became something I fell in love with," he says.
But the love can be laborious, because the kicker is afflicted with chronic idleness. There is waiting. There is standing around. And there is, it seems, no end to either. It is crueler still, considering that the profession keeps the kicker on his feet but not his toes, then heaps upon him the hopes of so many souls. In A Few Seconds of Panic, a first-person account of an NFL training camp by sportswriter Stefan Fatsis, former Broncos kicker Jason Elam encapsulated a kicker's existence thusly: "Hours and hours of boredom surrounded by a few seconds of panic."
A kicker in a two-hour team practice might kick—carry out his paid job—for 25 minutes. A kicker in a three-hour game only takes the field a handful of times between kickoffs, extra points and field goals. Former Packers and Vikings kicker Ryan Longwell would daydream on the sideline. He'd become a fan of his team when the defense took over, glancing at the Jumbotron for replays and cheering when warranted. As soon as his offense crossed midfield, he'd turn away from the action and head to a kicking net, where he'd pound three balls to loosen up. If the coach didn't motion for the kicking unit, he'd return to his wandering mind.
"I mean, it is a lot," Kaeding says of the idle time. "I'm not complaining. That's the job, and you get compensated handsomely for it. But you look at the course of the game, the last three hours, and you played for 20 seconds?"
And that blink-and-you'll-miss-it workday doesn't help the perception that kickers, for the most part, do nothing. Kaeding, by his own admission, had moments, plenty of them, that involved nothing. The Chargers didn't have a dedicated room for their specialists, so Kaeding, David Binn, the Chargers' long snapper from 1994 to 2010, and punter Mike Scifres, who doubled as San Diego's holder, hung out in the training and equipment rooms. The trainers noticed. "They all got f------ tired with us," Kaeding says. The specialists would play a drop-kick game at practices, earning points on a tiered scale based on where the ball came to rest—if only, as Binn says, to "maybe kind of look like we were doing something." Kaeding would find a quiet corner of the locker room to read a book or check email on his laptop. He became adept, he said, at "shooting the s--- with people." When Marty Schottenheimer, an avid golfer, coached the Chargers, he'd regale the specialists with tales of playing at Augusta National or Nebraska's Sand Hills. Kaeding would steal naps on couches before a full afternoon of kicking, lifting and thumb twiddling.
"I'm kind of here, but not really doing anything," Kaeding said. "It's not like I'm making a widget at a factory or doing I.T. I'm here, this is my job, and I'm getting paid to do nothing. And wait, and wait, and wait."
And work, and work, and work. It is an ethic rarely seen but often ridiculed, because the kicker is most visible in his most sedentary state. Yet he toils. Longwell's training camp itinerary began at 7:45 a.m. and stretched nine hours. On those old Steelers teams, Bahr would jump in on tackles so he could return to the sideline and look Jack Lambert or Joe Greene in the eye. The Ravens' Justin Tucker, the second-most accurate kicker in NFL history behind Dan Bailey, hits 50 balls every practice and lifts weights for an hour. "We don't spend five minutes out there and then try to work on our handicaps," he says. "We spend the whole time out there working on football, because that's what we're paid to do."
Kaeding did the same. He made himself seen at the practice facility, practiced his kicks, lugged his fair share of weights, watched film. "And people take notice of that," he said. "They see that you care and that it matters to you." That much was plain with Kaeding. Too plain, even. Caring, it seemed, was the matter.
• PART I: PITY THE KICKER: Nate Kaeding and the agonizing quest to perfect what cannot be perfected
* * *
The first time was no easier than the second. A weak El Niño weather pattern needled Southern California with unseasonable coolness and rain. Something was bound to be askew.
It was Jan. 8, 2005, the Chargers were hosting the Jets in the AFC Wild-Card round. At kickoff it was rainy and cool, about 55 degrees. Yellow and blue ponchos dotted the crowd. It was rookie kicker Nate Kaeding's first career playoff game. He wore a white long-sleeved shirt. Before kickoff, he hopped up and down in his size-9 Adidas cleats—one size too small, as most kickers prefer—to cajole some warmth into his legs.
The game began, and the Jets asserted themselves. They led 17-7 with 10:43 left when Kaeding curled a 35-yard field goal inside the near upright. He had made 80 percent of his kicks during the regular season. He felt reassured.
With 11 seconds left in regulation, Drew Brees flipped a pass to Antonio Gates for a touchdown. Kaeding thumped home the extra point to tie the game, 17-17. Overtime.
The Chargers and Jets traded three-and-outs, and San Diego had the ball again. A methodical drive balanced by short Brees passes and burrowing LaDainian Tomlinson runs pushed the Chargers into Jets territory, then into field-goal range. On fourth-and-long with the ball at the 22, Schottenheimer beckoned Kaeding. He had 40 yards to win a playoff game.
It was Scifres' first career postseason game, too, at the close of his first full year as the Chargers' punter. Binn was the third member of what would become one of the league's longest-tenured kicking batteries.
"Everybody liked Nate," Binn says. "I mean, s---, he never missed, really, until a couple of games."
Binn crouched over the ball. He expected Kaeding—no, "totally expected him"—to make it. Scifres turned to Kaeding. The kicker nodded. The holder turned his head toward Binn, initiating the ritual that starts in a stationary state and accelerates, within 1.3 seconds, to a frenetic rush toward the ball. The snap was true, as was the hold. And the kicker was confident. Kaeding swung his leg through the ball, and Scifres knew, off his foot, that it was good. Except it wasn't. It drifted wide right.
Kaeding hung his head, looking slowly toward the uprights. Binn and Scifres couldn't believe it. In the stands, David Bradley, who had moved back to San Diego, sat with Samantha. "Man," he thought. "This is gonna be a tough one for him." He texted Kaeding after the game—in which the deciding points were delivered by Jets kicker Doug Brien—and went home, letting his friend be.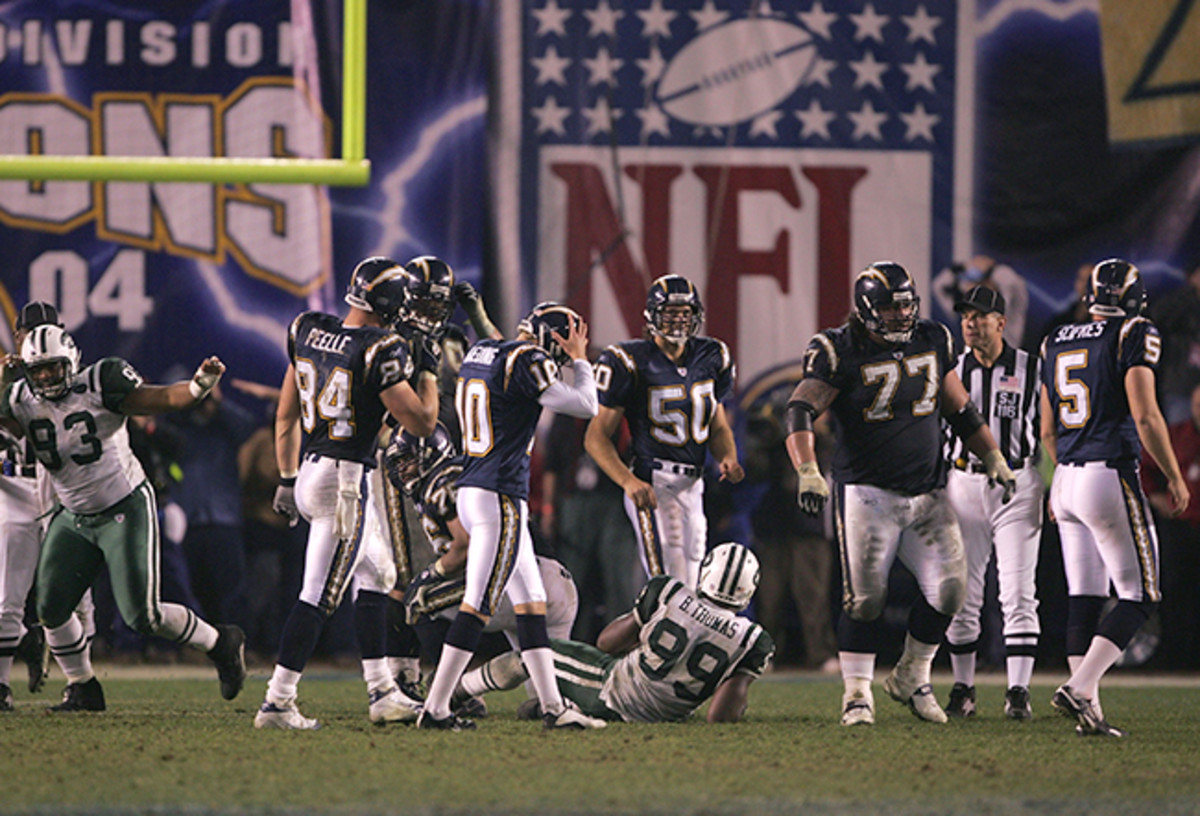 Now what? Kaeding had always been an introvert in times like these. He had worked with sports psychologist Mo Pickens, whose clientele features several professional golfers, mostly to refine his healthy thoughts and reminders. He also met with Binn and another psychologist, a friend of Binn's, after the second Jets playoff game in 2010.
Longwell and Succop both eschewed psychologists for Christian faith. Bahr never used one. Kaeding viewed sports psychologists as only an element of the pursuit, not an essential cleansing of his sorrow.
He retreated. "He basically went underground for three or four days," Binn says. It was Chargers tradition to meet up for a season-ending gathering at a local bar after players wrapped up their final meetings with the coaching staff. At Kaeding's meeting, Schottenheimer, was supportive. "I've been out there and missed a putt. It sucks," Schottenheimer said. "But it happens."
Binn repeatedly called Kaeding, asking him out to the bar, letting him know he wasn't in this by himself. Teammates Scifres, Tomlinson, fullback Lorenzo Neal and then-backup quarterback Philip Rivers let him know, too. Kaeding didn't answer their calls. He stayed in his Del Mar home, where he shuttered himself and let it all wash over him. He moped. He ran his hands through his dirty blonde hair. He wouldn't talk to Samantha about it. He worried about how the miss was affecting his family and friends, who flooded his phone with more than 200 texts after good games and bad, particularly as fans and the media piled on. "If they only knew how he was already," Binn says, "I think there would have been a lot more sympathy." Kaeding was learning, for the first time, the hardest part of all of this. It wasn't the public's scorn, because he understood their fickle nature: They loved him when he was accurate, and detested him when he was not, and there was no upside to subjecting himself to the predictable venom. He found out instead what Longwell learned almost 13 years before.
• FINDING DANNY WATKINS: The bizarre football life of the former Eagles first-round pick, a man who was built for the game but born for something else
* * *
Sept. 7, 1997: Veterans Stadium in Philadelphia. Longwell had already made three field goals that day, scoring all nine of Green Bay's points, when he lined up for a 28-yard potential winner with 11 seconds left and the Packers down by one. A freak September rainstorm had rolled in, turning the concrete rug that was the artificial turf at the Vet into a curling sheet. Brett Favre passed the rookie kicker as he trotted off the field. "Watch out," Favre said. "The field is really, really slick."
Sure enough, Longwell's plant leg didn't hold, his body veered right and his leg pushed the kick wide. The miss snapped a nine-game win streak for the defending-champion Packers, one that stretched back to the 1996 regular season and playoffs. On the flight back to Wisconsin, Longwell was crestfallen. What a lousy feeling it was, having to look around at all of the guys who had depended on him.
Favre and Reggie White sat beside him. They reminded him how fortunate, how blessed he was to have such profound disappointment arrive so early in his career. It would all be a faded memory, they promised, if he went out next week and made all of his kicks. Longwell took it to heart, and he spent the rest of his 15-year career feeling liberated from his profession's brutal extremes. But that feeling of looking around and seeing 52 long faces?
"You look at it as a personal failure," Bahr says. "These are the guys that work so hard to get there, and you had a chance to help the team—and you didn't. That's a terrible, terrible feeling."
"The hardest thing is knowing I let my team down," Blair Walsh told The MMQB in January, nine days after he missed a 27-yard chip shot against Seattle to cost the Vikings a playoff win. "I get emotional when I think of that. That's my job, and I didn't do it. When we all came in on Monday, the day after the game, and I have to look at them, that's the toughest thing."
"No question," Succop said. "It sucks."
"The hardest part of losing a game when you missed a field goal for me, hands down, was walking into the meeting room the next day," Kaeding says. "When I look back at my career, the one thing that I really have the most respect for is my teammates and my coaches. I know the kind of work they put in. I've never had one negative interaction with a player or coach I had. They're all incredibly supportive and good people. I'm sure they've 'motherf-----' me behind my back because, you know, I lost the game.
"It's not the first process of healing: It's like the last part of the agony of it. The kick is one thing, but then the last blow is when you've got to go in there and be like, 'F---.' That's the very last little punch to the gut. And then you can start picking yourself off the mat a little bit."
Days after the missed kick that ended his rookie year, Kaeding emerged from his Del Mar cloister, reconnected with teammates and thrust himself into offseason training. But a kicker's memory is long, and it is devilish, and it pales to that of fans and reporters. In the 2005 preseason opener at Lambeau Field, with Longwell standing on the opposite sideline, Kaeding missed a pair of kicks. "Everyone was just tripping out," Binn says. "He's lost it. He's not coming back from this." Writers and fans asked Binn whether his kicker still had it. Of course, he said. It was only the preseason. Kaeding would make 87.5 percent of his kicks in the 2005 regular season, a non-playoff year for San Diego.
"Even, what, six, eight months later, they're still rehashing it," Binn says. "Now, you're only as good as your last game in the NFL, and with kickers it's even times 10.
"Eight months later, they're still churning that up, that missed kick, and you can't get away from it until you go out and get it."
• WHY JIM BROWN MATTERS: Fifty years after walking away from the game at his peak, he still towers over the NFL. Yes, Jim Brown was just that good
* * *
Two retired kickers by almost the same name, sharing the same disposition toward the NFL in Placekicking in the NFL, a book by kicking guru Rick Gonsalves.
Gary Anderson, kicker for 23 years: "The basic theory is they don't want us to do our jobs as well as we do them."
Morten Andersen, kicker for 25 years: "They just don't like us."
The NFL has, in the last 40 years, taken a paring knife to the kicking game. In 1974 the league moved the goalposts from the goal line to the rear of the end zone, lengthening every attempted field goal. In 1994 a rules change awarded the opposing team possession at the spot of a missed field goal rather than at the line of scrimmage. In 1999 the NFL introduced "K balls," stiff, unadulterated footballs reserved specifically for the kicking game; kickers could no longer crack, beat or soften the balls to their desired specifications, which they had achieved in the past by using knee weights, hot towels, dryers and saunas, all in an extralegal effort to make balls fly farther. The league also tested narrower uprights at the 2014 Pro Bowl, nudging the standard 18 feet to 14 feet.
In 2015 the NFL lengthened the extra point by 13 yards, stretching the attempt from a near-automatic 20 yards to a pause-giving 33. From 2000 through 2014, kickers in the league had converted extra points at a rate no worse than 98.1 percent. In 2015 kickers made 94.1 percent of all extra points, worst since 1979. Mike Nugent, the Bengals kicker, told the Cincinnati Enquirer in September that the NFL wants "to make guys fail more."
But there's another possibility: By making kicking conspicuously harder, tough enough for even the casual fan to grasp, a kicker's value could spike.
"I just try to view it as an opportunity to prove that we're just meant for the job and we're here for a reason," Tucker said. "And it's because we're better than anybody else at doing it."
Even the extra point, a somnambulant exercise no longer. "It makes the position even more important, because it's not just a given," Succop said. "Your job is going to be tested more on every kick."
Kaeding approves. He'd even narrow the goal posts. Most kickers, he says, practice on arena-league goalposts anyway, to sharpen their accuracy. It would make the field goal more entertaining, and the kicker more precious.
And, possibly, more anxious. On a January 1991 afternoon in San Francisco, as Matt Bahr lined up for a do-or-die kick that would send the Giants to an upset victory over the 49ers in the NFC title game, Pat Summerall—a placekicker himself for nine NFL seasons (career accuracy: 47.2%)—was announcing for CBS, in his flat baritone. "It could be an eternity for Matt Bahr if he should miss, and he'd never know he got on the airplane if he makes it," he said.
"That is a lonely world, believe me."
Read Part I, "Pity The Kicker", and Part III, "Makes and Misses, The End and The Aftermath."Send questions or comments to talkback@themmqb.com.