A Wild Ride Through the Playoff Picture—and the Browns Are Still In it!
Big Sunday wins by the Steelers, Eagles and Vikings turned the momentum around for teams whose seasons seemed to be slipping away, while the Ravens have fully embraced Lamar Jackson for their run at the postseason. And yes, Baker Mayfield's Browns have the look of a playoff team—if only they'd gotten an earlier jump on a needed change. Plus notes and nuggets on the coaching carousel, the draft and much more
I couldn't stop rewinding and replaying the clip of Baker Mayfield's two-yard touchdown throw to Antonio Callaway, on Sunday morning. And I bet if you take a look, you won't be able to watch it just once either.
On the clip, with the Browns down 13-10 to Denver and 11:53 left, Mayfield breaks the huddle and sends three receivers right and two left, while looking out at the defense. He sees something he doesn't like, so he starts barking at his teammates to come back to him. Then the huddle breaks again, this time with a back next to Mayfield, Callaway to his left and three receivers to his right.
He gets the matchup he wanted—the burner, Callaway, isolated on safety Justin Simmons—and the camera shows him smirking. The rest is academic.
Adjust the protection. Gather the shotgun snap. Wait for Callaway to clear the area that safety Darian Stewart was occupying. Fit the ball into Callaway. Take the lead.
The Browns wouldn't trail again.
When it was all over—another step toward Cleveland's future with this 23-year-old phenom, I had to ask interim coach Gregg Williams if what I saw was as impressive as it seemed to me. Because it looked like something you might see from a 10-year vet, not some kid barely a year removed (a year and eight days, to be exact) from hoisting the Heisman Trophy.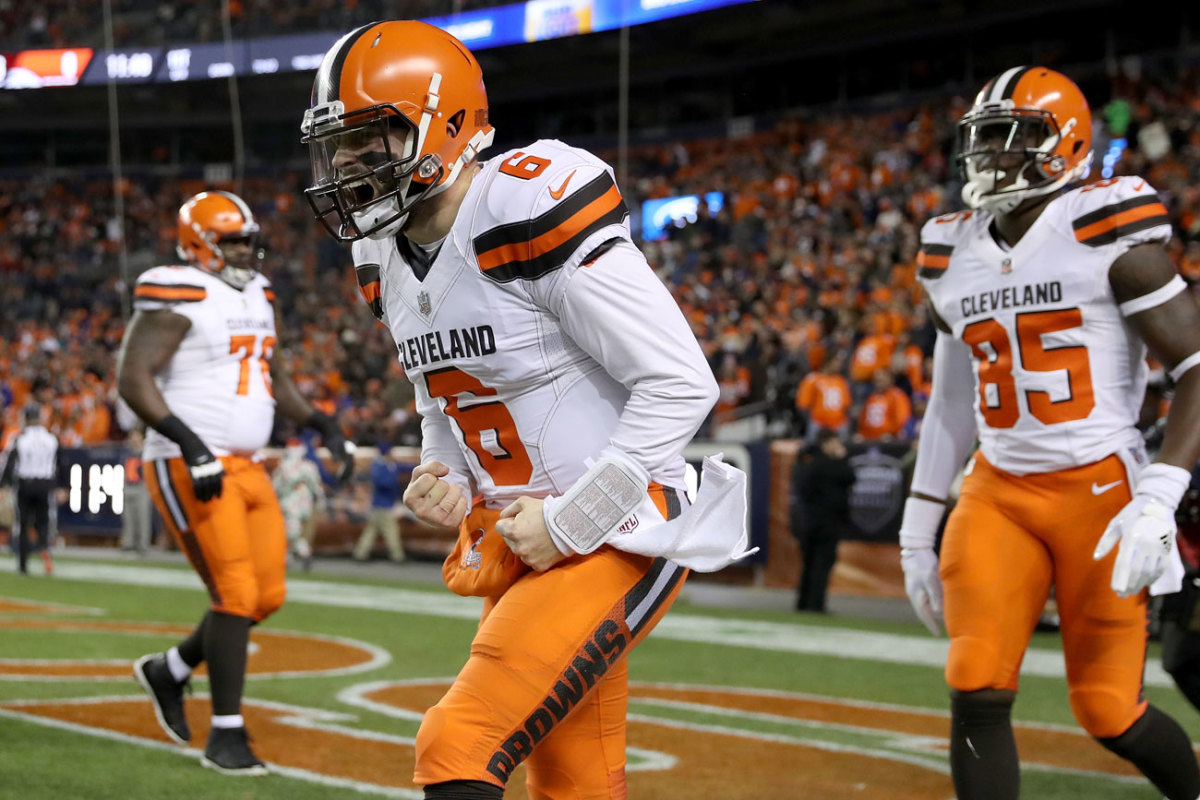 "That's what needs to be done," Williams said. "Coaches on game day, we are all guessing, and we are all putting things out there, but the guys who are playing inside the white lines need to make the decisions. And when he made the checks, made the audible and went to those things like that, that breeds even more confidence in showing it. He knows what he's doing."
The interesting thing about Saturday night's win for Mayfield is that this wasn't really his best night. He finished 18 of 31 for 188 yards, two touchdowns and a  pick. He came out hot in helping Cleveland score on its first possession but slumped a little from there.
Then he did what he does. He brought belief, and willed his team to a win in one of the most difficult environments for visitors to play in anywhere in the NFL.
KLEMKO:The Confidence Is Building in Cleveland
"He's not fake, he's not phony," Williams said. "He's just very legitimate in how he goes about doing his job. He knows he has a really good skill level, but he's not afraid to impose his attitude or his confidence or his feel in every situation in life. And guys gravitate to that—huge offensive linemen listen to him in the huddle, defensive guys, on the other side the ball. Our guys love the way he'll jabber and talk and swag back and forth with him in the competition period.
"So he gets the confidence level up, in knowing you're competing against him."
Of course, he's just part of a sudden rebirth in Cleveland. But in a certain way, Mayfield embodies everything Williams has tried to get accomplished in his six weeks in charge, which is a pretty powerful thing for a coach in Williams' position to have.
What a great week of football. And we've got a lot to get to. That'll include: