MMQB: Why You're Hearing More Deshaun Watson Trade Rumors Now
The Texans reach another checkpoint with a decision to make on Tuesday. Plus, Nick Sirianni and Robert Saleh on being first-year coaches, a look at the 2022 draft's QBs and much more.
The needle may have moved on public discussion of a potential Deshaun Watson trade over the weekend, but the feet of the one man holding the cards have remained planted. And I'm not sure anyone should expect Nick Caserio to move from his stance soon.
Before we go any further here, it's important to remind everyone that Watson's situation, as it stands right now, encompasses things far more serious than what color helmet he'll be wearing next time he plays. There are 22 lawsuits alleging sexual misconduct pending, and 10 women have filed criminal complaints against the quarterback.
That's why getting what, in January, was fair market value has been difficult for the Texans and their first-year general manager. On the field, Watson, without question, would make the Dolphins, Panthers, Broncos or Eagles better. But if you trade for Watson now, he instantly becomes the face of your franchise, and it's difficult to predict with any level of certainty how the legal situation will play out. Any general manager or head coach would be putting his own neck on the line in going to his owner asking for permission to make such a trade.
That brings us back to Caserio. With all due respect to J.J. Watt, whatever Caserio does here will be the first franchise-shifting move he makes in a job he worked two decades to get. If he takes less, and Watson is cleared legally in a couple of months, then he's traded away a 25-year-old franchise quarterback with five years left on his contract at a cut rate.
So, then, what's the rush to move Watson? Caserio doesn't owe Watson anything, nor does he owe other NFL teams the chance to acquire him. The argument that it'll make things awkward for David Culley and the coaches, or Tyrod Taylor and the quarterbacks, is fair. But those guys have already rode that out for six weeks.
The cost for hanging on to Watson for the season would be $10.54 million. The cost for holding on to him past Tuesday would be the 53rd player on the roster.
Bottom line, given Caserio is in his first year as a GM, and given what the haul for Watson would've been in January or February, that cost is small in comparison to what a trade should bring for a player like this.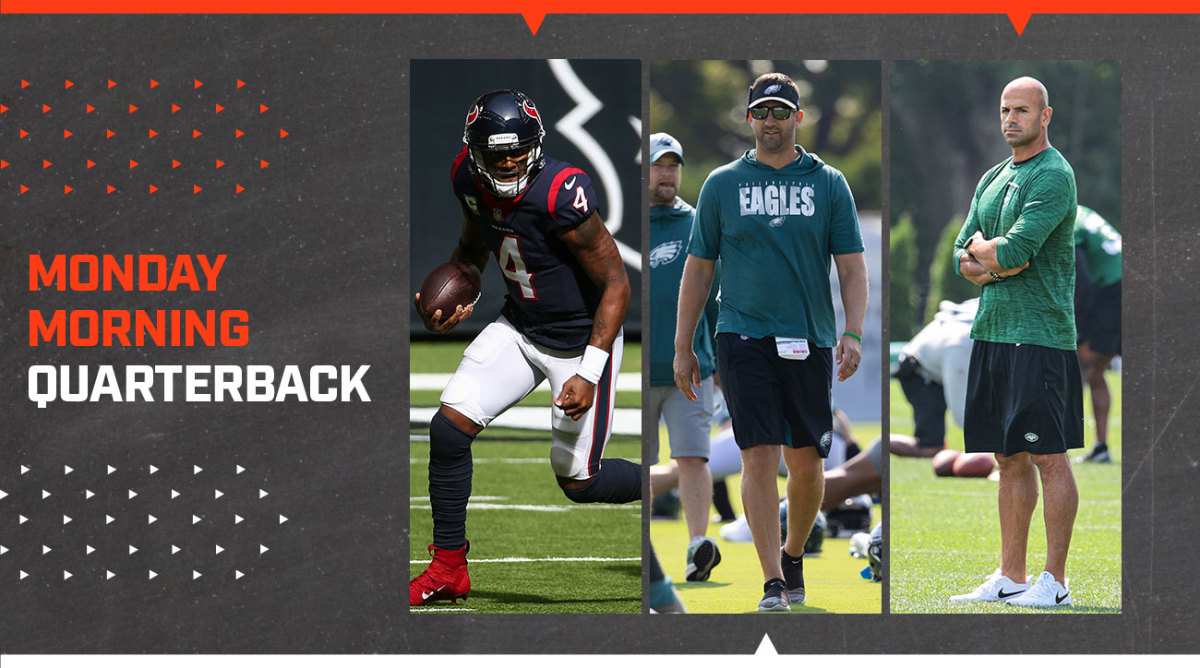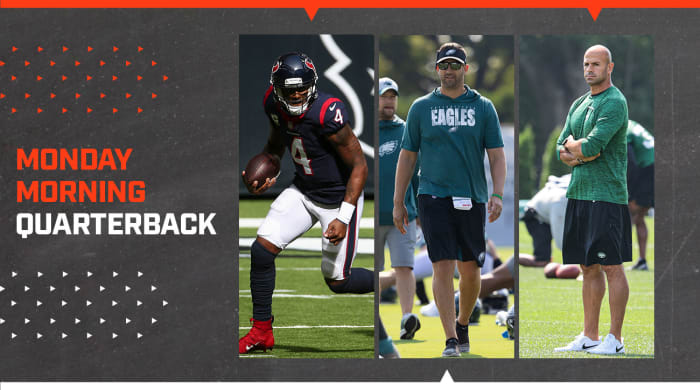 ---
We're 10 days out from the opener, and, as such, we've got lots coming for you in this week's MMQB. Inside the column, you'll find …
• A fun look at two first-year head coaches interacting with one another.
• Previewing the 2022 draft quarterbacks with the college season afoot.
• A deep dive into trade names ahead of the 53-man cutdown.
• Some overarching observations from my camp trip.
And, of course, a whole lot more. But we're starting with the situation in Houston.
---
On Saturday, Pro Football Talk's Mike Florio did a nice job of breaking down the four options the Texans have Tuesday, when rosters across the NFL reduce to 53. One, they could tell him it's time to play; two, they could put him on IR; three, they could keep him on ice, and essentially go into the year with 52 players; four, they could trade him.
The cutdown is a big reason why the Watson situation bubbled back up to the top of the news cycle the last couple of days, and why it'll remain there until Tuesday afternoon's deadline for the Texans to check one of those four boxes. And looking forward to that deadline, and trying to project what might happen, requires looking back at why we are where we are.
• I believe the root of the issue here for Watson remains with ownership, and specifically that Cal McNair didn't follow through on his promise to loop Watson into the process of hiring Caserio, after involving him in prior stages of vetting coach and GM candidates. Obviously, a lot has happened since then, and not for the better, and the result is an irrevocably broken relationship between a team owner and his team's quarterback.
• Caserio, to my knowledge, was earnest in his desire to hold on to Watson earlier in the offseason—which I can say was reflected in the way the Texans rebuffed interest back then from other teams. I can also say through that period, and well into March, packages involving three first-round picks (and then some) were discussed by interested teams. The Texans, at the time, were unmoved.
• In mid-March, the first three lawsuits were filed by attorney Tony Buzbee. By the end of the month, the number grew to 21. On April 2, a police investigation was launched. (Watson has denied any wrongdoing.) And while the language the Texans were using publicly had shifted—from "he's our quarterback" to "we'll do what's best for the team"—by then, the market for Watson had changed dramatically.
• Since, some teams I talked to that were interested at the time, and some that remain interested now, have only been willing to entertain a deal that gives them protections by making the draft-pick compensation conditional (with conditions linked to his availability to play). I haven't gotten any indication that the Texans are willing to tie their return to those sorts of contingencies.
• On Saturday, Yahoo's Charles Robinson reported that the Texans' price is three first-rounders and a pair of second-rounders. What I've heard is vaguer than that—three first-round picks as a starting point, with additional compensation on top of that—but does match up with Robinson's information.
• And to that "additional compensation," I wouldn't assume that another team's young quarterback (e.g. Miami's Tua Tagovailoa, Carolina's Sam Darnold or Philly's Jalen Hurts) would necessarily be seen as an asset by Houston in a Watson trade. I think in at least some of those cases, and maybe all of them, the Texans would much prefer additional picks to the quarterbacks.
• On one hand, I don't think Watson's preference being Miami gives the Dolphins any sort of advantage, or leverage, in working to land the quarterback. On the other, Watson does have some control over this, via the no-trade clause he secured in the four-year, $156 million extension he signed less than a year ago.
So looking at that landscape, if you're Caserio, what do you do?
The comfortable thing might be to find a way to move on soon, give Culley a fresh start with a healthier quarterback room and make the Watson story someone else's issue. And maybe someone will decide, at the 11th hour, to meet the Texans' price. Or find a creative way to write conditions into a deal that work for Houston.
Absent that sort of offer, though, it's really hard for me to see Caserio's being backed into a corner here. It's too important to the future of the franchise that it gets the highest price possible for the NFL's most valuable commodity—a young, under-contract, superstar quarterback. If that means essentially squatting on Watson's rights, paying him $10.45 million for the year and managing a very weird situation over the coming months, so be it.
---
A MEETING OF FIRST-YEAR COACHES
FLORHAM PARK, N.J. — A few weeks back, I had the idea to get a couple of first-year coaches together to discuss the challenges they're facing and their new lives in charge. That sent me to the schedule, where I saw that the Jets and Eagles would be practicing together at the end of August.
Which was perfect. Both new Jets coach Robert Saleh and Eagles coach Nick Sirianni carry themselves like regular guys, they're close in age (Saleh's two years older), and they come from pretty different backgrounds, with Saleh's having cut his teeth in the Shanahan and Carroll coaching families, and Sirianni's having roots in systems planted by Bill Parcells and Norv Turner.
The only hang-up was they didn't really know each other much before last week. But that ended up making it kind of fun. The result is up on YouTube as a part of our new video series, the Hurry Up. And I'd encourage you to go take a look at that, as Saleh and Sirianni take you inside what it's like to be in their shoes. But if you want a little taste of that here, here's an edited down version with some of my favorite parts of our conversation …
MMQB: You guys are around the same age, nearly 20 years as coaches, what's the biggest difference being the guy in charge?
Sirianni: You've just got a little bit more on your plate, but you don't stop doing the things that got you to this position. So I like to think of myself as an expert in quarterback and wide receiver play, well, I couldn't stop doing that once I became a coordinator, right? And then you think of yourself as an expert in an offensive play and you don't want to stop that once you get to your head coaching spot. So you're just adding more hats. And you've got to be able to delegate and trust the guys that you hired. But I just think the best thing that I get to do every day is coach players. And I don't want that to stop just because I'm head coach.
MMQB: So how much of it is wanting to do what got you here, but then balancing that with the idea that this is a completely different job?
Saleh: No different than what [Sirianni] said. You keep grinding. Like for me, the worst position to coach in our entire building is linebackers, [because] I'm in his room all the time. And then [defensive coordinator Jeff] Ulbrich, I'm with him all the time. At the same time, you've got to be able to trust those guys because you are going to get pulled away, and you can't dedicate as much attention to the detail that you want. But you're straining guys to keep that detail and you're staying as connected as possible. You are being pulled in many, many directions. It doesn't make it an impossible task; it just makes it a little more tedious.
MMQB: I've heard head coaches say they have to create time during the day, where they close the door and just focus on their work, because, like you said Rob, you're getting pulled in a lot of different directions. Is there that time for you?
Saleh: There is. If that door's open, someone's walking through it—which is welcome for us because we want to welcome people to walk in and talk about whatever's on their mind. But at the same time there's moments, and I would imagine it's going to become even more so now that we're getting closer to game-planning, where that door's gotta be closed because you got to focus on the opponent, so you can do what's best for your players, and that's to get them ready for Sunday.
Sirianni: I'm laughing. I'm still laughing about the linebackers coach and his struggles. And I think the same thing.
MMQB: So it sucks being the Eagles' quarterbacks or receivers coach?
Sirianni: Yeah, they get picked on a little bit, but they know what it is and they know what they signed up for.
MMQB: So then how do you guys handle the guys on the other side of the ball? Nick, you with defensive players and you, Robert, with offensive players?
Sirianni: I've always felt like I've had a good relationship with DBs just because of that interaction in the one-on-ones, so I've continued to do that. And I think the thing that you can do with the players and the coaches is just explain it from the offensive point of view. It's like, Hey, here's what I'm seeing you guys doing on offensive, here's why you can't do that. Or, Here's why this is really good, what you're doing, because an offense is looking at this. And so I think when you're a coordinator or a wideout coach or a quarterback coach and you go and tell a DB something, it's like, Hey, what are you doing? But as the head coach, you're allowed to do that. So I feel like I've had more of those conversations just because I feel like I've been able to help them get a sense of what an offense is thinking or what a wideout thinks or what a quarterback looks like.
MMQB: And obviously you have a quarterback now who is probably the most important draft pick you'll ever make, so this is really important for you, Robert, right?
Saleh: It is. So it's the same thing. You're having a conversation. Zach [Wilson] came into my office a couple of weeks ago and he does that, he goes into everyone's office on defense, just to ask about scheme. And we had a great discussion about our scheme and how we play three deep compared to our other teams play three deep, and just going through all the different ways we teach man compared to other teams teaching man. And you want to have those interactions. But at the same time, understanding your voice might carry weight, you're very cognizant of making sure that offense isn't doing something just because you told them to do something. And you just make sure that you're constantly staying focused on the style that you want that side of the ball to represent.
MMQB: Both of you just got done working for first-time head coaches. What are you taking from them?
Saleh: For me, it's delegation and understanding. Kyle [Shanahan], to be honest with you, the way he handles the other side of the ball, I think I've taken that. The way he handled me and the conversations that we had and the way he was very careful and very cognizant of the words that he spoke and the things that he gave us to help us evolve on defense, because it allowed us to flow a lot easier. But I thought his leadership skills were phenomenal, and I feel like that's the best part I'll take.
MMQB: So in a way, it's like you want your relationship with [OC] Mike [LaFleur] to be similar to his relationship with you.
Saleh: Very similar.
MMQB: And you, Nick?
Sirianni: I just think Frank [Reich] had a great ability of connecting with everybody in the building, the offensive guys, the defensive guys, offensive coaches, defensive coaches, but then everybody else around the building too. He just had a great way about him as the leader of the organization. I saw that and I feel like I've said this before, I got my doctorate degree on how to treat everybody in the building as a leader. And he was just a great example of that. And his messaging to the team. I always thought his messaging to the team, he knew what he wanted to get across. He knew how to get it across. And I just felt like the team always embraced his messaging.
As I hope you can tell, the conversation with those two was a lot of fun—and if you want more (including coaching in a big market, best advice they've gotten, and how their private lives are now very public), be sure to check out the full interview on YouTube. And don't be shy about subscribing to the show while you're there.
---
2022 DRAFT QUARTERBACKS
For a few years, we had a summer "Draft Week" in which I would do a piece to preview the coming fall's quarterback class. It became a fun exercise for me, and I hope a good guide for all NFL fans who may not follow college football as closely, on what to keep an eye on at that level and how it might translate to what we'll be talking about come the following April.
That would be a pretty comprehensive look at each class, but this, I think, should be taken as a little more of a sneak peek at the group—I haven't canvassed the league all that extensively on these guys yet, but do have a little bit of a feel for how the NFL views them.
And to get you a good view of each of these guys, I got on the phone with Jordan Palmer—the former Bengals quarterback, and younger brother of Carson—to help me break down what each guy brings to the table. Palmer's worked with a lot of these kids, going back to high school and (one going back to middle school) through the Elite 11 program and his own personal coaching business (QB Summit), which gives him great perspective on who these guys are.
One last thing before we get started: This class reminds me a little of the 2019 class. Going into that year, we were coming off of a quarterback-rich draft that saw five selected in the first round, and there was potential, but a lot of unknown. The end result? Two first-year starters (Kyler Murray, Dwayne Haskins) and a dark horse out of Duke (Daniel Jones) went in the first round. Things are similarly wide-open this year.
"This year's interesting because we don't have the highly-anticipated future No. 1 pick, like we did last year," Palmer said. "What we do have is some candidates where if their seasons go the way that it could and should, we could end up still with three, four or five guys in the first round. So if you look at Kyle Trask coming out of nowhere, if you look at Joe Burrow coming out of nowhere, if you look at these guys, Mac Jones coming out of nowhere …"
Palmer then stopped himself, and said, "Well, not coming out of nowhere, it's Alabama, but Mac Jones started one season, I mean, Kyle Trask had a really good year and he's a second-round pick. It's that kind of year."
Here, then, are the kinds of players with a shot to rise like Burrow, Trask or Jones did, with Palmer's take on them attached.
Spencer Rattler, Oklahoma (6' 1", 200 lbs., 2020 first-team All-Big 12): "I think it's kind of a foregone conclusion: He's going to have big numbers, and he's going to be in a position to win every regular season game, based off his team and his productivity. And so we're going to really be able to see how he how he stacks up, honestly, when you get to the playoffs. He's positioned to have a really big year, and he's positioned himself to be selected really high in the draft. … Quick release, really accurate. He's a playmaker.
Sam Howell, North Carolina (6' 1", 220 lbs, 2020 second-team All-ACC): "Sam Howell is potentially the most polished of the group heading into the season. He's done it for two years now. He's very, very mature. I mean, he had a beard in high school. And just really clean [as a prospect]. Very, very confident. And the coach he's playing for doesn't get enough credit for developing great quarterbacks. But he's playing for a guy who's just done it forever. And so there's just not going to be too many situations that Sam Howell sees that he's not completely ready for. … I think [Baker Mayfield is] a good comparison. And that's a good thing. Baker has a very strong arm and is very athletic."
Desmond Ridder, Cincinnati (6' 4", 215 lbs., 2020 AAC Offensive Player of the Year): "When we get to the testing side of things, there's a chance that Desmond is one of the most impressive athletes at the position entering the draft in years. Size, speed, explosiveness, arm talent. He's not as fast as Lamar [Jackson]. He's not as big as Josh Allen. But the sum of all his physical traits, we're going to look at him entering the draft and say this is one of the more impressive athletes we've seen in a long time. … He's 30–4 as a starter going into a season that returns everybody for Cincinnati, with a chance to play Indiana and Notre Dame. So that's a guy who could emerge as maybe the top guy when it's all said and done."
J.T. Daniels, Georgia (6' 3", 210 lbs.): "I've been working with J.T. since sixth grade, and I think he's poised to have a Joe Burrow–type year, and for two reasons. One, for him personally, he's actually, I think, a clone of Joe. He is about the same size, about the same arm, about the same athleticism. Joe is one of the most intelligent and confident quarterbacks I've been around at his age. I'd say the same thing for J.T. at his age. On the team side of it, think about college football this year—Alabama, Clemson, Ohio State, Notre Dame and Florida all reload at quarterback, running back and pass-catcher. Georgia is not."
Kedon Slovis, USC (6' 3", 205 lbs., 2020 first-team All-Pac 12): "It's incredibly impressive how he stepped into a situation as a true freshman backup quarterback, the starter tears his ACL the first game, and all of a sudden, boom, you go in as a true freshman at USC. And he put together a great year. Last year, they were still working out kinks and lost some receivers in an up-and-down year. But I think he's positioned to have a big junior year. He's got talent around him. The level of play in the Pac-12 is less than what it is in some other conferences. And so he should be positioned to have a really solid year."
Malik Willis, Liberty (6' 1", 215 lbs., 202 lbs.): "Physically, he's a Ferrari and he's at a lower-level school, but he's playing way outside of where anybody at that level is playing. It's going to be fascinating to watch him play this year as they take on some bigger competition. And I think he's going to build quite the résumé this year. And maybe the most intriguing prospect in this upcoming draft. … [Physically], he's Devin White. He's enormous and he's all muscle. He's not Cam Newton, he's not Josh Allen, he's Shaq. I mean, he looks like an outside linebacker. And couldn't be a nicer dude and has great work ethic. I can kind of bet how his year is going to go. He's going to be a Heisman finalist, is going to have crazy numbers and have a couple of really cool moments. And so fast-forward, it's going to be a team that says, 'Hey, that guy's perfect for what we're doing here.'"
Carson Strong, Nevada (6' 4", 215 lbs., 2020 Mountain West Offensive Player of the Year): "Very unassuming athlete. Very, very, very athletic, very strong arm, and he pushes the ball down the field probably as well as anybody in college football. He also has a really good tight end and a really good receiver, so they're going to have put up big numbers. And he starts off playing against Cal, which, I know we sit here and say it's a Pac-12 team, but when you go to Nevada, most of those kids, had they got offered from a school at Cal, they would have gone there, so you're still talking about two rosters that are not even. … He's won, he's been a conference player of the year. He's won the conference. So he's done everything that you can do at this point. He's got one more season here to really cement that résumé. And he's going to be an intriguing prospect. But he's really, really mobile and can push the ball down the field and has a really live arm."
So that gives you a list of seven to work off of. And just for fun, because I got asked this for my mailbag this week, I asked Palmer if he had a deep dark horse (mine was Boston College QB Phil Jurkovec). His answer: Pitt's Kenny Pickett.
"Reminds me of Kyle Trask," Palmer said. "He's bigger and spins it better than people think. Everybody said the same thing about Kyle Trask when they saw him in person—he's a lot bigger than I thought, he throws it a lot better than I thought. So Kenny Pickett is a big body, great dude, dynamic personality and a playmaker at Pitt, and I think that he's going to be able to string together a really solid year as well."