2013 Pacific Division preview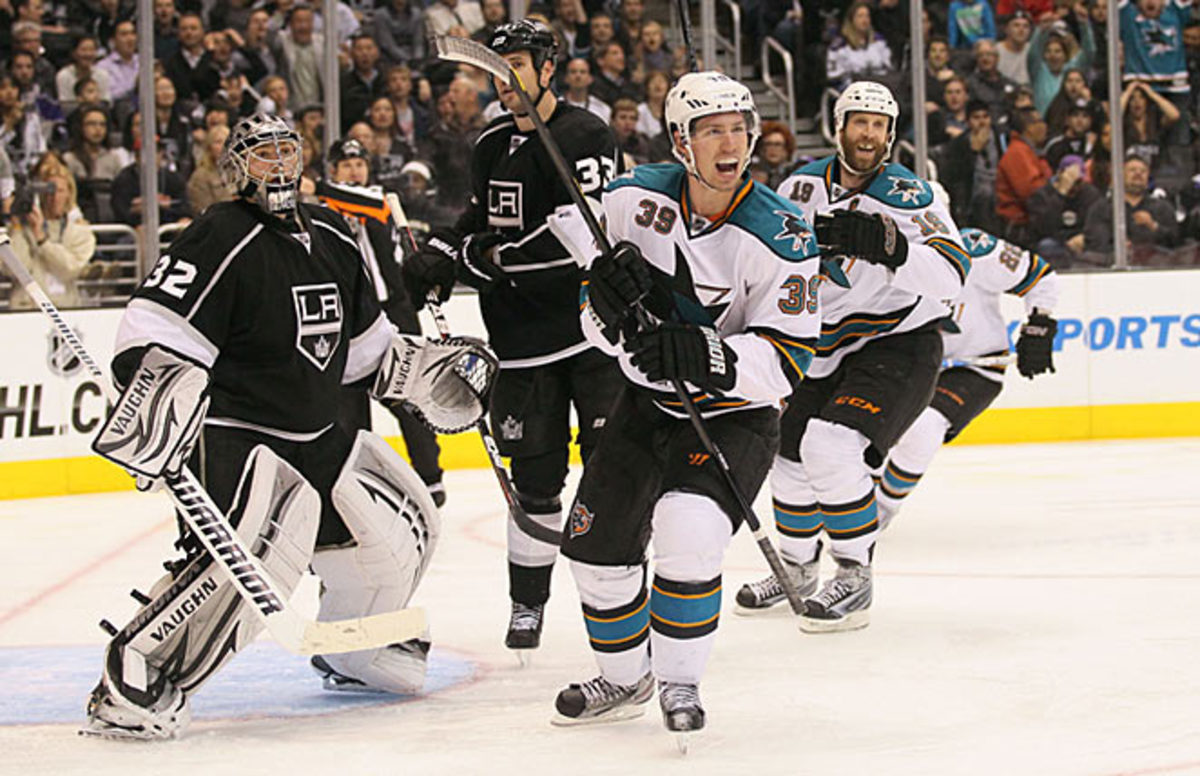 Los Angeles Kings
Power Rankings | Milestones | Northwest | Central | Southeast | Atlantic | NortheastHACKEL: Short season will challenge NHL coaches | MUIR: Wild year on way
Coach: Darryl Sutter 2011-2012 record: 40-27-15, 8th in West, won Stanley Cup Vital signs (stat ranking: goals-for (29th), goals-against (2nd), power play (17th), penalty kill (4th), PIM (14th) Notable adds: None Notable losses: RW Kevin WestgarthTeam roster
Outlook: The Kings welcome back essentially the same squad that made a mid-season turnaround (25-13-11) under new coach Darryl Sutter, grabbed the West's final playoff spot, and roared through the postseason to win the franchise's first Stanley Cup. As maddening as the lockout was, it gave them an extended break to help shake the dreaded Cup hangover. A few players, however, are nursing injuries. Conn Smyth-winning goalie Jonathan Quick had back surgery in August, but has been medically cleared. Star center Anze Kopitar sustained a knee injury while playing in Sweden and is expected to be out a few weeks. This is a Cup-caliber team, and if anyone knows how to navigate the challenge of the tight schedule, it's Sutter, the NHL's only coach who guided a team (Chicago) during the last such lockout-shortened season in 1995.
Key player: D Drew Doughty. The Kings dropped just four games on their way to winning the Cup. Though Quick, who had a stunning .946 save percentage in the playoffs, earned the Conn Smythe, Doughty was the difference-maker in the final series against New Jersey. The 23-year-old preternaturally talented blueliner started slowly last season after missing training camp due to contract issues, but as he turned the corner, so did the Kings. Now he's come to camp in shape and committed to winning his first Norris Trophy. That kind of season will be needed to keep the Kings on their throne.
San Jose Sharks
Coach: Todd McLellan 2011-2012 record: 43-29-10, 7th in West, lost to Blues in first round Vital signs: goals-for (12th), goal-against (10th), power play (2nd), penalty kill (29th), PIM (24th) Notable adds: RW Adam Burish, D Brad StuartNotable losses: C Torrey Mitchell, C Daniel WinnikTeam roster
Outlook: After making bold moves to improve before last season, the Sharks failed to finish atop the Pacific Division for the first time since 2007, struggled to make the playoffs and were done in the first round. They still have plenty of potential, and on paper, the kind of balance that teams covet: a mix of goal-scorers (C Joe Pavelski, LW Patrick Marleau) and grit (LW Ryane Clowe), productive veterans (C Joe Thornton, D Dan Boyle) and exciting youngsters (C Logan Couture). Given that the Sharks have played more hockey since 2006-07 than all but two teams, they very well could have succumbed to burnout or late winter doldrums. That, however, shouldn't be an issue now after he long lockout offseason and with the shortened schedule creating immediate pressure to win. Their dreadful penalty killing unit has been given an upgrade with the addition of defenseman Brad Stuart, who led the Red Wings in shorthanded ice time during the last three years. Adam Burish, who won the Stanley Cup with the Blackhawks in 2010, will add energy on the ice and experience in the locker room. Once again, the Sharks should be good enough to reach the playoffs. How far they go is, as always, the big question. Goaltender Antti Niemi needs to prove he can get the job done as he did with Chicago when the Hawks won the Cup, and a healthy, productive season from Martin Havlat is a must.
Key player: D Brent Burns. The highly-mobile, big-bodied defenseman, acquired from Minnesota in June 2011, struggled early last season, then battled a sports hernia and groin injury during the second half. He still produced a respectable 11 goals, 26 assists, and +8, but ended up having offseason surgery that may delay his return. A healthy Burns playing up to his considerable potential would be a huge boost to San Jose's blueline corps and offense.
Phoenix Coyotes
Coach: Dave Tippett 2011-2012 record: 42-27-13, 3rd in West, lost to Kings in conference final Vital signs: goals-for (17th), goals-against (7th), power play (29th), penalty kill (8th), PIM (28th) Notable adds: LW Steve Sullivan, RW David Moss, D Zbynek Michalek, C Matthew Lombardi Notable losses: D Adrian Aucoin, LW Ray Whitney, LW Taylor Pyatt, C Daymond Langkow (UFA), D Michal Roszival Team roster
Outlook: Last season, the Coyotes finished on the top of their division for the first time, thanks to the superb Mike Smith, whose .930 save percentage ranked first among league's No. 1 goalies. Once in the playoffs, they reached the conference finals by knocking off Chicago and Nashville, hardly two pushovers. Under coach Dave Tippett's well-structured and tight checking system, the 'Yotes make the most of what they have. They've lost leading scorer Ray Whitney, who at age 40 put up 77 points, his best season in three years, but they'll get veteran leadership from free agent signee Steve Sullivan. They can use more offensive punch from Martin Hanzal, Antoine Vermette, captain Shane Doan and Mikkel Boedker, but defensively, Phoenix is still well off even though it lost stalwart Adrian Aucoin and Michael Roszival to free agency. Since 2009, Tippett's first year, the Coyotes have ranked in the top-five in the west in goals-against. Oliver Ekman-Larsson is a formidable young blueline talent and the offensively gifted David Rundblad has been steadily improving his defensive game and will have a shot at cracking the lineup. As usual, the Coyotes will be tempting to take lightly, but don't be surprised if they overachieve.
Key player: G Mike Smith. There were questions going into 2011-12 about whether he had what it takes to be an NHL No. 1, and he responded with a career year, appearing in 83 games (regular and postseason) with a 2.21 GAA (1.99 in the playoffs). Now the question is if he can do it again. The shortened schedule will reduce his workload, but every game will be crucial and without much scoring punch in front of him, there will be even more pressure on Smith to live up to the expectations he created last season. The Coyotes will ride him as far as he can take them.
Anaheim Ducks
Coach: Bruce Boudreau 2011-2012 record: 34-36-12, 13th in West, did not make playoffs Vital signs: goals-for (24th), goals-against (20th), power play (21st), penalty kill (16th), PIM (10th) Notable adds: D Sheldon Souray, D Bryan Allen, RW Brad Staubitz, C Daniel Winnik Notable losses: D Lubomir Visnovsky, RW George Parros, D Sheldon BrookbankTeam roster
Outlook: A 7-13-4 start last season cost coach Randy Carlyle his job, and the Ducks brought in freshly-fired Bruce Boudreau from the Capitals, a huge personality shift from a hard-nosed, borderline-hostile character to a man nicknamed Gabby whose profanity-laced tirade got laughs (at least from viewers of 24/7). The switch took some time to take effect, but under Boudreau, the Ducks went 27-23-8, highlighted by a 9-2-1 January -- a sign of what's possible. Offensively, few teams have as much pure talent. Anaheim's top line of Ryan Getzlaf, Corey Perry and Bobby Ryan is intimidating -- big bodies with lots of skill -- and though the trio are coming off a down year, they have in the past combined for more than 100 goals. The Ducks also return greybeard vet Saku Koivu, 38, and the ageless (OK, he's 42) Teemu Selanne, who have 2,182 career points between them and are still productive. On the back end, Lubomir Visnovsky is gone, but smooth-skating Cam Fowler, 21, quietly impressed as a rookie two years ago and could be poised for his breakout season. If goalie Jonas Hiller plays well behind his retooled blueline corps, the Ducks have a shot at climbing back into the playoff mix.
Key player: LW Bobby Ryan. A slow start landed him on the trade block, and rumors followed the 30-goal scorer like an unshakeable shadow, a fact that irks the 25-year-old winger. But under Boudreau, Ryan regained his scoring touch, averaging .78 points per game, and logging 19 points in the last 20 games of the season. If he stays in Anaheim, and is truly comfortable in Boudreau's system, Ryan could take the next step and join the NHL's elite scorers.
Dallas Stars
Coach: Glen Gulutzan 2011-2012 record: 42-35-5, 10th in West, did not make playoffs Vital signs: goals-for (21st), goals-against (13th), power play (30th), penalty kill (13th), PIM (8th) Notable adds: RW Jaromir Jagr, LW Ray Whitney, C Derek Roy, D Aaron RomeNotable losses: C Mike Ribeiro, C Steve Ott, D Sheldon Souray, RW Adam Burish, D Mark FistricTeam roster
Outlook: Since the last time the Stars made the postseason, their roster turnover has been steady and striking. Other than captain Brenden Morrow, none of the top seven scorers from that 2007-08 team remain. Mike Modano is gone; Brad Richards, gone. Mike Ribeiro was traded to Washington last June. Younger Stars like Jamie Benn, 23, (as of this writing an unsigned RFA who had yet to arrive at training camp) and Loui Eriksson, 27, will being counted on more heavily while additions of veterans Derek Roy, Ray Whitney and Jaromir Jagr ensure ample experience on the ice and in the room. As for the back end, the Stars have lost Sheldon Souray's offense, and Kari Lehtonen will spend the year trying to live up to his new five-year, $29.5 million deal (a handsome sum for a goalie who has never won a playoff game and owns a mediocre career 2.71 GAA and .914 save percentage). The league's worst power play must be addressed and there are so many questions of chemistry that this shortened season will likely keep Dallas down for another year.
Key player: RW Jaromir Jagr. The Stars saw what the 40-year-old did in Philadelphia last season (19 goals, 35 assists) playing alongside Claude Giroux, 25, and contributing to his 93-point career year, and they wondered if Jagr could help ignite their young stars in waiting. Still known for his tireless work ethic, Jagr will likely skate with center Benn, 23, and winger Eriksson, 27. Jagr, however, can be particular about his centers (recall the failed experiment in New York when he didn't mesh with either high-priced Scott Gomez or Chris Drury), but Benn has good on-ice vision and more importantly a similarly intense appetite for work that should help him click with the Czech greybeard.
Pacific's biggest surprise (for better or worse)
The Kings won't make it past the first round of the playoffs. They will have a decidedly more difficult path to the postseason, thanks to the target stitched squarely on their backs as defending Cup champs. And while they have enough talent to win it all, don't expect them to enjoy the same hot streak and injury luck they experienced last spring.
Pacific breakout player
Oliver Ekman-Larsson, Coyotes. At 21, the puck-moving Swedish defenseman, a first-rounder (sixth overall) in 2009, is beginning to reach his potential after an impressive first full NHL season (13 goals, 32 points). Already trusted in all situations, he led the Coyotes in ice time during their postseason run to the Western Conference Final.
Pacific's unsung hero
Marc-Edouard Vlasic, Sharks: The 25-year-old defenseman won't wow with end-to-end rushes or no-look passes, but what he lacks in flash, Vlasic makes up for with subtle shut-down effectiveness. Upgraded to the top pair alongside Dan Boyle last season, Vlasic eats tough minutes against the league's best offensive players, and at $3.1 million this season and $4.25 million for the next five years, he's a grand bargain.
Hottest seat in the division
Bob Murray, Ducks. Since winning the Cup in 2007, and during the last four years with CM Murray at the helm, the Ducks' image has shriveled from powerhouse to team that seems content to be a borderline contender. Anaheim's wretched 2011-12 season sparked calls for his firing, and 2013 will be make-or-break. With Ryan Getzlaf and Corey Perry facing free agency, winger Bobby Ryan still irked by how often his name pops up in trade rumors, and Teemu Selanne reaching retirement age, Murray has a lot of work ahead to keep the Ducks from foundering.
Cool fact
Pacific Division teams allowed the fewest combined goals (2.07 per game) last season. The Kings (2.07, 2nd in NHL), Coyotes (2.37, 5th) and Sharks (2.50, 8th) ranked among the league's top 10 defenses in that category.