MLS: A star is born in Vancouver; Rosales gets Seattle back on track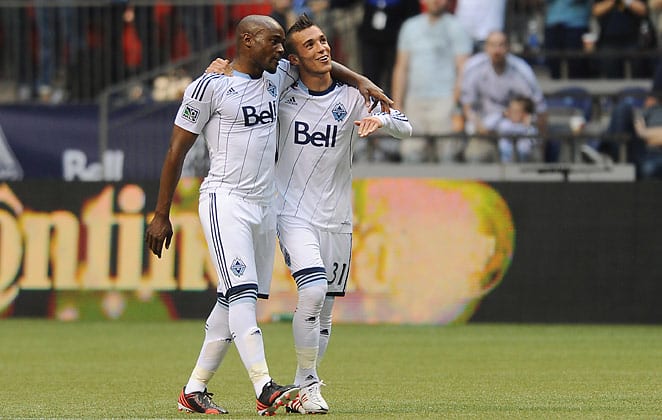 Montreal Impact showed professional resolve, Mauro Rosales dazzled with a curling free kick, and a homegrown star came to life in Vancouver in Saturday's MLS action.
Game of the day
Montreal Impact 3, Real Salt Lake 2
Marco Di Vaio showed veteran leadership and high standards not only by scoring an equalizer but also in his non-celebration. Given the histrionic habits of modern soccer, the Italian would have been entitled to dance, dive and wave his arms as feverishly as a Manhattan traffic cop as his team-mates mobbed him. Instead, he barely acknowledged his 80th-minute strike and jogged straight back to his own half to aid a swift re-start, as if the team was still losing. The message: I'm not satisfied with a draw. Let's get straight back to action and win this.
And thanks to Matteo Ferrari's 93rd-minute finish, Montreal did. This time, the ecstatic goalscorer whipped off his jersey and sprinted until his team-mates caught him. The wild celebration was fully justified: the shot gave Montreal a 3-2 win and brought Ferrari redemption. His own goal put Salt Lake up early on Saturday, but Felipe drew Montreal level before the break. Kyle Beckerman's fine finish in the 77th minute appeared to have secured three points for the visitors until Di Vaio struck (though he looked offside).
This was an important win and morale-boosting comeback for the Impact, who squandered a 2-0 lead to draw 2-2 with the San Jose Earthquakes last weekend, then lost 2-1 to their Eastern Conference rival New York Red Bulls last Wednesday. Montreal took maximum points from its first four MLS fixtures of the season but this was only the second victory in its past six. As Di Vaio knows, momentum matters and winning is everything.
Goal of the day
Mauro Rosales, Seattle Sounders
How often do we see a player make the easy look hard, and the hard look easy?
Midway through the first half at CenturyLink Field on Saturday, Rosales somehow managed to send a diving header well wide from six yards. A few minutes later, everyone present was marveling at the veteran's brilliant technique.
There has been a shortage of great free kick goals in MLS so far this season (didn't a pretty decent set piece taker leave the league recently?) but Rosales delivered with a spectacular strike in first-half injury time to put Seattle 2-0 up on the Earthquakes. The position was so wide that some players might have considered a cross but Rosales bent the ball over the wall and into the near-side top corner of Jon Busch's net. The pace of the shot gave the goalkeeper scant hope of making a save, and his wall did him no favors.
In fact, to call it a wall is probably too generous. It was more like a picket fence: essentially decorative. Of the four Earthquakes who lined up, only Chris Wondolowski jumped to try and block the shot.
The ball's trajectory appeared to take it over the static Walter Martinez. The Honduran is 5-foot-2. He is the second-shortest player on the San Jose roster, and was the smallest man on the field. So Martinez really has no business being part of that, or any, wall. Perhaps realizing this, defender Victor Bernardez - a strapping 6-2 - tries to join Martinez from near the penalty spot as Rosales starts his run-up. But Bernardez is too late and can only watch as the ball scuds past.
This shouldn't take anything away from Rosales' magnificent goal. But San Jose is struggling because it is not executing plays with as much efficiency or precision as last year, and this was another example.
Stat of the day:
6 - goals in the final 15 minutes for FC Dallas this season
Looks like the sequel to the Goonies is being filmed in Texas. While San Jose were the never-say-die club of 2012, hence the movie reference, Dallas is building an impressive resume of important late goals this year.
Je-Vaughn Watson bundled in a 77th-minute winner in Frisco on Saturday to continue D.C. United's disastrous start to the campaign. It was the sixth time this season that Dallas has scored after the 75th minute and those goals have been worth nine points to Schellas Hyndman's team. Watson chested in a corner-kick; Dallas is making a habit of scoring from set-pieces.
D.C. head coach Ben Olsen made five changes to his starting lineup for Saturday's match, including axing goalkeeper Bill Hamid in favor of Joe Willis. Hamid has been inconsistent but his defense has provided minimal protection. After the 4-0 home loss to Houston last Wednesday, this was a much improved display; it could hardly have been worse.
While United was not fluid and created little offensively, at least it ascended to mediocrity. Jackson gave Dallas the lead but Dwayne De Rosario hauled the visitors level with a free kick shortly before the break, giving rise to the possibility that MLS's worst team so far in 2013 might claim a point against its best. De Rosario's goal was the first United scored on the road this season.
D.C. has endured a team record seven successive defeats and is lurching towards crisis point. Four points from ten games would be unacceptable for any club, let alone one that contested the Eastern Conference final only six months ago.
Player of the day
Russell Teibert, Vancouver Whitecaps
Teibert made his MLS debut in March of 2011, but was yet to score until Saturday -- when he grabbed two goals in 13 minutes to beat the defending champions.
Dubbed "the future of Canadian football" by teammate Nigel Reo-Coker, according to CBC Sports, he likes to attack and can play across the midfield. The Niagara Falls, Ontario native signed on as a Home Grown Player and hardly featured last year but has made four starts for Martin Rennie's team this season.
Teibert came off the bench against the Los Angeles Galaxy to replace the injured Daigo Kobayashi and broke the deadlock with a low shot from the edge of the box in the 63rd minute. For his second, he burst into the area to connect with Gershon Koffie's cutback. Although L.A. pulled a goal back through substitute Gyasi Zardes after 86 minutes, Darren Mattocks added Vancouver's third in stoppage time.
Asked by MLSsoccer.com what went through his mind after his first goal, Teibert was not exactly sure. "It's a blur. I don't know what I was thinking. I was just overwhelmed," he said. The 20-year-old's energy and work ethic contrasted with the Galaxy's sluggishness, as the 2011 and 2012 MLS Cup winners failed to respond to last Sunday's 1-0 home defeat by the Houston Dynamo.
Teibert picked a good time to discover his scoring touch. The result marked Vancouver's first-ever win over the Galaxy and was its first victory in MLS for two months. Mattocks' goal added to the drought-ending theme. The Jamaican striker has the tools to be a prolific scorer but this was only his second goal of the season and his first since March 23.