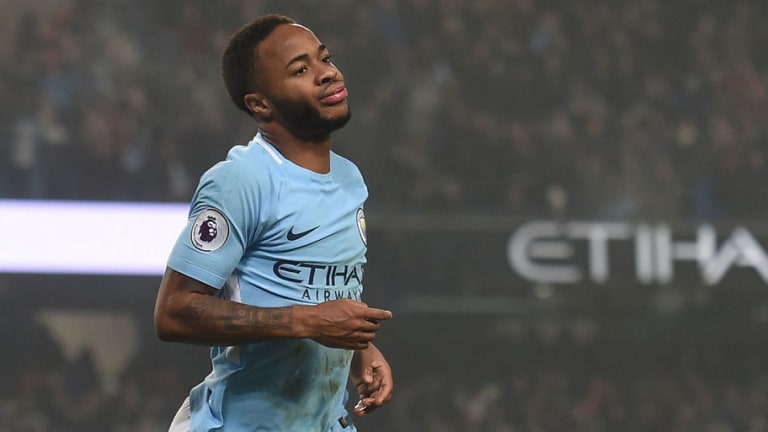 Real Madrid Tipped for Raheem Sterling Swoop With Man City Yet to Open Contract Talks
Real Madrid are reportedly eyeing Manchester City winger Raheem Sterling, with claims from the Daily Mirror that the Premier League leaders are yet to open formal talks over a new contract with their star number seven.
Sterling, thought to be earning £180,000-per-week, is currently under contract at the Etihad Stadium until 2020, which would mean he will enter the final two years of that deal this summer.
And while City have recently tied down Kevin de Bruyne to a new long-term deal to 2023 and extended David Silva's stay to 2020, the tabloid report declares they are 'making Sterling wait'.
Now 23 years of age, he is having the season of his life in 2017/18 and has scored 20 goals in all competitions after finally shaking the reputation of being an inconsistent future prospect.
Speaking back in February 2016, shortly after being hired as Real Madrid coach, Zinedine Zidane named Sterling as a player who 'excites' him, alongside Tottenham striker Harry Kane.
Given that the Mirror's evidence of Real's interest seems to be little more than Zidane's past public praise, it remains to be seen just how much truth there is to that element of the story.
All too often, agents are using the media to push their own agenda, sometimes leaking stories to news outlets or offering vague quoted comments in a bid to put pressure on certain parties.
In that kind of murky environment, it wouldn't necessarily be outlandish to think that this story could have been planted to make it clear to City that the player and his advisors want a new contract to bring him in line with the Premier League and the rest of Europe's top performers.