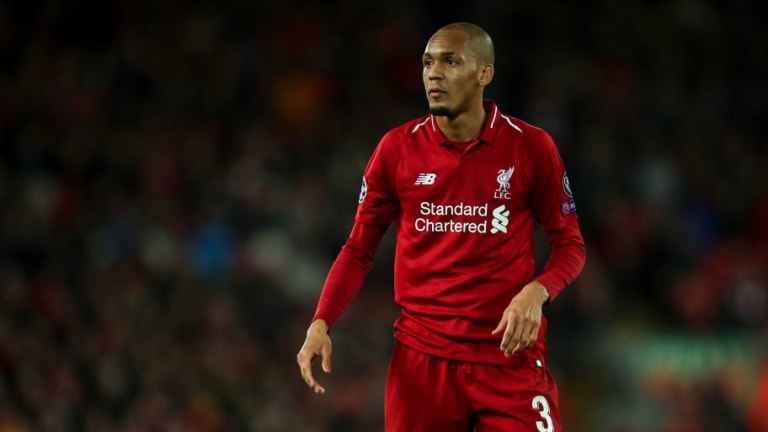 Fabinho Insists He Is Adapting to Life at Liverpool After Difficult Start
Liverpool midfielder Fabinho has admitted that his start to life at the club was 'not easy', but insists he is learning lessons as he adapts to life in the Premier League.
After making a big money move from Monaco to Merseyside this summer, many expected that the Brazil international would have been immediately thrust into Jurgen Klopp's starting lineup in 2018/19. However, the Liverpool boss has been slow to integrate 25-year-old Fabinho into the table-topping team.
Fabinho was made to wait until September to make his first start for Liverpool, with Klopp showing patience as he waited for the player to adapt to his tactics.
However, after struggling initially to break into the setup at Anfield, the former Ligue 1 star has started the Reds' last two games - against Red Star Belgrade and Cardiff - playing every single minute. 
The £39m signing claimed via ESPN that he is adapting to his new surrounding and learning, despite the difficult start.
"I'm very happy to play my second match in a row as first-choice, to play the full match. It is very good for me," he said. "This moment to adapt, it hasn't been easy. Many times you are out, there were many times I wasn't [picked].
"But I tried to learn from all this, tried to give my best during practice. The coaches were very nice to me, they didn't let me get down. I worked to be well prepared.
"[I] got the opportunity last Wednesday, I believe I [had] a good match, and [against Cardiff] I believe I helped the team at the midfield.
"The moment is good, being called has helped too. So I'm very happy, I hope I can keep it. I know the rate here is very high, you have to always try to keep a good performance, and in our team we have a lot of options in the midfield.
"Of course it's not possible to be always called, but whenever the coach needs me I want to be ready for it."
The player's outing against Cardiff was his first start in the Premier League and he left supporters impressed again as he helped the team to a 4-1 Saturday win.
"The match was rough," he added. "We scored one during the first half, which was important, but the match was very intense in the midfield.
"After we scored the second goal, we thought it would be easier but they scored after.
"Only at the last 10 minutes that we could get an easier game and scored the third and fourth goals.
"This is Premier League, I'm still learning day by day how rough the games can be. I'm happy we did it."