Tuesday's P.M. Hot Clicks: Marianne McKinney; Girl Scout cookie cereal
Marianne McKinney, a possible time-traveling Cubs fan and more in Tuesday's PM Hot Clicks. 
World Series Preview
I know Andy did this in A.M. Clicks, but wait there's more! I love the Cleveland Plain Dealer's Indians beat writer's punishment for failing to believe in the team. If you don't know who to root for, take this quiz. Jason Kipnis sprained his ankle while celebrating and an MLB Network reporter tweeted (and deleted) photos of his messed up foot. It looks bad. In better news, Dexter Fowler is set to be the Cubs' first black player to appear in a World Series game. Here's what the AP game story looked like the last time the Cubs won a title, and here's a quiz on what the world was like back then. Oh, and we can't forget about the Indians, so here's how Twitter would have reacted to the end of Major League.
This is Major
Girl Scout cookies are being turned into cereal. Too bad millennials don't eat cereal anymore.
The Baseball Player Who Became a Hitman
Maury Lerner was a hot prospect. He ended up becoming a hitman for the mob.
Marianne McKinney: P.M. Lovely Lady of the Day
Marianne McKinney is a Brazilian model who was in recently for an SI Swim casting call. Like most Brazilians, she's a big volleyball fan. (Click here for the full-size gallery.)
Marianne McKinney: 2017 Sports Illustrated Swimsuit Casting Call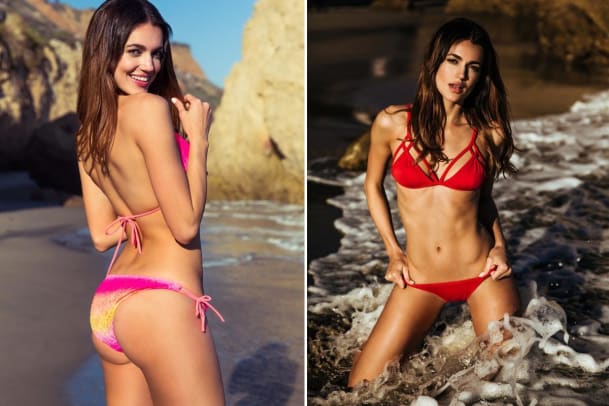 I Promise This isn't Politics
I know we try to steer clear of politics here (some guy even complained that I mentioned Curt Schilling's White House dreams!), but bear with me here. This scientific article about whether Donald Trump is saying "big league" or "bigly" is legitimately fascinating—from a science standpoint!
I Had No Idea Helmet Logos Used to be Felt
"Ranger Things"
(That's Josh Jooris as Eleven and Brandon Pirri as Dustin.)
Odds & Ends
The number of white Americans in the NBA is at an all-time low, so The Undefeated asked a few about it. ... The D-League is trying out three experimental rules this year. ... As a Yankees fan, I won't be reading this, but Luis Gonzalez is doing an AMA on Reddit. ... A New Hampshire man's message in a bottle made it back to his daughter 50 years later. ... This guy is curating a massive archive of video game soda machines.
Tron Rollercoaster
Why?
#https://vine.co/v/e0zHHFJWz5r
How Times Have Changed
Look who performed the national anthem at Game 1 the last time the Indians were in the World Series.
Email dan.gartland@simail.com with any feedback or ping me on Twitter. Click here for previous editions of Hot Clicks. Visit our Extra Mustard Page throughout each day for more offbeat sports stories and the latest Cheerleader of the Week gallery. Also check out the SwimDaily Page for the latest updates and Instagram pictures of models who have appeared in our issues.