Friday's P.M. Hot Clicks: Sofia Resing; Athlete ties to Rogue One
Friday's P.M. Hot Clicks feature the lovely Sofia Resing and athlete ties to Rogue One
Rogue One is Here
​Rogue Onefinally hit U.S. theaters on Friday and people lost their minds (Confession: Not a Star Wars fan). Here's an awesome gallery of athletes embracing everything Star Wars, and for the non-diehards, a reminder of how Rogue One fits into the Star Wars timeline. Also, this is what all the actors and actresses are getting paid for the film, Disney exec talks about why there are no lightsabers in the film's advertising. Moreover, is Rogue One as good as the other Star Wars movies?
Sager Mourning Continues
The designers of Craig Sager's iconic outfits discuss the loss of a friend and President Obama paid tribute to the legendary broadcaster. Fox Sports also compiled a gallery of Sager's best and most colorful suits.
The Fridge Turns 54
William (The Refrigerator) Perry turned 54 on Friday. Celebrate with this classic photo gallery or by watching a music video made in his honor.
Sofia Resing: P.M. Lovely Lady of the Day
We're capping off the week with royalty as our P.M. LLOD is SI Swimsuit model Sofia Resing. You must watch her outtakes from the shoots in Zanzibar. (Click here for full-sized gallery.)
Sofia Resing 2016: Zanzibar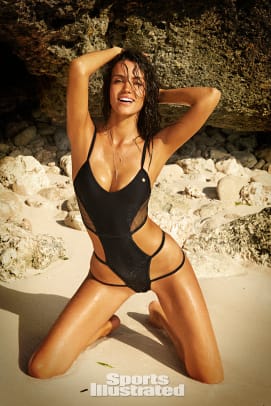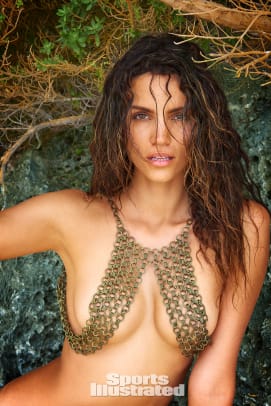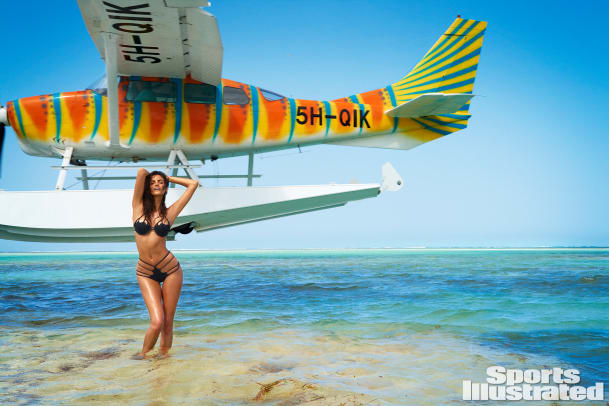 Hot Clicks Giveaway
Going to the movies this holiday season? Did you know Atom Tickets is the most convenient way to plan a night out at the movies? It's true. The free app provides reviews, trailers and synopses to help you decide what to see. You can even invite friends (via Facebook or a contact list) to purchase their own tickets to join you. Use it for tickets and concessions, then skip the lines and go directly to the ushers and concession counters, where they simply scan a QR code at tablet kiosks. Even better, Atom Tickets created custom code SI5, which gives Hot Clicks readers $5 off the entire Atom Tickets Purchase. Andy Gray also has five codes to receive a $25 gift and he'll send to the 50th, 100th, 150th, 200th and 250th person to email him (andy_gray@simail.com) the name of this morning's Lovely Lady of the Day. The answer was in A.M. Clicks. Please make the subject line Atom Tickets.
Cage Match. Let's Do It.
After a fan challenged Todd Gurley to fight on Twitter following another poor performance, Gurley said he's down.
'The Santa Claus' is So Underrated
Goalie Masks > Everything Else
Flashback Friday: Jessica Gomes
LeBron on 2016
12 Days of Holiday Gifts
With the holidays just around the corner, I thought it would be helpful to offer some gifting advice. Today's suggestion: The J. Crew travel pillow.
It's really important to sleep on an airplane and this is the best travel pillow out there. It's $25, which isn't ideal, but you pay once and have it forever.
Available at Amazon | $29.99
Odds & Ends
Question No. 6 in SI's 'Year in Sports Quiz' is ruthless ... Trevor Knight's bowl cleats are a tad glitzy ... Mansions with the most amazing pools in the world ... Where are they now: The Karate Kid cast from 1984 ... The new Lawrence Phillips documentary will shed serious light on his life ... Ten of the best old-school music videos of all time ... This martial arts student is insane; he can kick a billion targets on one jump ... A Saved by the Bellpop-up restaurant is opening soon.
Style Swipe: Cam and More
People Now's Andrea Boehlke joined Sports Style Swipe this week to talk about Denver Broncos' Will Parks, Los Angeles Lakers' Jordan Clarkson and Cam Newton's outfit that got him benched by the Panthers.
​
I'm a Sucker for Blooper Reels
Abandoned Prison
I stumbled across this video of guys exploring an abandoned prison. Incredibly creepy.
:
Email andy_gray@simail.com with any feedback or ping him on Twitter. Click here for previous editions of Hot Clicks. Visit our Extra Mustard Page throughout each day for more offbeat sports stories and the latest Cheerleader of the Week gallery. Also check out the SwimDaily Page for the latest updates and Instagram pictures of models who have appeared in our issues.