Pence, Powder and a Packer 'Miracle' in Dallas: NFL Week 5 Had It All, and Then Some
Sunday had a bit of everything, from a vice presidential walkout and a video of an NFL coach allegedly snorting drugs, to season-ending injuries to superstars, and another sensational finish by Green Bay in Dallas
Where to begin? You're going to need to close the door to your office, or hole up in your cubicle, or say your dog ate your car keys … I don't know. But you're going to need more time than usual to process what happened this weekend in the NFL.
Let's see. Start with David Letterman roasting Peyton Manning, and his hometown. Then there was Indianapolis booing Roger Goodell, loudly, at the Manning lovefest. Then the Vice President of the U.S, who claims to be a Manning fan, wasting hundreds of thousands of taxpayer dollars on a political stunt that overshadowed (to put it mildly) the retiring of Manning's number on Sunday. Then Carolina's Cam Newton, with just a little pressure on him, playing one of the best games of his career, highlighted by one of the oddest, coolest plays he's made. Then Philly's Carson Wentz absolutely steamrolling the Cardinals in what may have been the best game of his shiny young career. Then Ben Roethlisberger saying, "Maybe I don't have it anymore," after the first five-interception game of his 210-game NFL career.
More? Then Odell Beckham Jr. fracturing his ankle and possibly being lost for the season. Then Beckham in tears. Then the Giants falling to 0-5. Then the Jets winning their third straight; their record (3-2) says they're better than Oakland and Dallas. Then Green Bay playing a classic for the time capsule, capped by not-quite-a-Jared-Cook catch by Davante Adams—stunningly back from the Danny Trevathan car crash 10 days earlier to win with 11 seconds left in The House That Jerry Built. Then Jones saying any Dallas Cowboy who doesn't stand respectfully for the anthem will not play for the team anymore.
You want more? Then three-time Defensive Player of the Year J.J. Watt breaking a leg bone and likely being lost for the season—again—and even the biggest Watt fans wondering: Will we ever see his greatness again? Then Watt on the verge of tears. Then the Chiefs moving to 5-0, with blinding speed everywhere, and beginning to distance themselves from everybody who's pretty good. Then Deshaun Watson, in his fourth NFL start, throwing for five touchdowns against the best team in football. Then the realization that Alex Smith is the most valuable player in the game after five weeks. Then a shadowy, weird, unconfirmed video emerging just before midnight depicting a man, supposedly Dolphins assistant coach Chris Foerster, snorting some white powder while talking luridly to an absent female friend—before going into a meeting.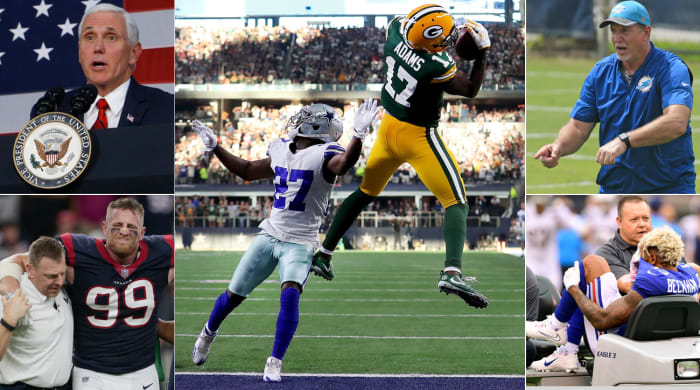 There have been some crazy weekends in my time covering the NFL. But this one was a combo platter of "North Dallas Forty" and "The Situation Room" and whatever show has grisly injuries you do not want to see but cannot look away. 
So we're going to be here for a while, starting with the happiest man, and most relieved man, on the Green Bay Packers' charter on the tarmac at DFW Airport just after 9 Sunday night.
Andy Benoit and Gary Gramling wrap up the Sunday action each Monday morning on "The MMQB: 10 Things Podcast." Subscribe on iTunes.
This is what Davante Adams remembers about the hit heard 'round the NFL, the savage, Bednarikian helmet-to-helmet hit from Chicago linebacker Danny Trevathan in the Week 4 Thursday night game:
"Nothing, really," he said from his seat on the Packers' plane after Green Bay's 35-31 win in Texas. "I couldn't recall anything. My first memory is when I got to the hospital. Then things started coming back. I vaguely remember scoring a touchdown the play before the hit. It got called back, and then the hit happened on the next play. I remember a little bit then, but then I started to remember more as time went by and I got a little less foggy."
"Did you see the play?" I asked.
Danny Trevathan's Suspension Exposes Players' Disconnect When It Comes To Violent Hits
"Yeah, I saw it," he said. "My fiancée showed it to me. She showed it to me on her cell phone—it was already on YouTube. When I saw it, it kind of made me sick to my stomach. I got a little heated watching it. As time went by, I started to remember everything."
"Shocked you weren't hurt worse?"
"Absolutely. Absolutely. God was really looking out for me there that night. An angel was there, to bring me back to life. My neck hurt a little bit from the whiplash of the hit, but that was about it. To come out of it fine, and then to play the next week, it's amazing. A blessing."
"Did Travathan reach out?"
"He did. He hollered at me, and I talked to him. It made me feel better, knowing there was no intention on his part. He's not a dirty guy. It was just kind of a dirty hit. That's how the game goes sometimes. No bad blood. I moved past it."
Adams felt lucky to be playing on Sunday in Arlington. The Green Bay-Dallas rivalry has been ridiculously good in the Aaron Rodgers era. The teams have played three times in Texas in the past five years, and each game tops the previous one for exhilaration:
2013: Green Bay 37, Dallas 36.
2016: Green Bay 34, Dallas 31.
2017: Green Bay 35, Dallas 31.
I guess there's not much to say when the Cowboys and Packers play deep in the heart, except this: Take the over. And this: Bet on Rodgers.
Packers' Aaron Rodgers Engineers Trademark Game-Winning Drive Against Cowboys
The Cowboys made one big mistake down the stretch as they took a 31-28 lead with 73 seconds left in Sunday's game: That's way too much time for Rodgers. Green Bay had one timeout remaining with 1:24 to play when Dallas, inexplicably, threw an incomplete pass, stopping the clock at 1:18. The Cowboys scored a touchdown on the next play, but instead of the Packers getting the ball with maybe 40 seconds and one timeout at, say, their 25-yard line, they took it down three with 1:13 left. Rodgers, with time, methodically and calmly moved the Packers to the Dallas 12 with 16 seconds remaining.
On the previous play, Adams, an angular and athletic 6'1" receiver earning Rodgers' trust more and more, lined up wide left on rookie Dallas cornerback Jourdan Lewis. Lewis was stride-for-stride with Adams, and Rodgers overthrew his man. Back in the huddle, before Rodgers called the play, Adams had a message for him.
"Let's go back to it," Adams said to Rodgers—and Adams isn't known as a beggar in the huddle. "Do it again. Throw it back up to me."
Adams' assignment was the same—line up wide left, take Lewis to the left side of the end zone … and wait. On the previous play, Rodgers threw a fade out of the side of the end zone, and Lewis' coverage was good, and it wasn't close to being completed. The second pass was designed as a back-shoulder throw. "Aaron threw it a little higher, and behind me," Adams said. "He threw it in a great spot. The first one I saw a little later. The second one was in a perfect spot." Rodgers threw it three-quarter delivery, calmly, to a spot Lewis couldn't reach—high and just slightly behind him. Lewis turned back awkwardly and flailed at the ball, and Adams plucked from just over Lewis's head. Touchdown.
"Aaron threw a perfect ball, which he does a lot," Adams said. "It feels good to make this catch, my first game-winner, and on the biggest stage in football."
The Heroics of Aaron Rodgers and Earl Thomas, Big Ben Bombs, Odell Beckham Goes Down Again
Pretty amazing day. Pretty amazing 10 days. Adams said he wasn't sore and had no headaches, even after being targeted 11 times and getting beaten up some during the game. And he didn't seem all that impressed with himself or what he'd done. Playing in this game was surprising enough. Having the biggest catch of his career added to the stunning moment.
"A miracle, absolutely," he said. "But miracles happen all the time."
With Rodgers throwing the ball the way he does in Dallas—and practically everywhere—miracles for Green Bay seem a tad more commonplace.
• We have a newsletter, and you can subscribe, and it's free. Get "The Morning Huddle" delivered to your inbox first thing each weekday, by going here and checking The MMQB newsletter box. Start your day with the best of the NFL, from The MMQB.