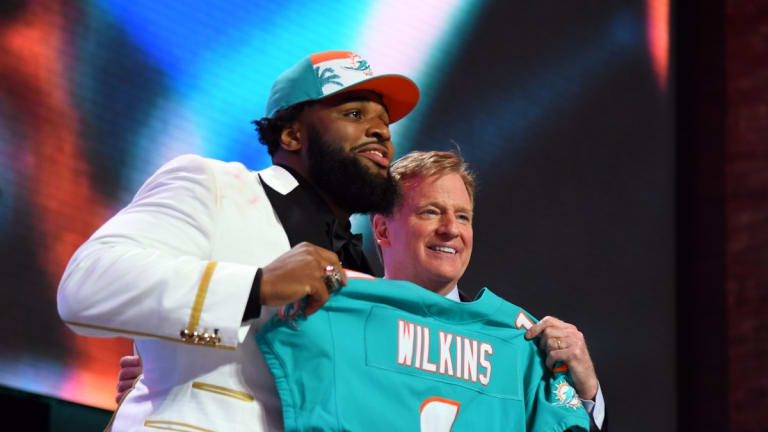 Miami Dolphins NFL Draft Live Blog: Day 3
We break down and analyze all the latest developments involving the Miami Dolphins and the 2020 NFL Draft
We have arrived at the final day of the 2020 NFL Draft, and the Miami Dolphins once again will be major players.
The Dolphins head into the final four rounds of the draft holding nine picks for a potential total of 15 for the whole draft.
While it's not quite the 13 picks the Minnesota Vikings are holding in Rounds 4-7, it's still plenty of draft capital for the Dolphins to continue building their roster.
In the first three rounds, the Dolphins selected quarterback Tua Tagovailoa of Alabama, offensive tackle Austin Jackson of USC and cornerback Noah Igbinoghene of Auburn in Round 1; offensive lineman Robert Hunt of Louisiana and defensive tackle Raekwon Davis of Alabama in Round 2; and safety Brandon Jones of Texas in Round 3.
Heading into Day 3 of the draft, the positions of focus for the Dolphins would include running back, tight end, perhaps yet another offensive lineman, an edge rusher, a linebacker and perhaps another defensive back.
The Dolphins head into the day with two picks in Round 4, including the one they obtained from the Green Bay Packers in the trade-down in the first round.
Here's the rundown:
Round 4, 136th overall (from Green Bay)
Round 4, 141st overall (compensatory pick)
Round 5, 153rd overall (from Miami through Arizona)
Round 5, 154th overall (from Jacksonville through Pittsburgh)
Round 5, 173rd overall (from Baltimore through L.A. Rams)
Round 6, 185th overall
Round 7, 227th overall (from Indianapolis)
Round 7, 246th overall (from Kansas City)
Round 7, 251st overall (compensatory pick)
12:03 PM
Top prospects remaining (based on the SI Draft Tracker:
CB Bryce Hall — Virginia
EDGE Curtis Weaver — Boise State
CB Amik Robertson — Louisiana Tech
CB Troy Pride Jr. — Notre Dame
QB Jacob Eason — Washington
EDGE Bradlee Anae — Utah
LB Akeem Davis-Gaither — Appalachian State
OT Prince Tega Wanogho — Auburn
LB Troy Dye — Oregon
QB Jake Fromm — Georgia
OL Tyler Biadasz — Wisconsin
WR Donovan Peoples-Jones — Michigan
12:07 PM
So Washington finally has traded left tackle Trent Williams. Goes to 49ers for a 5th this year and 3rd next year. Would have been a nice pick-up for the Dolphins, though he's pricey.
12:09 PM
Fourth round begins with Cincinnati taking App State LB Akeem Davis-Gaither
12:12 PM
One of the top running back prospects still available is Florida's Lamical Perine and, yes, he's related to Dolphins RB Samaje Perine.
They're cousins.
I spoke to Perine at the scouting combine and asked him about his cousin.
"I feel like we're two totally different running backs," Lamical said. "He's a power guy, hard-nosed. I'm a hard-nosed runner as well, but I catch the ball a little better, I feel like. But he's a dynamic running back. I feel like I am as well. But we just bring two different things to the game."
Of course, I had to ask Lamical about the possibility of joining his cousin with the Dolphins.
"That would be actually pretty crazy," Lamical said. "At one moment I wanted to go to Oklahoma, but they never offered me. It would be a crazy moment if we get two Perines in a backfield at the same time."
12:17 PM
That the Redskins got a 5 and 3 for Trent Williams tells you (again) just incredible the return for the Dolphins in the Laremy Tunsil trade. If Tunsil is better than Williams, it's not by much. And, yes, he's younger, but that difference in return? Wow!
12:20 PM
BREAKING: Dolphins have traded their two fourth-round picks to move up to make the pick now at 111.
12:22 PM
Barry Jackson and Omar Kelly both tweeting the pick is Georgia guard Solomon Kindley.
This is his NFL.com combine bio: "Kindley was a Class AAA second-team all-state pick at Jacksonville's Raines High School before moving north to Athens. The three-star recruit played in one game as a reserve in 2016 and took a redshirt. SEC coaches named him to their All-Freshman team after he started seven of 15 games played at right guard in 2017. Kindley's play as a 14-game starter at right guard his sophomore campaign gained him a share of the Bulldogs' Most Improved Player award on offense. He started 11 of 13 games played at left guard in 2019, missing some time with a lower right leg injury, and then decided to leave school for the NFL."
12:41 PM
Kindley just told us via video conference call he's got a lot of family in Miami. He was born in Jacksonville, which is where he served as a community pool lifeguard and earned the nickname "Big Fish."
12:42 PM
The Dolphins obviously were serious about rebuilding their offensive line, as we explain in this breakdown of the Solomon Kindley selection.
12:44 PM
This is the Pro Football Focus analysis of Solomon Kindley:
12:46 PM
If you were wondering what former Dolphins exec Dawn Aponte is doing these days, here's your answer:
12:53 PM
This is the first time since 2008 the Dolphins have taken three offensive linemen in one draft. That year, they took tackle Jake Long in Round 1 (first overall), guard Shawn Murphy  in Round 4 and guard Donald Thomas in Round 6.
12:57 PM
Washington QB Jacob Eason goes to the Colts in the fourth round. Will get to learn behind Philip Rivers. Fascinating prospect because of that rocket arm of his.
1:08 PM
With no more fourth-round pick, the Dolphins won't pick until 153rd overall, which is 26 picks away.
1:21 PM
Interesting that the Dolphins' seven picks so far played in good weather. Look at the colleges: Alabama, USC, Auburn, Louisiana, Alabama, Texas, Georgia.
1:26 PM
Dolphins currently on track to tie their record for most picks in a seven-round draft with 14. Record set in 1997.
Those picks that year:
1st — WR Yatil Green
2nd — CB Sam Madison
3rd — DE Jason Taylor, LB Derrick Rodgers, LB Ronnie Ward, T Brent Smith
4th — G Jerome Daniels
5th — DT Barron Tanner, DE Nick Lopez
6th — LB John Fiala, WR Brian Manning, LB Mike Crawford, TE/LS Ed Perry
7th — DB Hudhaifa Ismaeli
1:39 PM
Nothing personal against country music (which I don't like), but let's keep the musical performances off the draft telecast please.
1:53 PM
Still 12 picks before the Dolphins pick, but then they have back-to-back selections at 153-154.
1:54 PM
The 153rd pick is the one they sent to the Cardinals in the trade for QB Josh Rosen but then got back in return for RB Kenyan Drake.
The 154th is one they got as part of the trade involving Minkah Fitzpatrick.
2:08 PM
Seven picks before the Dolphins' turn and the names still on the board that are catching my eye:
CB Bryce Hall — Virginia
EDGE Curtis Weaver — Boise State
WR Donovan Peoples-Jones — Michigan
TE Hunter Bryant — Washington
2:11 PM
Nice testimonial on Solomon Kindley by Georgia head coach Kirby Smart:
2:20 PM
Finally! Dolphins about to get on the clock.
2:26 PM
TRADE: Dolphins traded pick 153 to the 49ers.
2:27 PM
Per Adam Schefter, Dolphins have acquired RB Matt Breida for the 153rd pick.
2:39 PM
Dolphins took DL Jason Strowbridge at pick 154.
3:34 PM
Man, what a whirlwind the last hour. Had to get cranking writing stories on the Breida acquisition and the picks of Jason Strowbridge and Curtis Weaver.
The pick of Weaver might go down as the best of this draft for the Dolphins.
Also love the acquisition of Matt Breida, whose speed will provide the PERFECT complement to Jordan Howard. And the price was cheap.
Strowbridge isn't nearly quite as exciting, though you have to love his kick-blocking ability.
3:50 PM
Gotta love this from new Dolphins DT Raekwon Davis ...
3:52 PM
Former NFL exec Charley Casserly a big fan of what the Dolphins did in the fifth round.
3:54 PM
Dolphins take a long-snapper in the sixth round, Blake Ferguson of LSU.
4:14 PM
Blake Ferguson was an interesting selection, one that doesn't bode well for Taybor Pepper. 
Blake Ferguson's brother, Reid, was the snapper at LSU for four years before Blake took over for the next four. Reid is now the snapper for the Bills.
4:17 PM
LSU alum Davon Godchaux naturally welcomed the addition of Blake Ferguson
4:33 PM
Dolphins have two picks in the seventh round, but not until 246th and 251st overall.
The 246th is from Kansas City is the trade two years ago for DB Jordan Lucas. The 251st is a compensatory pick.
4:35 PM
Taybor Pepper, who likely has seen his time with the Dolphins come to an end with the drafting of Blake Ferguson, welcomed the man who could take his job on Twitter.
4:59 PM
Two days after the 2020 NFL draft concludes, the Dolphins will begin their virtual offseason program, according to NFL.com's Tom Pelissero. The Dolphins will be among teams conducting virtual workouts.
5:28 PM
Still 28 picks before the Dolphins are on the clock. Long wait.
6:06 PM
Still waiting ...
6:14 PM
Great pic just posted by new Dolphins snapper Blake Ferguson showing him and his new NFL teammate.
6:34 PM
Dolphins select WR Malcolm Perry, Navy
6:49 PM
Dolphins have traded the 251st pick to the Seattle Seahawks.
6:50 PM
Here's a quick take on how the Dolphins could end using Perry, who was a quarterback at Navy but won't be in the NFL.
6:51 PM
Dolphins got a 2021 sixth-round pick for the seventh-rounder they just traded to Seattle.
6:53 PM
Barring a trade back into the seventh round, this will be the Dolphins' final draft roundup (plus the trade for RB Matt Breida:
1st round — QB Tua Tagovailoa, Alabama; T Austin Jackson, USC; CB Noah Igbinoghene, Auburn
2nd round — OL Robert Hunt, Louisiana; DT Raekwon Davis, Alabama
3rd round — S Brandon Jones, Texas
4th round — OL Solomon Kindley, Georgia
5th round — DE Jason Stowbridge, North Carolina; EDGE Curtis Weaver, Ohio State
6th round — LS Blake Ferguson, LSU
7th round — QB/WR Malcolm Perry, Navy
6:58 PM
Dolphins ended up with 11 total picks, after starting with 14 and then getting to 15.
The 11 picks represents the team's highest total since 1997 when they had 14.
The highest total since then had been 10 in 2007.
7:03 PM
Dolphins waste no time signing undrafted free agents.
The NFL.com scouting report on Benito Jones: "When the tape is on, it's impossible not to notice Jones making things tough for SEC offensive linemen. He possesses average power at the point of attack but can really be disruptive when he's actively attacking the gaps. He may have issues with contact balance and anchor against NFL double-teams, so scheme fit might matter. He's an even-front shade nose who can step into an early rotational role, but has the potential to become a future starter with adequate rush potential to boot."
A highlight from Jones' school (Ole Miss) shows really quick penetration.
Another UDFA signing ...
Should point out that Benito Jones, who Ian Rapoport tweeted has signed as a UDFA with the Dolphins, was ranked as the No. 1 interior defensive lineman among undrafted players by Gil Brandt, NFL Media senior analyst for NFL.com.
Middle Tennessee tweets the signing of DT Tyshun Render with the Dolphins as a UDFA.
And another free agent signing, this one Bryce Sterk from Montana State.
7:57 PM
Brian Flores begins the Dolphins post-draft video conference with a shout-out to first responders and healthcare workers. Says he's lost two mentors from New York to COVID-19.
7:59 PM
Brian Flores calls Matt Breida "very explosive." Young running back with good vision, can create a lot of big plays.
Chris Grier asked about expectations increasing: "Expectations, people will have that. For us, it's just staying the course."
Flores: "Games aren't won in March and April."
Flores: "A lot of hard work has to be done for us to become a good team."
Flores: "I haven't spent this much time with my family in a long time, and it's been great."
Another UDFA for the Dolphins: Iowa State DL Ray Lima.
Flores: "There were some (frustrating) moments. You guys (media) will never know about them but there were some moments. All in a all it was a good weekend."
Flores says Stowbridge is an inside-outside player. Says lot of things they like about Weaver from a pass-rush standpoint.
And this wraps up the Flores-Grier post-draft press conference.
And that's it from here as well. But we'll have a lot more post-draft coverage, including analysis, evaluations and perspective in the coming days.