Stanley Cup talk can give LA Kings a hangover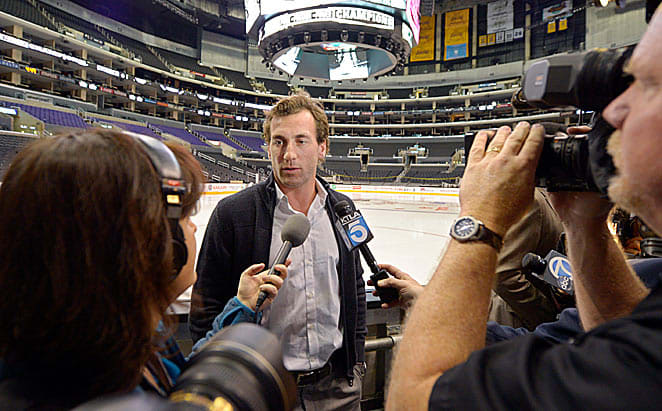 By strict definition, almost every team in NHL history has suffered from a Stanley Cup hangover. Heck, the New York Rangers had one that lasted 54 years after their 1940 championship season, with the Blueshirts finally drinking from it again in 1994. They haven't won another since.
Winning the Stanley Cup is hard. The Los Angeles Kings know this, having won their first last year since joining the NHL in '67. No team has grabbed the chalice in back-to-back years since Detroit did it in 1997 and '98, but that doesn't stop fans, pundits and the management staff of champions from clutching the pearls soon after their team wins one, and bemoaning the dreaded Cup hangover effect as the seeming direct cause for not following it up.
GALLERY: Stanley Cup Champions the year after
After losing to the Colorado Avalanche 3-1 Tuesday night at the Pepsi Center, the defending champions fell to 0-2, which no doubt will provoke a Pavlovian "It's the Cup hangover!" explanation from hockey's chattering class.
Dustin Penner, who is the answer to the trivia question: "Name the only player to have won Stanley Cups with both of Southern California's NHL teams", never got to know what a real Cup hangover is like after winning with Anaheim in 2007. Less than a month after the Ducks beat Ottawa in five games, Penner was poached by the Edmonton Oilers' Machiavellian offer sheet that provoked a memorable feud between the GMs of each team:
After re-signing with the Kings, following a strong playoff showing that salvaged what had been a miserable season personally, Penner is learning uneasy lies the head that wears a crown.
"There's 29 other teams that are all working real hard toward the same thing," said Penner, whose 11 points in 20 playoff games were a much better PPG average than the 17 he put up in 65 regular-season tilts in 2011-12. "You're the measuring stick for every other team. But I think we've got the kind of team that is ready for that kind of challenge."
The subject of how to avoid Cup hangover is of great interest to Kings GM Dean Lombardi, who was recently given a contract extension. Over the summer and through the lockout, Lombardi studied the history of teams in all sports that were able to repeat as champions. He came to focus especially on the great San Francisco 49ers of the 1980s, with USA Today reporting that he spent more than two hours talking with defensive back Ronnie Lott at one point about his experiences of what to do -- and not do -- to win again.
One of the most frequent Cup hangover excuses -- that teams get bored too easily in an 82-game follow-up season, or don't take things seriously until the second half -- shouldn't apply to the Kings. The lockout took care of that.
"The playoff race started with Game 1 this year," Penner says. The Kings fared reasonably well with their health last season, but already the often frequent thing that bites defending Cup champions -- injuries -- has become a factor. Matt Greene, a defenseman whose veteran leadership coach Darryl Sutter described as "crucial" to the team's success -- suffered a back injury on opening day's 5-2 home loss to Chicago -- that likely ended his season.
First-line center Anze Kopitar missed the first game with a knee injury suffered in Europe during the lockout and looked understandably rusty in his return in Colorado. Kopitar dismisses suggestions that he rushed back because of the 48-game season, saying "you can't baby it forever."
In the schools of thought about how to avoid Cup hangover, some people believe it's best to make no mention of the championship, to develop sudden amnesia and thereby better foster a feeling of renewed hunger. Others seem to think it's OK, even preferable, to savor that championship feeling a while.
HACKEL: Season opens with pomp, emotion and excess
Claude Lemieux won four Stanley Cups as a player, but none of his teams ever could repeat -- although he did actually win back-to-back Cups, with New Jersey in 1995 and Colorado in '96. "I always thought it was better to put the Cup out of your mind as fast as possible for the next year. But the problem is, everywhere you go you're always reminded of it, especially by the media," he says. "You're always being asked to talk about how things compare to last year and whether there is a hangover on the team or not. You're not really allowed to forget about it, as much as you try. It's only after you don't win the next year that you can stop being asked all the time about it and maybe re-focus easier. I was kind of lucky in that regard in '95 when I signed with Colorado. I went from a team that would have been asked all those questions to a team that nobody really expected to win one, but was really hungry for it."
Kopitar's distinctive eyes seemed to give a definite roll when he was asked before Tuesday's game about anything pertaining to the Cup. Can't we talk about something else, he seemed to want to ask? "We've had plenty of time to talk about it. It's January already, so I think everybody has stopped talking about it regardless," he said.
Not by a long shot. The Kings still have many more cities to visit for the first time in this new season, where "defending Stanley Cup champions" will precede their name in the local papers, along with phrases such as "This will be a supreme test for XYZ local team against the champs." Reporters in those cities will foist compare-contrast queries on last year's team, which, they will remind players, won the Stanley Cup.
"It's great to talk about winning a Stanley Cup," Lemieux says. "I mean, who wouldn't want to relive doing that? It's great, the best experience a hockey player can have. But sometimes you can get too much of a good thing, and then you can get problems."
Like hangovers.