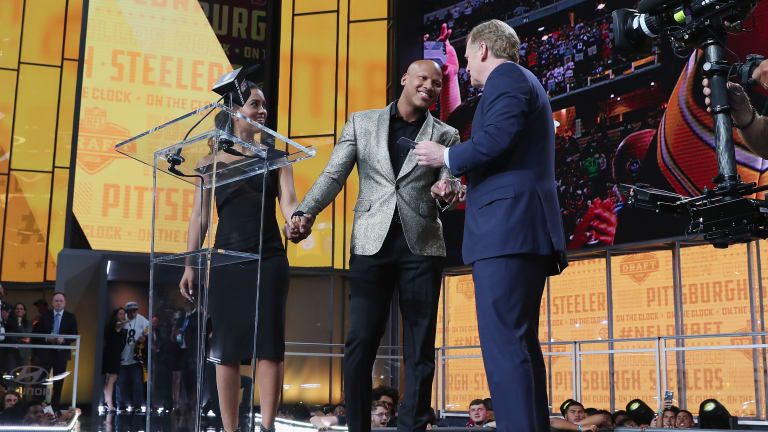 When Ryan Shazier Walked to the Podium
The Steelers linebacker suffered a scary spinal injury last season and stunned the crowd in Dallas when he walked across the stage for the draft's best moment
The best moment of the draft last night wasn't the suspense of not knowing which quarterback Cleveland would take with the first pick (spoiler: It was Baker Mayfield). It wasn't the Bills or the Cardinals trading up to draft a quarterback, and it wasn't the never-ending boos that commissioner Roger Goodell received despite walking on stage in the company of three Cowboys legends. The best moment came just before the 28th pick of the draft.
"We are honored to have with us an extraordinary man who continues to amaze us with his unyielding determination and his unwavering spirit," Goodell announced while Pittsburgh was on the clock. 
At the commissioner's cue, Ryan Shazier clutched his fiancée's hand tightly, and took slow but deliberate steps towards the podium. He grimaced slightly with the struggle of each step, but stared straight ahead with a look of unstoppable determination. Shazier's sparkly silver blazer shifted the focus away from his unstable legs and when he neared the podium, he allowed himself a small smile as he shook Goodell's hand. Just four months after suffering a severe spinal injury that required spinal stabilization surgery and landed him in a wheelchair, Shazier stood proud at the podium and announced the Steelers pick: safety Terrell Edmunds.
The crowd in Dallas cheered loudly for this inspirational and emotional moment. For anyone who saw Shazier's hit on Monday Night Football, where he made contact with a Bengals player and then collapsed to the ground with his lower body frozen and lifeless, the idea of him ever walking again seemed unlikely. Though he was unsteady and needed assistance to cross the stage in Dallas, he was really doing it, he was walking. Ever since his injury, Shazier has insisted that he will play football again. Without knowing the specific details of his injury, it seemed ambitious that he could someday make it back onto the field. But Shazier's appearance at the draft proved that he's made significant progress in a short amount of time, so maybe a return to the NFL is a possibility. In Edmunds's media session that night, the No. 28 pick said, "I felt like it was the moment of the draft, honestly."
Shazier walking again is an incredible outcome for a tragic injury that could have been so much worse. But what was that moment was like for Pittsburgh's draft pick? When Edmunds watched Shazier hobble to the podium and announce him as the Steelers first-round pick, did he wonder if that could be his future? That he might be putting himself at risk of a similar injury?
After Shazier called his name, Edmunds was handed his new Steelers jersey to pose for a photo with the Goodell and the Steelers veteran. Goodell grabbed Shazier's hand to steady him for the picture, but the 25-year-old Steelers linebacker had other plans. He shook off the commissioner's support and confidently grabbed the other side of Edmunds's jersey, smiling for the cameras with his newest teammate.
And now for some random draft musings:
• Flanked by Roger Staubach, Troy Aikman and Jason Witten, Goodell was still booed heavily for the length of his opening remarks. The boos were so loud that Goodell was barely audible over the yelling. So, the positive image protection of two Hall-of-Famers and a future Hall-of-Famer wasn't enough to shield Goodell from the wrath of Cowboys and NFL fans.
• ESPN's Suzy Kolber had a smart red carpet interview with QB Josh Allen, getting right into the subject of Allen's racially insensitive tweets that surfaced on the eve of the draft. Allen's tweets didn't affect his draft stock much, but Kolber asked the question about the lingering impact of using the n-word in a tweet. How does he plan to address the racially insensitive tweets with his future teammates, many of whom will be black?
• When Cleveland was on the clock for the first pick, ESPN ran an entertaining graphic that showed all 28 starting quarterbacks in Cleveland since 1999 (most in the NFL) as animated figures sitting in rows of chairs. Looking at all 28 together, man was that room crowded. Best of luck to Baker Mayfield.
• It's been a long time since we didn't know who the first pick in the draft would be. Usually, the first pick is widely known, but last night, Cleveland GM John Dorsey held all the cards and we had some real suspense. The first pick should be a highly guarded secret like this every year.
• The official draft hats could not be worse. What happened to the simple hat with nothing more than the team logo on it? This year, the hats that the players put on when they are drafted were ruined by really lame team mottos, some close to a sentence long with the letters all squished together to fit. The Cardinals hat said, "RISE UP RED SEA." The Bills hat read, "BILLIEVE," and of course, the Patriots hat read," DO YOUR JOB."
• I'd love to spend draft night with Mike Glennon. The Cardinals quarterback has now been unpleasantly surprised by his team drafting a rookie quarterback in two consecutive years. Last year, Glennon was the presumed starter Chicago when the Bears shocked everyone by drafting Mitchell Trubisky with the No. 2 pick. And this year, he's a backup behind Sam Bradford in Arizona but will now likely end up farther down the depth chart. And oh by the way, the same thing happened to Glennon in 2015 when Tampa drafted Jameis Winston, but at least he saw that one coming.
Not getting this newsletter in your inbox yet?Join The MMQB's Morning Huddle.
HOT READS
NOW ON THE MMQB: Jenny Vrentas points out evidence that Baker Mayfield was Cleveland's preferred QB all along. Now he just has to turn around the NFL's most woeful franchise... Andy Benoit gives out grades for each team's first round draft picks... and more.
WHAT YOU MAY HAVE MISSED: A victim of Jerry Richardson's workplace misconduct addresses those she holds responsible, and shares with SI several hand-written notes she says are from Richardson …​ Albert Breer details Jaguars owner Shahid Khan's bid to purchase Wembley Stadium. Is he setting the stage for the franchise to move to London?​
PRESS COVERAGE
1.On the night before the draft, Buffalo's new quarterback Josh Allen became the latest athlete to be outed for a series of racist and offensive tweets from his past. Yahoo Sports collected the-since-deleted tweets, which Allen tweeted when he was in high school. Allen called ESPN's Stephen A. Smith at 2 a.m. on draft morning to apologize for the tweets, saying he was, "young and dumb."
2.ESPN's Adam Schefter reported a sinister theory about the timing of the release of Allen's tweets. Could it have been a strategic move by a team hoping Allen would fall to them in the draft order?​
3. Draft prospect Zack Golditch survived the Aurora shooting. USA TODAY's Lindsay Jones on how Golditch leaned on football to get through the adversity. He's hoping to be a late-round pick.
4. Our Andy Benoit called attention to the weird self-congratulatory ritual of the team personnel standing and applauding the pick that they all just made while in the war room. That shot is always so awkward. Lots of forced smiles and nervous gum-chewing.
5. What we didn't miss during last night's ESPN draft broadcast was Jon Gruden's really bad draft takes. Kirk Herbstreit replaced Gruden on the ESPN broadcast, now that Gruden is back coaching the Raiders. SB Nation rounded up some of Gruden's best worst takes.
6. Ken Belson and Mark Leibovich of The New York Timesobtained an audio recording of the meeting between players, owners and league executives to discuss the national anthem protests last October. "The unvarnished conversation reveals how the leaders of the most dominant sports league in the country and several of its most outspoken players confronted an unprecedented moment — mostly by talking past one another."
Have a story you think we should include in tomorrow's Press Coverage?Let us know here.
THE KICKER
Peter King got one out of 32 picks right (the Giants No. 2 pick Saquon Barkley) in his mock draft published on Monday. Albert Breer got three picks right (Giants—Barkley, Jets—Darnold and Chargers—Derwin James) in his latest mock draft. It's impossible to predict all the trades that happened, but that's what makes the draft so much fun.