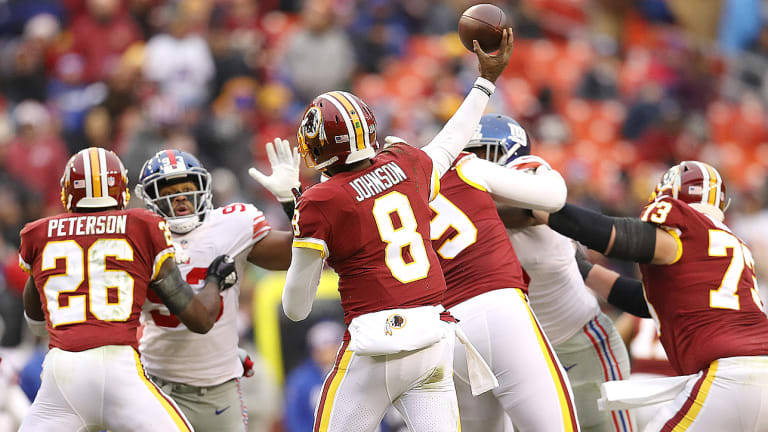 Washington Deserves That Blowout Home Loss to the Giants
Since losing Alex Smith to a broken leg while still in playoff contention, Washington has made a number of grave missteps at the quarterback position to all but take away the team's shot at the postseason.
Just so I can understand, here it is one more time:
• Washington, a team very recently in first place in the NFC East, lost its starting quarterback on Nov. 18 and worked out a platoon of backups including a 32-year-old Josh Johnson (last NFL pass on Dec. 11, 2011), 35-year-old Kellen Clemens (last NFL pass on Dec, 31, 2017) and Mark Travis John Sanchez (last NFL pass on Jan. 1, 2017 plus a four-game suspension for violating the league's policy on performance enhancing substances). At the time this was less notable because Washington had a tenured backup in Colt McCoy, who can function at a replacement level.
• On Dec. 3, McCoy fractured his right fibula in a game against the Eagles. Sanchez, whom Washington signed from the quarterback tryout, entered the game and subsequently went 13-of-21 for 100 yards and an interception.
• Despite that loss, Washington entered Week 14's game against the Giants with a 6-6 record and a 25% chance of making the playoffs, according to a statistical analysis from FiveThirtyEight. A win over the Giants would improve that to 35%, and a win over the Jaguars would improve that to 52%. That week, Washington head coach Jay Gruden said the team discussed signing Colin Kaepernick internally but decided not to because they would have to "teach a whole new offense with a lot of zone reads."
He added: "When you're talking about a backup quarterback this late in the game you want someone with a similar skill set to the quarterback you have."
• To back up Sanchez, Washington signed Johnson on Tuesday. For reference: the quarterback who had not played since 2011 and who definitely does not have the same skill set as Mark Sanchez. Over the years, Johnson had a couple stints on the roster in San Francisco, as a backup to Kaepernick.
• Washington did not call Kaepernick at all, whatsoever, to see what kind of shape he was in or to ask if he'd be interested in working out.
• Minutes after benching Sanchez for Johnson amid a blowout—at home—to the sub-.500 New York Giants sans Odell Beckham Jr., in which Sanchez went 6-of-14 for 38 yards and two touchdowns within the scheme, Washington ran a few plays that looked a hell of a lot like zone read concepts. You'll remember earlier that they said they couldn't install them quickly.
• Simultaneous to that game, the Baltimore Ravens were pushing the Kansas City Chiefs—arguably the best team in football—to the limit with a heavy dose of zone read concepts that were a marked difference from the Ravens' offense under Joe Flacco.
• After getting flattened 40–16 by the sub-.500 Giants at home who were playing without Odell Beckham Jr., Washington's playoff odds sank to a best-case nine percent.
In five years, which could quite possibly be the length of time it will take for Washington to sniff a season this advantageous to their playoff chances again, maybe this timeline will come in handy. It's a detailed way of saying that the team, quite literally, sank a season that could have been bound for the playoffs because a player initiated a peaceful protest against racism in America and sued the NFL because the owners don't want him on a team. This, because roughly half of Americans at the time disagreed with Kaepernick's decision to kneel. 
But how do they know he didn't want like a $30 million contract to play? They didn't call and ask. But how do they know he'd even play for a team with a nickname that some feel is a racial slur? They didn't call and ask. But how do they know if he's been working out or if he's in good shape? They didn't call and ask.
Proud of the team for their decision? May have worked out anyway. They get to keep the 50% of the fan base they would have alienated by signing Kaepernick. The other 50% probably won't be showing up to see the kind of football team that routinely gets throttled at home by inferior opponents.
Question or comment? Email us at talkback@themmqb.com.