2022 NFL Midseason: First-Half Surprises, Second-Half Story Lines, Super Bowl Predictions
The undefeated Eagles and struggling Packers highlight the first half of the season, while the Bills' championship dreams and the return of Deshaun Watson will be stories in the second half. Plus, our picks for Super Bowl LVII in Arizona.
With nine weeks in the books, we have reached the NFL's official midseason point. To mark the occasion, we are looking back at the first half of the season and zooming ahead to the playoffs, a totally original idea you will not see replicated anywhere else on the internet. We've already assembled our panel for the midseason power rankings, dished a mock draft 2.0 for everyone whose favorite GM hasn't already traded away their next decade's worth of picks and now present our midseason predictions. And coming soon, Albert Breer will survey executives across the league for their takes on various awards.
Below our MMQB staff will offer up some of the biggest first-half surprises, intriguing second-half story lines and new Super Bowl predictions. You can check out our preseason predictions, and we've also included them so you can easily see who has already had to walk away from an embarrassing September pick.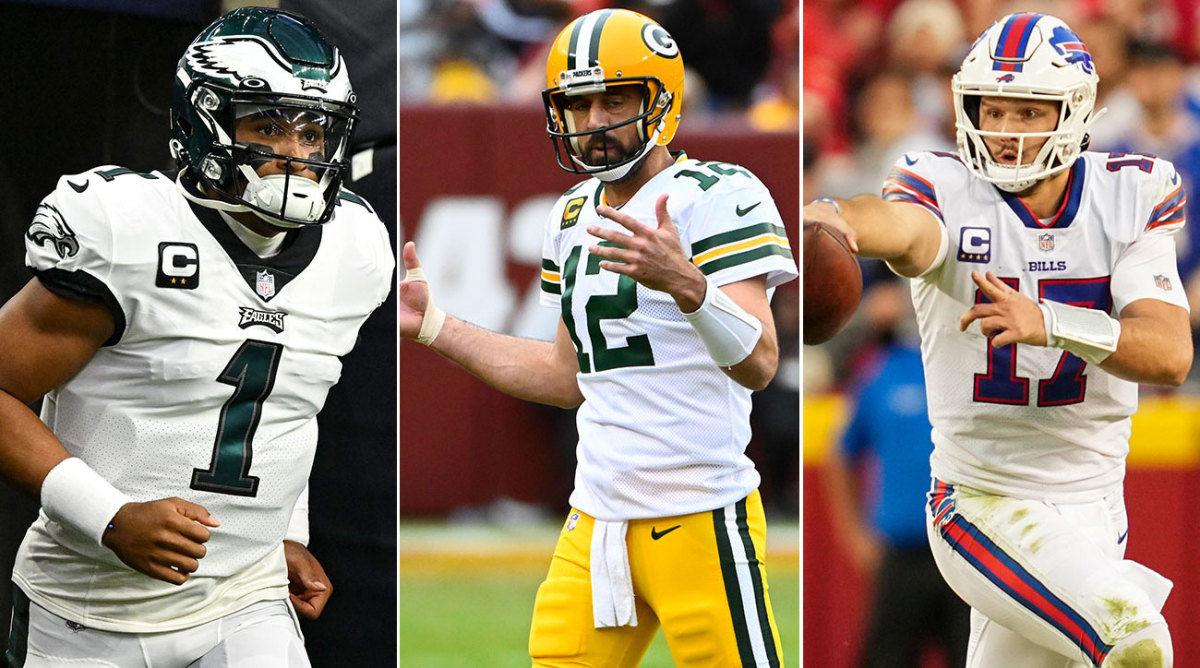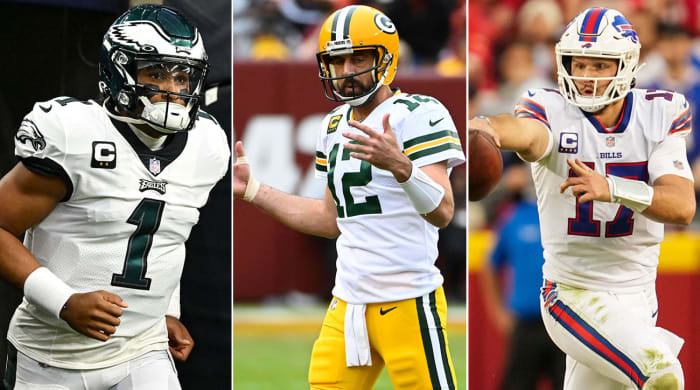 Biggest first-half surprises
Albert Breer: While my first instinct is to point to the Packers' collapse, the Steelers' downturn is right up there with it. Yes, it's their first year post–Ben Roethlisberger. But based on the strength of that program, and that it had been a while since Roethlisberger was bringing top-end play to the table, I figured they'd at least be able to tread water through the early stages of the season. Instead, they're 2–6, with one win attributed in large part to a long-snapper injury, and noncompetitive losses to the two elite teams they've faced thus far. There's time to turn things around, and T.J. Watt coming back should help. But that they're in a place where the development of Kenny Pickett and getting reps for George Pickens are priorities, and positioned themselves as a seller at the trade deadline, is pretty jarring. Mostly because you'd have to go back into the middle of the Bill Cowher era to find such a time in Pittsburgh. New GM Omar Khan will have his work cut out for him in his first full offseason in charge.
Conor Orr: I think the biggest first-half surprise has to be the fact that the Colts fired a respected, winning coach for Jeff Saturday because Jeff Saturday doesn't have any "fear" and doesn't "turn to the analytics." That press conference Jim Irsay gave was one of the most bizarre situations I've come across in 13 years of covering professional football. The cynic in me thinks this is laying the groundwork for some larger plan, and if it's not, how much sadder is the whole thing? The Colts had better hope they at least come out of this with a draftable option at quarterback. Saturday needs an absolute miracle to pull this off, but if he is the kind of person who jumps into a situation like this willingly, do we think he's the kind of person who can understand how absolutely hopping mad every single person in that facility is?
Greg Bishop: Geno Smith. Were this a statistical examination alone, the Seahawks' quarterback would fit here, easily. He has vaulted Seattle to a 6–3 start in a year many (like, um, me) tabbed them to win six games, at best, overall. His 73.1% completion percentage leads the NFL. His 2,199 passing yards aren't shabby, nor his command of the Seahawks offense, nor are his 15 touchdown passes compared to four interceptions.
But this isn't simply about Smith's play this season compared to last season. This is about the resurrection of his career: the fall from high draft pick to the NFL fringe; the four teams played for in four seasons from 2016 to '19; the fortitude to overcome all that, all the injuries, doubts and both fair and unfair labels affixed to his career. The biggest first-half surprise could simply be that Geno Smith is starting in the NFL again. But what has actually taken place is an even bigger surprise to everyone but Smith, from where he has the Seahawks positioned, to his future, which suddenly looks a whole lot more bountiful than it did six months ago. Look for the Seahawks to attempt to extend Smith, short-term, because of how well he has played all year—and everything he showed them before it started.
Watch the Seahawks with fuboTV. Start your free trial today.
Michael Rosenberg: There is no simple explanation for what is happening in Green Bay. It's a rare situation where so much that went right has suddenly gone wrong. Aaron Rodgers won the last two MVP awards and is now having the worst season of his career. His receivers look overmatched. They haven't played a single game that makes you think, "Well, if they can just play like that consistently …" Sometimes quarterbacks get old fast. It happened to Peyton Manning in Denver and to Brett Favre in Minnesota. This Packers season looks unsalvageable, but the rest is still going to be interesting. We'll find out whether Rodgers had a bad stretch or is suddenly—I can't even believe I'm typing this—a bad quarterback.
Andrew Brandt: I'll take the Eagles. We knew they would be good; we did not know they would be this good. Many felt that they overachieved last year in making the playoffs before being outclassed by the Buccaneers in the wild-card round. And rumors swirled this offseason that they were in play for Russell Wilson or Deshaun Watson in looking to replace Jalen Hurts, proving the adage: "Sometimes the best deals that you do are the ones that you don't."
The Eagles are steamrolling teams, usually in control by halftime, and it is hard to find a couple of losses, at most, on their remaining schedule. General manager Howie Roseman has had a Midas touch with every acquisition, whether leveraging other teams' cap issues for cornerbacks James Bradberry and C.J. Gardner-Johnson or taking a big swing and hitting a home run with A.J. Brown. They have top-five offensive and defensive lines, building from inside out and well suited for cold-weather football. The team is sound in every area and the one question mark coming into the season—Hurts—could well be the league's MVP. It is looking increasingly like the Eagles will have to win two home games in January to play in the Super Bowl. In a year when we are looking for merely "good" teams, we may have a great one.
John Pluym: The Vikings. I don't think anyone saw 7–1 coming after a 3–5 start in 2021, not even this lifelong fan of the team. Consider this from last season: Minnesota was 6–8 in one-score games, including 1–2 in overtime. The Vikings also allowed touchdowns on 32.4% of opponent drives in the final four minutes before halftime or the end of games (the NFL average was 12%). And that 32.4% rate is No. 686 of 686 teams since at least 2000. Yes, I love statistics because they explain a team's success or failure. Under new coach Kevin O'Connell, the Vikings have won six consecutive one-score games. He has stressed to his players becoming "situational masters." And Kirk Cousins told Albert Breer this in his Monday column on why the Vikings are able to win close games now: "I do think our coaching staff does try to emphasize it every week, talking about situations in meetings and really trying to play the game before the game in terms of what can come up at the end of half, end of games."
Gary Gramling: Probably Russell Wilson fully committing to a dead-on impression of Tom Savage circa 2016. It's only slightly hyperbolic to say Wilson insisting he play strictly from the pocket would be like Tom Brady telling his next team he's strictly a sprint-option quarterback. Wilson certainly has legitimate reasons to want to play strictly from the pocket—you take fewer hits and stand a better chance of being able to run and dance and walk comfortably later in life. But Wilson's lack of height prevents him from being able to operate capably full-time in that style. That was always the case, in spite of years of the "Let Russ Cook" hashtag (and when the Seahawks let him cook it ultimately tasted like something fished out of the dumpster behind Arby's). And it's what required the Seahawks to regulate the offense with a heavy dose of run game throughout Wilson's time there (which they're now freed from doing with Geno Smith under center). If you watch the tape, the Broncos' offensive staff is providing plenty of answers for Wilson in the form of wide-open receivers, too many of whom he simply never sees; Teddy Bridgewater would have this team at five or six wins right now instead of them being 3–5. Wilson will either have to go back to the things that made him a quality starter—moving pockets, improvisational playmaking—or Denver is going to be staring down a lost half-decade and a revolving door of general managers and head coaches along the way, because with that contract the quarterback isn't going anywhere, and no one can win games with him playing this style.
Mitch Goldich: Rather than pick out one team—because there are always surprises year-to-year—I think the league-wide trend of offense being down is truly a shocker. For years now we have all known that the NFL is perfectly happy shaping rules to help offense, believing that people like watching high-scoring games with lots of fantasy points. League officials came right out and said it earlier this year when debates were raging over roughing-the-passer penalties. It also felt like enough new, young superstar QBs were being introduced each year to keep the pipeline stocked and make sure every team had a set plan going forward. And then … 2022 happened.
Through nine weeks, points have dipped to 21.8 points per team per game. That's the lowest total since 21.7 in 2017, and just the second time below 22.0 since '10. (And these were boosted by a 23.3 average in Week 9. If I had written this a week ago, I'd be writing about the lowest since '10.) This came after a recent uptick to 24.8 in '20 and 23.0 in '21. It's strange! There are plenty of factors, and smart people have cited the types of defenses being used to defend these star QBs, a lack of offensive line depth and coaching, and a struggling class of second-year QBs failing to take over across the league. But why is any of that new this year? In a year that was supposed to be pretty normal (without COVID-19 protocols impacting preseason work or meeting time), it just hasn't been. I'll be curious to see whether these first nine weeks were a small-sample-size blip or if it's a lasting trend. As we saw in Week 9, it may already be on the way to normalizing.
Intriguing second-half story lines
Albert Breer: The return of Deshaun Watson, who has been suspended the first 12 weeks after he was named in dozens of lawsuits filed against him by massage therapists alleging sexual harrassment and misconduct. When he breaks the huddle for the first time in Houston on Dec. 4, he'll be taking his first snap in an even 700 days. He'll be working with new teammates and in a new offense. He'll be in a stadium where he spent four years as the home team's quarterback. And the debate over his place in the league as a player and person will rage that week. From a football standpoint, if the Browns can win a game or two through a challenging stretch before then (at Miami, at Buffalo, vs. Tampa Bay), then they'll still be in the race. Their run game is among the NFL's best. Their skill group around him is good enough. Will Watson have to knock off rust? Can he be the player they gave up all that money and all those picks for right away? It'll be fascinating to see how those questions are answered. And then, of course, there will be the discussion of what Watson's been sued for, the climate around the games as a result of that and how he handles questions associated with it. Suffice it to say, there's a lot coming on this one.
Conor Orr: An intriguing second-half story line is going to be the positioning for Sean Payton, which is probably already underway. I wonder if we'll see a few more coaches start to act a little more conservatively, or a little less so, in order to stave off their owners' interests in the Super Bowl–winning head coach, who is still under contract in New Orleans but is planning to return to the sidelines somewhere else after one quick image-boosting season on TV. We've seen how little concern or respect ownership has for the position league-wide, with two in-season firings already and potentially more coming before Christmas. How many of those teams are on Payton's wishlist? How many teams' wishlists is Payton on?
Greg Bishop: Can the, ahem, older quarterbacks summon the usual magic? For years now, NFL fans (and sports writers in search of familiar angles) could count on one thing in an NFL season. Aging, not-yet-AARP-eligible quarterbacks would enjoy more success, later into seasons, year after year, than ever before. Of course, that was bound to end eventually. Maybe that en