Tuesday's Hot Clicks: Priscilla Huggins; Bill Belichick Upset a lot of Mexican people
In Tuesday's Hot Clicks, we look at Bill Belichick insulting Mexico. Plus a look at the lovely Priscilla Huggins.
Mexico is mad at Bill Belichick
We'll get to Monday Night Football in a second, but since everyone loves Bill Belichick so much, I thought this item couldn't wait. The Patriots coach had some earthquake comments after the team's game in Mexico City that didn't exactly win over the locals. 
Falcons avoid another choke, Steve Young
The Falcons avoided another Super Bowl-esque collapse to sneak past the Seahawks, 34-31, on Monday night. Steve Young got into the Seattle mood by biting off the head of a raw fish while Pete Carroll coached one of the worst games of his career.
MARTA screws up again
The Georgia Dome was imploded on Monday and in a "this has to be fake moment," a MARTA bus parked right in front of The Weather Channel's shot. It was too perfect. Of course, it's not the first time a MARTA bus ruined a great sports moment.
Priscilla Huggins: 2018 Sports Illustrated Swimsuit Casting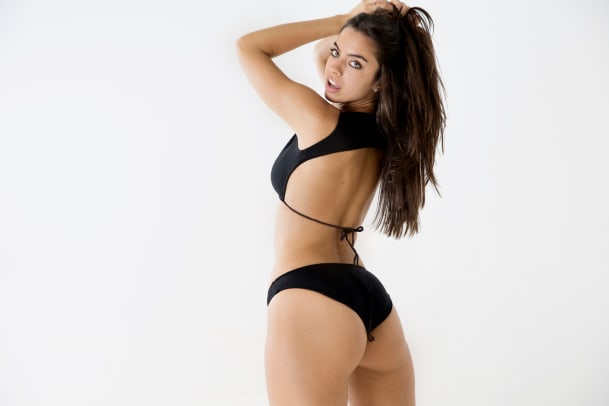 I really hope Priscilla Huggins scores a spot in the 2018 SI Swimsuit issue. Can you blame me? She is today's LLOD (click for full size gallery).
The strangest Thanksgiving-themed foods
I just don't see anyone buying Pringles Thanksgiving dinner. Maybe it's me.
Extra Mustard Holiday Gift Guide
From beard maintenance oil to NBA graphic state T-shirts, we got you covered this holiday season.
Hot Clicks Giveaway
Everyone needs a good umbrella. With that in mind, meet "The Weatherman," an ingenious spin on the traditional umbrella. Meticulously designed by a meteorologist, no detail is overlooked: Industrial-strength fiberglass defends against breaking and inverting, Teflon-woven fabric repels water and vented canopies withstand gale-force winds. The integrated Weatherman Umbrella app notifies you of rain conditions and syncs with Bluetooth technology so you'll never leave your umbrella behind. Get yours today! As you probably guessed, I have three of these babies to give away. I'll send to the 100th, 200th and 300th person to email me (andy_gray@simail.com) their favorite song with the word "rain" in the title. Please make the subject "The Weatherman."
Ric Flair tribute and other great athlete kicks
This is how I spent last week
Odds & Ends
The LaVar Ball-CNN interview was even less productive than you thought it would be ... Marshawn Lynch was ripped by a NFL legend for his National Anthem protest and his mom is fired up about President Trump ... The 2018 MLB Hall of Fame ballot is out ... ​This dog really likes to retrieve lacrosse balls ... Roy Halladay was performing steep turns before his death ... Manute Bol's son Bol Bol made his college decision ... Here's everything coming to Netflix in December ... Top 10 video games of 2017.
Joel Embiid takes a dive
Goalie fight!
Punt of the month
A clean shot of Geogia Dome implosion
Earthquake Driver
Email Andy (andy_gray@simail.com) with any questions or visit him on Twitter. Previous editions of Hot Clicks can be found here.