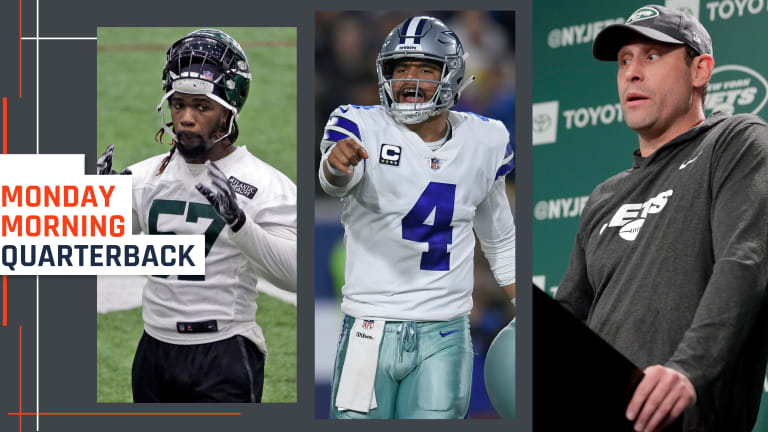 The Jets Right Now, According to Adam Gase
It's been a bumpy few weeks for the Jets and their new head coach and newly named interim GM. Where is Gase's mind at through all of this? Also, the changes to the combine aren't the changes you think, Jerry Jones is hardly panicked about the number of Dallas's expiring contracts, Jerry Kramer remembers Bart Starr and more.
When the rest of the NFL world thought the walls were caving in around Jets coach Adam Gase, he only saw exactly what he wanted to see.
At 10 a.m. last Thursday, Gase got in front of the cameras for the first time since the team fired Mike Maccagnan as GM on May 15. An hour later, he was on the practice field with his team for their third on-field session—out of pads and, as a result, not too tuned up—under the new staff. And the first-year boss couldn't have walked out of the team's indoor facility happier.
"The day before a four-day weekend, I just felt like the way the guys went, I was very, very impressed and happy with how hard those guys were practicing, how much effort they were giving, as far as guys running routes, defensive players running after the ball, just playing every play," Gase said. "There was excitement. Guys were genuinely excited to be out there. When you're a coach, and effort isn't something you're worried about, that's great.
"Then you can work on the details. That's how guys get better. You have guys that love practicing every day, that environment, that's who some of these guys are. They just love it. Jamal Adams loves walking on that field every day. C.J. [Mosley]. Sam [Darnold]. Quincy [Enunwa]. Those guys love being out there. It's awesome."
For the time being, the Jets are Gase's show—and it will remain that way in Florham Park, N.J. at least until a new GM is hired.
And while most of us on the outside saw the drama of the last two weeks as a symptom of what's plagued the franchise for decades, Gase was working on something that he sees, at this point, as barely five months old. His focus is on his program, which is a little more than halfway from the time of his hire to opening day.
Does it matter that the backdrop is New York and all that comes with it? Gase swears it does not.
"The weather's different," he said. "It's colder than Miami. That's the biggest thing I've noticed. Outside of that, it's the same."
So he's cool with how Thursday went. Because what he was really worried about went just fine.
Happy Memorial Day to everyone, and especially to the service members that protect all of us every day. We've got something for all those people a little lower down in the column. And we've got a bunch of football to serve up this morning too, including …
• How the combine is going to change next year, and why moving the drills to primetime won't be as easy as it may seem.
• Jerry Jones on the Cowboys' contractual challenges.
• The biggest contract the new Dolphins regime has negotiated, and what it means going forward for the organization.
• The Patriots' deal with Edelman, and something to like about the young receiver they'll have coming up behind him.
We're starting, though, elsewhere in the AFC East.