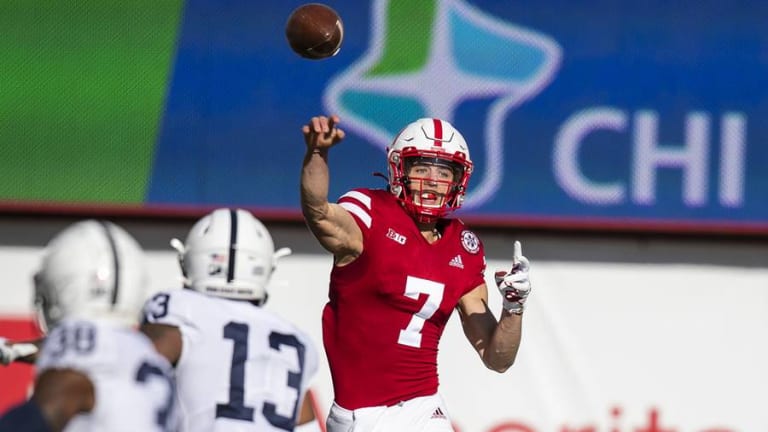 Luke McCaffrey Is Out at Louisville: Could He Return to Nebraska?
From a compliance standpoint, it appears to be a "maybe" situation for the former Husker quarterback.
From a compliance standpoint, it appears to be a "maybe" situation for the former Husker quarterback.
After roughly a week at his new home, former Nebraska quarterback Luke McCaffrey is on the move again.
Louisville head coach Scott Satterfield said in an interview with Drew Deener on 93.9 The Ville Wednesday morning that McCaffrey has left the program. Satterfield noted that McCaffrey participated in "three or four" summer workouts and decided to leave in search of a place where he could come in right away and be the starting quarterback.
"His big thing he wanted to do, he wanted to come in and play, and be a starting quarterback," Satterfield said. "I guess after three or four days, just decided that wasn't going to happen here."
McCaffrey played in seven of Nebraska's eight games in 2020, logging two starts, before entering the transfer portal in January. So as he is in the portal again, could McCaffrey return to Lincoln?
A compliance staff member at a Big Ten school laid out the circumstances that would contribute to a student-athlete returning to his original school.
If the player signed somewhere but never actually attended school, participated in workouts, and never received scholarship money, then he "likely did not officially trigger transfer status to School B." The staff member adds, "We would have to look at all factors, but it is likely that they would be able to return to the original institution and play right away" because they never really became a student-athlete at the second institution and could return to the original school.
What we know about McCaffrey is that he participated in at least a couple of workouts during his week in Louisville. We know he didn't attend school there. We don't know if any scholarship money was distributed, though it would be unlikely since he had only just arrived.
Based on the situation and what we know about triggering transfer status, McCaffrey looks like he'd fall into the maybe area. His participation in workouts could be enough to trigger that transfer status, but with the NCAA being hit and miss on decisions, he may be allowed to not count his time in Louisville.
McCaffrey has until July 1 to select a new home in order to qualify for the new one-time transfer rule.
Now, would McCaffrey be accepted back in Lincoln by coaches, players, and fans? That is an entirely different conversation. But from a rules standpoint, if McCaffrey wanted to come back and play for NU right away in the fall, that may be his quickest path to seeing the field at a Power 5 school, albeit not at quarterback.