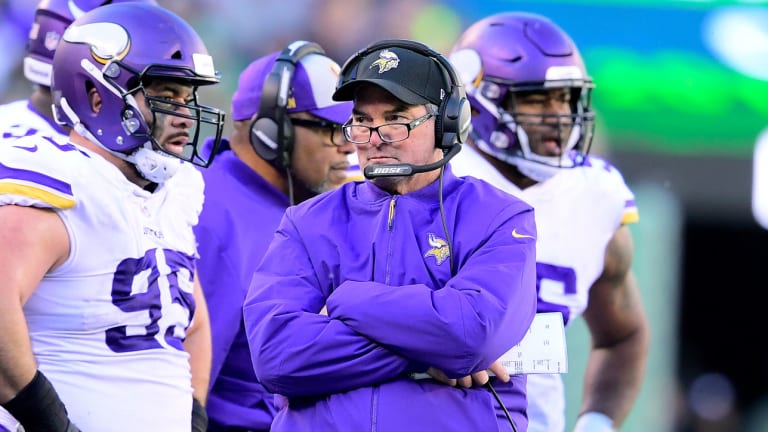 Minnesota Vikings NFL Draft Picks: 2019 Round-by-Round Results, Grades
How will the Vikings use their picks in the 2019 NFL draft? We're breaking down every selection below.
After a strong 2017 season, the Vikings finished at 8–7–1 in 2018, missing the playoffs for the second time in three years in quarterback Kirk Cousins's first season in Minnesota.
The Vikings took cornerback Mike Hughes out of UCF, with their first selection in the 2018 draft, and followed with Pittsburgh's Brian O'Neill, an offensive tackle, in the second. Minnesota is widely expected to take another offensive player with one of their early draft picks to bolster an O-Line that struggled in 2018. 
As Cousins prepares for his second season with the Vikings, Minnesota should use the draft to boost his support system in hopes of returning to the playoffs this year. (Check out draft needs for all 32 teams.)
We're breaking down each of the Vikings' selections in this year's NFL draft, as well as providing a full list of Minnesota's picks, which will be updated as the draft continues. 
Vikings picks:
Round 1, Pick 18 (No. 18 overall):
Garrett Bradbury, C, NC State
Andy Benoit's grade: A+
Mike Zimmer wants to run the ball and last year's fired offensive coordinator, John DeFilippo, felt they couldn't because of shoddy guards. Those guards, Mike Remmers and Tom Compton, are gone. But their replacements, Danny Isidora and Josh Kline, are not much better. Bradbury can take over one of their spots or play his college position at center, moving Pat Elflein to guard. However it shakes out, this is case of player and need meeting together perfectly. New offensive coordinator Kevin Stefanski wants to employ an outside-zone scheme to fit Kirk Cousins, who is at his best throwing play-action off those outside zone looks. Bradbury is viewed unequivocally as the best outside zone blocking interior lineman in this draft.
Round 2, Pick 18 (No. 50 overall): Irv Smith Jr., TE, Alabama
Andy Benoit's grade: B+
Kyle Rudolph is a sturdy professional tight end, but with limited twitch and very little speed or quickness, you can't design much for him. His production comes only within the context of the scheme. The hope is Smith can change that. New offensive coordinator Kevin Stefanski has coached tight ends and will have creative ways to feature the position.
Round 3, Pick 38 (No. 102 overall): Alexander Mattison, RB, Boise State
Andy Benoit's grade: B
Mattison's determined, urgent running style fits a team that wants to be run-oriented. He certainly won't challenge Dalvin Cook for significant playing time, but he could spell Cook in certain run-oriented packages.
Round 4, Pick 12 (No. 114 overall): Dru Samia, G, Oklahoma
Round 5, Pick 24 (No. 162 overall): Cameron Smith, LB, USC
Round 6, Pick 17 (No. 190 overall): Armon Watts, DT, Arkansas
Round 6, Pick 18 (No. 191 overall): Marcus Epps, S, Wyoming
Round 6, Pick 20 (No. 193 overall): Olisaemeka Udoh, T, Elon
Round 7, Pick 3 (No. 217 overall): Kris Boyd, CB, Texas
Round 7, Pick 25 (No. 239): Dillon Mitchell, WR, Oregon 
Round 7, Pick 33 (No. 247 overall): Olabisi Johnson, WR, Colorado St.
Round 7, Pick 36 (No. 250 overall): Austin Cutting, LS, Air Force
See every NFL team's 2019 picks by clicking the links below. 
Arizona Cardinals | Atlanta Falcons | Baltimore Ravens | Buffalo Bills | Carolina Panthers | Chicago Bears | Cincinnati Bengals | Cleveland Browns | Dallas Cowboys | Denver Broncos | Detroit Lions | Green Bay Packers | Houston Texans | Indianapolis Colts | Jacksonville Jaguars | Kansas City Chiefs | Los Angeles Chargers | Los Angeles Rams | Miami Dolphins | Minnesota Vikings | New England Patriots | New Orleans Saints | New York Giants | New York Jets | Oakland Raiders | Philadelphia Eagles | Pittsburgh Steelers | San Francisco 49ers | Seattle Seahawks | Tampa Bay Buccaneers | Tennessee Titans | Washington Redskins