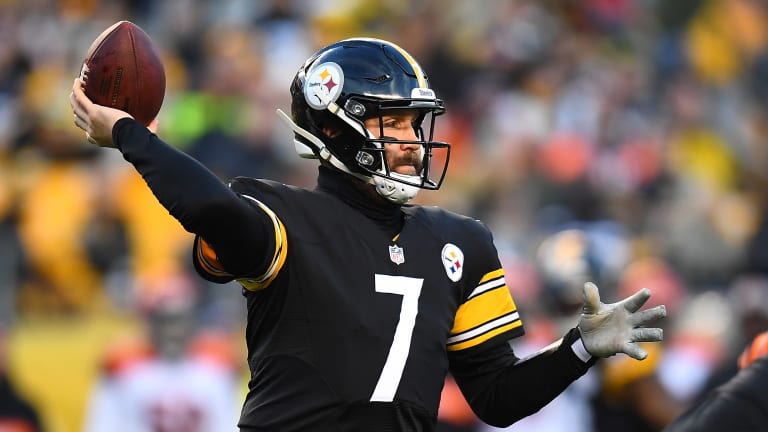 Publish date:
Pittsburgh Steelers NFL Draft Picks: 2019 Round-by-Round Results, Grades
Follow along here to keep up with the Steelers' 2019 draft. 
Follow along here to keep up with the Steelers' 2019 draft. 
The Pittsburgh Steelers missed the playoffs for the first time in five years in 2018 after finishing with a 9-6-1 record.
The Steelers lost Le'Veon Bell to the Jets in free agency and traded Antonio Brown to the Raiders in return for draft picks, so younger players like James Conner and JuJu Smith-Schuster, in addition to veteran quarterback Ben Roethlisberger, will try to lead a new-look Pittsburgh offense back to the playoffs in Mike Tomlin's 13th season as head coach. 
In last year's draft, the Steelers selected Virginia Tech safety Terrell Edmunds in the first round. 
How will they use their picks in this year's NFL draft? We're breaking down every selection below. 
Here's the full list of picks the Steelers hold in the 2019 draft, which will be updated as each selection is made. 
Round 1, pick 10 (No. 10 overall):
Devin Bush, STACK LB, Michigan
Andy Benoit's grade: B
The Steelers almost never trade up, but in this case, trading up for Bush was an easy decision. The team has had a massive hole at linebacker since Ryan Shazier's tragic injury, which is extra damaging considering their scheme puts a premium on speed in the middle of the field. With Terrell Edmunds joining as a first-round pick last year, the Steelers can be either a nickel or dime defense, giving them flexibility to adjust to opponents week in and week out. They haven't had such flexibility since Shazier was last on the field.
Round 3, pick 2 (No. 66 overall): Diontae Johnson, WR, Toledo
Andy Benoit's grade: B
Yes, some will say the Steelers essentially traded Antonio Brown for Diontae Johnson and a fifth-rounder. But let's remember: Johnson is much, much cheaper, and also—presumably—not anywhere near as much of a problem in the locker room. Pittsburgh's scheme is simple and Ben Roethlisberger is easy to play with. Can Johnson compete right away?
Round 3, pick 19 (No. 83 overall): Justin Layne, CB, Michigan State
Andy Benoit's grade: B+
Layne is perceived as a plus-sized bump-and-run corner, which the Steelers need after finally admitting (albeit tacitly) that Artie Burns has been a bust. Pittsburgh runs a zone scheme, but their outside corners are often required to matchup to receivers vertically. With ex-Chief Steven Nelson aboard, Layne has time to develop from an initially lesser role.
Round 4, pick 20 (No. 122 overall): Benny Snell Jr., RB, Kentucky
Round 5, pick 3 (No. 141 overall): Zach Gentry, TE, Michigan
Round 6, pick 2 (No. 175 overall): Sutton Smith, DE, Northern Illinois
Round 6, pick 19 (No. 192 overall): Isaiah Buggs, DE, Alabama
Round 6, pick 34 (No. 207 overall): Ulysees Gilbert III, LB, Akron
Round 7, pick 5 (No. 219 overall): Derwin Gray, T, Maryland
See every NFL team's 2019 picks by clicking the links below. 
Arizona Cardinals | Atlanta Falcons | Baltimore Ravens | Buffalo Bills | Carolina Panthers | Chicago Bears | Cincinnati Bengals | Cleveland Browns | Dallas Cowboys | Denver Broncos | Detroit Lions | Green Bay Packers | Houston Texans | Indianapolis Colts | Jacksonville Jaguars | Kansas City Chiefs | Los Angeles Chargers | Los Angeles Rams | Miami Dolphins | Minnesota Vikings | New England Patriots | New Orleans Saints | New York Giants | New York Jets | Oakland Raiders | Philadelphia Eagles | Pittsburgh Steelers | San Francisco 49ers | Seattle Seahawks | Tampa Bay Buccaneers | Tennessee Titans | Washington Redskins